Writing a narrative essay is the best form of expository writing since writers get a chance to think and write as per their choice during this assignment. All of us have experiences lodged within our memories that are worth sharing with readers. At times, they are entangled with other memories that make us spend enormous time in the pre-writing stage while writing a narrative essay.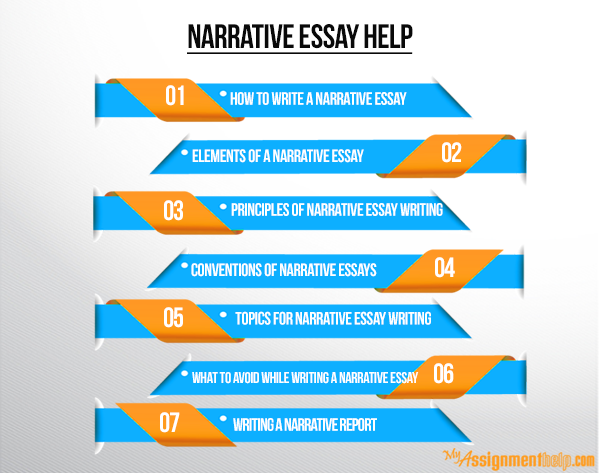 How to write a narrative essay?
Writing a narrative essay is similar to telling a story. Usually, narrative essays are told from the author's point of view that is defined. It leads to a feeling and contains specific details that are sensory. These details involve the reader within the sequence and elements of the story. The verbs used are precise and vivid. The narrative essay is meant to make a point that is usually defined in the opening sentence. The point can even be made in the last sentence within the opening paragraph.
A narrative essay is written in the format of a story since it depends on personal experiences. The writer should be sure of including all the elements of storytelling like character, plot, setting, climax and ending while using this technique. A narrative essay is usually filled with details that are carefully chosen to support, explain or elaborate the story. All the details are connected to the main point that the writer is trying to make.
Elements of a narrative essay
All the following elements can be found in you narrative essay if you avail assignment help. A narrative essay:
Is written from a specific point of view
Makes and supports a point
Is made up with precise detail
Utilizes vivid modifiers and verbs
Uses conflict and sequence that any other story will also include
May use dialogues
Principles of narrative essay writing
While writing a narrative essay, the writer should remember three main principles after choosing an incident. The principles are as follows below:
Always remember to involve readers within the story. It is far more interesting to recreate an entire incident for readers than to tell about it in a simple manner.
Find a generalization that can be strongly supported by the story. It is the only way for the writer's personal experience to become meaningful for readers. This generalization does not necessarily need to enclose humanity as a whole. It should only be conce
ed with the writer, women, men or children of numerous backgrounds and ages.
Always remember that although the main component of a narrative essay is a story, careful selection of details is important to explain, support and even enhance the story.
Conventions of narrative essays
While writing your narrative essay, always remember the following conventions:
Narratives are usually written in the first person, which means using 'I'. However, third person like 'He', 'She' or 'It' can also be used.
Narratives depend upon sensory and concrete details for conveying their point. Such details should create an impression that is unified, forceful and dominant.
Narratives as stories should include story conventions like a plot, characters and setting, a climax and finally an ending.
Topics for narrative essay writing
Here are a few topics on which you can write an effective narrative essay:
A memorable funeral or wedding event
One minute of any sporting event, especially a football game
Your first day at a new institution, especially a college
Your last day of schooling
Unforgettable moments of success or failure
An encounter with something or someone whom you are scared of
In a narrative essay, the writer can include the event's significance in a way that relates to his or her life. The significance can even relate to the broader population rather than being self-explanatory. Always remember that a narrative essay should be written in a chronological manner. It is only meant to narrate personal experiences or inferences rather than backing a strong argument for or against the motion.
What to avoid while writing a narrative essay
There are certain things that need to be avoided completely if you want your essay to qualify as a narrative one. Including any or all of these elements can transform your essay into other form instead of narrative.
Complicated and complex words: Complicated words and complex syntax can prove to be a hindrance during the narration within the essay. Make sure of stating all your content in a clear manner and simple language.
Describing in excess: There is no need to include each and every aspect of your life's incidents during the narration of the essay. Describing each detail in a minute manner can make the reader feel bore and exhausted.
Second person narrative: It is preferred to write in the first person format with terms like 'I' or 'me' to narrate your life's happenings.
If you want to avoid all the above mentioned anomalies in your essay, you should avail custom essay help for writing your piece. The experts can guide you on how to write a narrative essay.
Writing a narrative report
Many students have to write narrative reports in colleges. The information belonging to these reports is basic like any other form of writing, but narrative reports lack the higher order thinking required for essays. Thus, narrative reports do not lead to high grades in many colleges, but is an essential part of the course. A basic example of a narrative report can be a "book report" that outlines a book. It includes the characters and their actions, possible mention of the plot and probably some scenes. The narrative describes "what happens within the book." We can, therefore, say that narrative reports usually overlook the authors' objective or point of view that is expressed through the article or book.
How MyAssignmenthelp.com can help students to write essays?
MyAssignmenthelp.com is backed by a team of Ph.D. holders who can help students to write an impressive narrative essay. Our writers provide essay material to students that offer a vivid narration of the topic under consideration. If students want, our writers are even ready to provide them proofreading and editing services.
Our writers provide numerous other services too. They range from assignment help, dissertation writing help to custom essay help. We further offer specialized help like marketing assignment help and writing assistance in HR, finance, accounting, economics, statistics etc. MyAssignmenthelp.com also has unique services for aspiring lawyers, nurses and programmers in the form of law assignment help, nursing assignment help and programming assignment help.
These services have already assisted thousands of students and are being followed and liked by the global student community. One of the most attractive features of MyAssignmenthelp.com is its customer support. They have gone one step ahead of other writing service providers and hired people with MBA as well as engineering degrees. Hence, the support staff understands your requirement and gets the assignment done in the best manner through the writers.