Total Earning: 0
Wallet Balance: 0
Cash Balance: 0
Leader Board
Refer to Your Friends and Earn an average of $900 every year as we love Sharing.
Top Benefits of referring friends

Unlimited earning for life
Have you ever earned for making friends? Now you can do that! Make friends, refer them along with your old friends to our referral program and receive 10% commission on all their orders, for lifetime. Earn trust of your friends and earn dollars from us.

Be our affiliate agent
Avail the golden chance to be our affiliate agent and let your friends get the advantage of quality assignments, at low prices, from our assignment experts. You earn on every order placed and can earn loads of dollars in lifetime. So fatten your wallet , without spending time and without missing A grades.

Fund your own assignments
With the money you receive on referring friends, you can pay for your own assignments with us. So you get a lifetime opportunity to earn huge money, get A grades, beat deadlines and above all save golden time for parties and weekend fun. Now ace the academics and get plenty of time for enjoying.

Less dependence on part time jobs and parents
Why to do part time jobs even after tiring academic schedule? Don't you feel bad to bother your parents for money? We know you are missing the fun hours for parties, trips etc, just because you have no time or money. Avail our referral program and let your parents feel proud that you earn while you learn.
earn upto $24000
in a year for just 50 referrals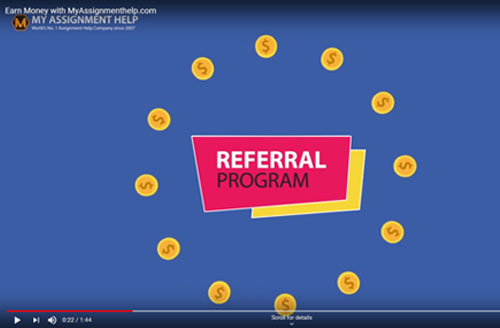 Play Quick Tour
Refer Your Friends and Earn Money
Earn unlimited money by referring our site to your friends. Our referral program allows you to 'refer' our writing services to your friends, associates and even family members. You receive a flat 10% commission on the total booking amount paid by them. And even if your friends don't place an order, you earn yourself some quick loyalty points for the referral activity. You can redeem these points to get a discount on your next assignment.
Share & Get 25 Loyalty Point
Share & Get 20 Loyalty Point
Share & Get 25 Loyalty Point
Share & Get 80 Loyalty Point
Share & Get 25 Loyalty Point
Share & Get 15 Loyalty Point
Share & Get 20 Loyalty Point
Other Platform to Share Link
Terms & Conditions
*

You get 10% commission on all your friend's paid orders.

*

5% commission is credited in your wallet and 5% commission is credited in your bank as cashback.

*

Cash is released as cash amount is more than $100.

*

Wallet amount can be used in your next order.