Save Time & Improve Grades
Just share your requirements and get customized solutions on time.
10 advantageous ways to engage students' attention in the classroom environment
Mark
17 September,2014
Hello? Where is your mind? You have used/overheard this statement many times in a classroom environment. Teachers always wonder that how and in what possible way they can allure students to take part in the lecture room learning. But teachers and lecturers slump on the way to grab the attention of students. So here is the glorious opportunity to learn the 10 ways to engage students' interest in learning process.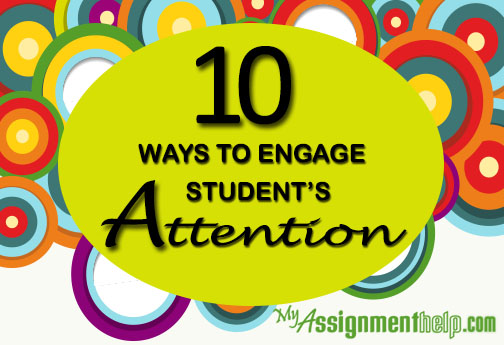 Take a break and have 'chitchat'
A long hour study bound to weary students' brains, so give your students a break of 5-10 minutes to assemble their thoughts again. In meanwhile, you as teacher or lecturer discuss the lesson that you have taught recently, throw small question that can able students to show their learning or defaults.
Give it back
When students rebuttal your questions correctly, it is your responsibility that to encourage them with positive feedback in the hope that they will listen to your lesson in order to get your appreciation among the peers. So encourage would the key that can play a vital in engaging students.
Locomotion on the run
It is true that students get bored when they see you at the same spot for long, even you are giving them a good episode of excitement. So you need to incorporate your locomotion in learning as well. Such as, shifting places, go into student crowd, communicate with them with your hands, gestures, body language and actions, go to board and write something that will definitely grab the attention of students.
2- Way conversation
When you are teaching something, you need to remember students are mere learners; they have something to say as well. So choose a point where you take suggestions or point of view of students. It is seen that some students have different point of views from teachers. So give a chance to unlock their thinking power; hence, they will be more interactive with the subject.
Making a network
When a question is posed in front of the students, ask your pupils to have a discussion with their friends or whoever is seated beside them, in a way various aspects and outlooks will come into limelight, also ask your students why  they possess divergent point of view from his or her friend. Hence, students can make one another active during the discussion rather than one answering the questions, posed by the teacher. This is a profitable way to engage all your students at once.
Go slow or have a rapid round
In many studies, it is proved that slow process of instruction can make students the better learners. But it comes with the possibilities that students will suffer from boredom, so in some cases it is good to pace up the process which presents the opportunity of engaging students in little discussions, prompt answers, and reflection of learning.
Pause and resume
When you are describing something, make sure that you give a little time of interval in between your thoughts. Allow students to assemble their thoughts and review them or even they can ask questions on what they have not understood yet. This way student will get the opportunity to connect with the subject as well as with the teacher, unless the chapters will overlap one another, not finding the proper way to reach the intellect of students.
Color-shape- image
It is universal truth that, when you experience something with your eyes, your brain can transmit the data more efficiently. So give your students that freedom to access the visual world, with which they can find a relation with reality. When you are into science subjects, it is very easy to carry diagrams, graph, flowcharts and images.  It is also possible give your students a practical understanding of those things that they are studying, the shapes, colors and pictures.
Advance your tools
Classroom with a blackboard and few arrangements of chairs and tables carries a stagnate picture, so as solution you can introduce technology by installing podium based computer, or moving presentation on the projector, or using tools such as blogs, online forums, podcasts that can give better insight of the course content. Technology emerged as ruler of the world, and tech-savvy kids learn faster from the internet than the pages of books. So there are numerous ideas to engage science machinery into learning with the hope that it will cater a comfort zone to students.
Leave your comments
At the end of the session, you can ask your students to write one-liner summary, what they have learned from the lesson. In this way, you will find out what are the drawbacks of the session, and this give you better insight how to mature this session in a better way. If you are not supporting the idea of writing, then you can ask your students to point out the detail that in what way the session would be more compelling. So you can look inside of your students' minds, what they exactly think .
You can be innovative in your ways; try some new things, and definitely students will feel secure and active and progressive in the instruction process. These are the basic projection or guidelines that one can follow in order to engage students' attention, with which you can achieve your desired goals.