Save Time & Improve Grades
Just share your requirements and get customized solutions on time.
5 Sure Shot Tips to Crack Any Interview
Mark
18 March,2015
Thousands of students are graduating every year from various institutions making the recruitment process difficult, with each passing day. Generally, the procedure involves a two-step method, a written assessment followed by a personal interview. The personal interview is the final step for the selection of suitable employees. Candidates are often in dilemma as to how to impress the interviewer. MyAssignmenthelp.com provides a comprehensive guide to all students, who are eager to impress the board and land their dream job.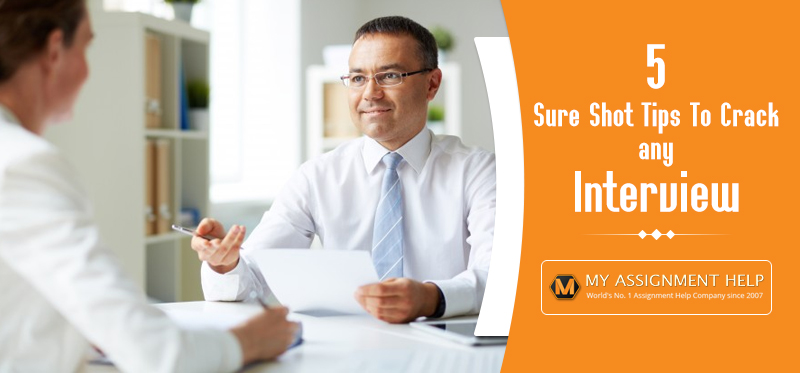 Essential tips to win interviews
The two main objectives of a job interview are the suitability to fit in the profile and the assessment of the candidate's personality. For every job seeker, interview is an opportunity to manifest his/her knowledge, skills, intelligence, ambition and trustworthiness. If you are one of them, here's a list of recommended suggestions:
1. Preparation
Most of the interviews start with predictable questions. The employers ask for basic information about the candidate with some relevant enquiries. The most common of them are "Tell me about yourself", "Why do you need this job?" and "What experience do you have?" According to your eligibility and profile, prepare a list of these questions with their answers beforehand.
Some other most common questions doing the rounds in HR interview in 2019 are:
How did you hear about this job?
Why do you find yourself a fit candidate for the profile?
Why do you want to join [ NAME OF THE COMPANY]?
Why did you leave the last organization?
Why should we hire you?
Where do you see yourself in five years down the line?
Tell me about a conflict you faced at work and how you dealt with it?
What do you expect out of your team/co-workers?
How do you deal with stress?
In the interview, answer them confidently when asked. Remember to be precise in your approach with relevant and quick references to your background.
2. Planning
Planning the right approach is important for an interview. Before the interview, do a comprehensive and elaborate homework. Practicing your answers will increase your confidence level. The personal interview also tests your communication skills and body language. It is often told that the first impression is crucial in any personal interview. So, be assertive in your approach and confidently put forward your career plan and objectives. Also state your facts accurately during the interview.
Certain essential planning activities you need to do are
Research about your interviewer through online resources.
Try to make connections between the work you have done and what the company demands
Create a sample small portfolio of yourself
Plan your outfit for the interview day
Read the requirements and the skills required by the interviewer and prepare for same
3. Manifest your competency
Personal interview is the platform to manifest your talent, knowledge and your abilities. Do not hesitate to talk about your achievements and strengths. Also acknowledging your weaknesses will build your authenticity. It is important to highlight your weakness in a manner that it doesn't look like negating any of the desired skills required by the company.
Innovative answers from your end can increase the chances of getting selected. You can also share practical experiences of your professional life with engaging information.
Shake it, Don't break it.
Shaking hands is the first thing that you do when you appear for a job interview. One needs to take care that you do not aggressively shake hands neither do it limping, without interest. A proper handshake confirms many a rounds in many interviews.
4. Analyze the ambience and reflect proper body language
When you enter the interview room, try to analyze the atmosphere. As the interviewer notices your body language, you also do the same. His/her postures, facial expressions and voice will provide an idea of how to proceed. Start with a formal greeting. Share your knowledge about the company and the role you are offered. It can help to build your impression. You should sound enthusiastic and comfortable in your approach. A perfectly corporate etiquette with professional courtesy are always regarded as sure-shot winners.
Some body language tips for interviewer
Do not go for consistent direct eye contact
Move your vision uniformly towards right or left of the interviewer.
Lean in towards the interviewer a little to show interest
Nod your head gently when listening to the interviewer.
Use hand gestures along with words to express yourself
While gesturing with hands keep them a little above the interview table and below the collar bone.
Sit with shoulders back and head straight with foot planted firmly on the ground.
5. Grooming
Do not get disheartened if you fail in your first attempt. Try to improve your skills and competency as now you know the basic tricks of the interview. As the famous proverb says, 'Practice makes a man perfect', stick to the fundamental rules and practice your answers as well as the interview manners. Always appear for an interview in formal attires.
It is generally recommended that you should wear format shirt, trousers and tie with sober colours, not extravagant ones. Keep the hair normal, neat and clean, not creating any distraction for employers. It is preferable not to go with very funky hair styles, during interview
Maintain your social networking profiles regularly and avoid any controversial posts. Many employers analyze your public profiles for a background check.
Many eminent personalities have put forward their own and concrete ideas about the process to win the interviews.
Lately, Laszlo Bock, Google's senior vice-president for people's operations, told candidates to have faith in "yourself" as he emphasized on practice and creating a genuine first impression.
As all companies are raising their recruitment standards, it has become essentially important to make an impression in the very first minute of the interview. This is why he emphasized on practice.
Following the aforementioned procedure will definitely fulfill your aspirations to crack the interview. Winning the interview turns you into a promising professional from an aspiring job seeker.
MyAssignmenthelp.com assists students to fulfill their aspirations
MyAssignmenthelp.com is the most trusted online educational assistance provider which helps students to build a successful career according to their aspirations. We have a team of 3000 plus PhD qualified academic assignment writers who not only provide educational assistance but are also proficient as career counselors. You can reach them anytime to get your queries solved.
In colleges and universities, students need to complete certain assignments and dissertations in their academic subjects. Securing excellent grades in these assignments and dissertations carries substantial value and importance. It is regarded as the first step towards professional life. If you reside in Australia, UK or USA, you can reach our assignment experts through our user-friendly website anytime. Our experts guarantee you an authentic assignment with original content. Few notable features of our website are:
100 percent plagiarism-free assignments
On time delivery
24×7 customer care support
Top quality work
Best price guarantee
Dedicated student area
So, don't wait any longer and login to our website for expert guidance and impeccable quality assignments, essays, and dissertations.