Save Time & improve Grade
Just share requirement and get customized Solution.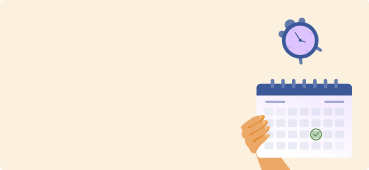 5 Worst College Application Cliches and How to Avoid Them
Mark
03 August,2016
Each year with more number of students applying to colleges, more applications are getting submitted than ever before. With the passage of every year, colleges are receiving record number of applications from students. The volume of applications is gradually reaching new heights to highly selective colleges. Apart from the mundane basics of a college application like the SAT and GPA scores, the one module that should accompany is a statement of purpose or an application essay. With the admission counselors having only a few minutes to go through each application, students need to realize that their essays are an occasion of showcasing their achievements and talents and to convince the counselors why they deserve the position in the college the most.
Even though the grades, test scores and courses will always remain the most considerable factors in the admission process of a student, the application essay may sometimes make all the difference between an approval and a rejection. The test scores and other elements are almost the same numbers that a student has to provide, representing one's ability and aptitude. But what sets apart the essay from other components of an application is its personal touch.
The essay is your only opportunity of directly communicating with the admission counselors. The essay must shed some light on the applicant's character which the counselor wouldn't have known otherwise. This is an opportunity to demonstrate your accomplishments and interests but not in a pretentious way. The essay is the only part where one has complete control over how he wants to express his individuality.
The essay generally does not have a specific requirement of a topic. You can write freely about whatever appeals to your mind. You can choose to write about some abstract idea and how you can relate with it. Personal dilemmas and hurdles that you have overcome may also be mentioned. There is actually no 'right' topic to select that increases one's chances of admission. The right topic solely depends on the individual's choice. The essay requires an extraordinary degree of imagination, innovation and out-of-the-cube approach.
5 Things that must be Avoided in Writing a College Application Essay
One of the most integral parts of a college application, an essay can either make-or-break it when admission counselors are assessing your application. Different advices are given by different people asking you to write a killer essay to have a shot at a highly selective college. They aren't completely wrong but before you start crafting your essay you should keep a few things in your mind.
• The sole purpose of the college application essay is for you to fill up an answer box without any questions preceding it. The essay should be able to echo your personality, who you are and what your aspirations are.
• Before you start crafting remember that the essay is not a diary entry. Don't bare your heart out before the admission counselors, craft the essay at a appropriate level and always use your better decision.
Here are five things that you must not include in your application essay: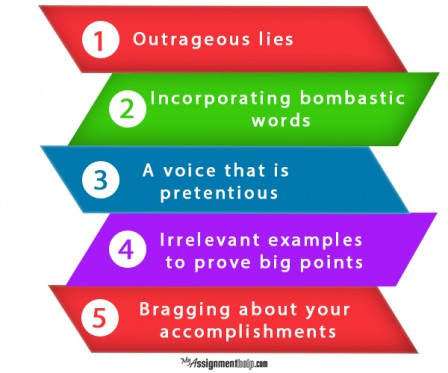 1. Outrageous Lies
This is one of the most common mistakes that a student tends to make. Yes, you should skip certain irrelevant details about yourself (such as those Justin Bieber songs you keep listening to all day), but the ones you decide to include should accurately portray your individuality.
If you feel that you can earn a counselor's sympathy by mentioning how you escaped wretchedness then you are grossly mistaken. Admission officials are smart enough to find out from your high school transcript if you went to an upper-class private school.
Try to be original and honest. For example, you can think of writing a memoir about being a waitress. This may not be a classic dramatic memoir one would find in the best-selling area of a bookstore but it can still be made fascinating, without giving in to big or small lies.
2. Incorporating Bombastic Words
Using such words that compels even an admission counselor to look up in the dictionary is not striking. Don't incorporate big words just to sound sophisticated. You should stick to words that are relevant and helps in conveying your message efficiently.
To be on the safer side, you can recruit an editor to look up for the right choice of words to be incorporated in your essay, before sending it off.
3. A voice that is pretentious
It is often noticed that while crafting an essay, a person assumes a completely different form. The writing seems far off from their own speaking voice.
Having said this, it does not imply that you should use colloquial speech or interject sentences with words like 'umm', but, however, maintain your originality.
For example, avoid writing sentences like "The suggestion of her rhetorical strategy" when otherwise you would have just said "Her approach of persuasion…"
The counselor will not be able to relate to the voice of an 18-year old.
4. Irrelevant Examples to Prove Big Points
If your parents had once asked you to take the trash out don't compare yourself with a hard worker. Here the logic cannot be connected. Taking the trash out doesn't prove the point of you being a hard worker. You may have done that out of compulsion or because it smelled badly. Hard work is when you coach disabled children at a local school. From that point you can form small yarns and elaborate on it.
One of the best ways is to take cue from the American president, Barack Obama. He takes big issues and themes and pairs them with small, yet relevant examples. For example, in one of his speeches he compared unemployment to the condition of a struggling mother. This is how he personalizes his point and makes it clear to his listeners.
Taking the trash out can, in no way, be connected to any grand or noble conclusion.
5. Bragging about your accomplishments
In a 500+ word limit of essay you cannot fill it up by merely listing down your accomplishments. It is one of the most boring things to do and it reduces your chances of admission to a great extent.
An admission counselor already has your GPA scores and other test scores to evaluate your potentiality. You must use your essay as an opportunity to present that side of your character which is not known to the counselors. Imagine the essay to be a blank canvas which they are allowing you to paint with the colors you like at the art gallery. The art gallery is your life here. Now question yourself which will be the most beautiful when painted with details?
Be accurate and flaunt only those accomplishments you think are worth mentioning but not in a pompous way.
Consequences of Writing a Clichéd Application Essay
Imagine, you have highly qualified GPA and GRE scores but you choose to write an essay that is extremely clichéd and full of flat-lies. Your application will be rejected as soon as the admission counselor goes through your essay. They have been going through such essays for quite some years and they can make out which essays are original creations and which are just exaggerated ones. Your essay should be a reflection of yourself, of your opinions and views and about your character.
Your high school transcripts will speak for your accomplishments. They need not be bragged about in a 500+ word limit essay and made terrible use of. Your essay is the break-or make factor between your acceptance and denial. Reach out to the admission counselor through your essay and communicate through it for him to have a clear idea about how you are as a person.
Avoid making cliché statements that fails to arrest the attention of the admission counselors and they start yawning. There is a tendency among students to start crafting their essays by quoting famous personalities and abruptly continuing from there. But an admission counselor is not interested in hearing what famous personalities have to say. They want to hear your voice; they want to listen to your opinions. There is no harm in mentioning a quote in your essay only so far as you connect the lines with your own personal experience. A counselor must find relevancy between what you quote and how you relate it to yourself.
Start Drafting your Essay before the Admission Process begins
You may opt for writing whatever appeals to you, but keep in mind that the best essays recount a story about you. The admission counselors must be able to feel that by reading your essay they have managed to get a glimpse into your life. This essay of yours should be the best-written work of your life. So start paying attention about your daily chores, what you like to do and things that are important to you.
While nurturing an inconsequential item like a fond memory or a debate that was held in your French class, you may embark upon an exceptional statement of purpose. Writing such strong essays will not happen in an overnight. Only the idea for your personal statement might take some time to strike in your mind. You may also have to scrape out several essays until you feel that you have hit on something that will surely work in your favor. Even after that you may have to write several revisions.
The essence of a realistic and powerful essay is that it will be able to arrest the attention of a counselor and enable them to understand who you are as a person. After reading your essay the counselor should be able to feel that they just had lunch with you. It is that crucial instrument of an application process that can get you noticed, and subsequently, get you in.
MyAssignmenthelp.com provides Assignment Writing Service for Students in Australia, UK, USA and Canada
We are an assignment writing service providing services in MBA, programming, case study, dissertation paper and many more. We provide high quality materials for essays, dissertation papers, term papers and many more. We have an in-house team of 3000+ academic writers from renowned universities of the world. We provide assignment service in 100+ subjects. Each assignment is developed after precise understanding and in-depth research. Some of the best features of MyAssignmenthelp.com include:
• Timely Delivery
We understand the importance of assignments for students. We take the guarantee of delivering your assignments prior to the deadline so that you can proofread it before submitting it to your teacher.
• 3000+ PhD Experts
All our assignment writing experts hold PhD degree from renowned universities of the world. We assign only those assignments to the experts who have enough experience in the relevant field. We hire some of the best writers.
• Plagiarism-free Work
We greatly depend on Turnitin.com, a reliable plagiarism detecting software to avoid any kind of plagiarism issues. We have never faced any plagiarism issues till date since we have strict policies. All our papers are 100% original and plagiarism free.
• Expert Assignment Help 24*7
Our customer care representatives are available at your service 24*7. You can contact us via live chat, phone or even email in case of any professional assistance.
• 100+ subjects Covered
We provide academic writing service in 100+ subjects, be that your final assignment, term paper or research paper writing. We guarantee high quality service in any subject at any given level.
• Affordable Price
You can compare our writing assignment service company with others and see for yourself how affordable we are, without compromising on quality. Our prices will not burn a hole in your pocket.
Was this article helpful?