Save Time & Improve Grades
Just share your requirements and get customized solutions on time.
A Failed Attempt to Achieve 'Education for All'
Mark
15 April,2015
It is sad that the UNICEF's Millennium Development Goal which was created with an initiative to foster "Education for All" failed to achieve its target. There were loopholes and setbacks which eventually led to a failed attempt. While complications associated with global academics will always prove to be a major cause of limitation, one can always look at things in a positive manner.
Well-constructed point of action, a focused mindset to change things for the better and the right strategy are the keys to ensuring "Education for all" across the globe. In case you are trying to figure things out and looking for ways that can fix the issue, here are the five best ways that can ensure seamless education for the children across the globe.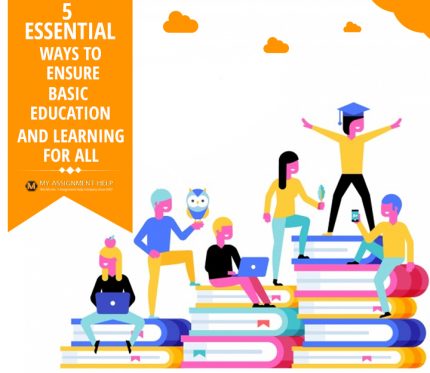 Basic education should be mandatory for all
39% of the worldwide poor are still devoid of basic education. The idea is to fill this void and foster basic education for one and all. It should be mentioned that the legal bodies and governments of different countries can come into play, and take stricter steps to ensure basic education as a legally mandatory phenomenon. Once it is accepted by the constitution, students across the world might try and figure out ways to embrace education in all forms. However, one must also consider the cost of basic education. It shouldn't be something unaffordable; better, if made free or available at a minimal price.
NGOs and Developmental bodies must pay focus on the disadvantaged students
This is yet another significant way that can be implemented to improve dire situations. NGOs and various developmental bodies across the globe can take a joint initiative to foster basic education, training programs and interactive classrooms for one and all. Education may not come easy to everyone, but the right initiatives can always be taken to make things easier and more convenient for the students.
The NGO activists can take the noble initiative of reaching out to the students belonging to the downtrodden areas, visiting underdeveloped schools and colleges to spread awareness, introduce new academic trends and educate the students with the same. This, as a result, might just help the situation to improve, bridging the gap between lack of education and communication setbacks.
Educators must consider being more interactive and student-friendly
It is alarming how students are afraid of asking questions to their educators. This is mainly due to the fear of the image of a so called "strict teacher" that keeps haunting the mind of several students from time to time. As a result, a significant percentage of students end up lagging behind and miss out on clarifying tricky subject matters and lessons.
With a bit of compassion, enhanced interaction with the students and the creation of a student-friendly atmosphere in schools and colleges, this gap can be bridged. When the idea is to foster education for all, one must consider taking note of every critical aspect associated with the same. A healthy student-teacher relationship is certainly the key to success.
Science, Arts, and Commerce should be given equal importance across the globe
When it comes to ensuring education for one and all, each and every critical academic sub-discipline should be given equal importance. Basic education should comprise of the involvement of each of the three critical subjects. A lack of proper knowledge, in-depth insights and technicalities associated with the study of arts, commerce, and science can impact the quality of education.
Educators across the globe can consider encouraging and introducing various facets of science, arts and commerce among the students. They should learn and know more about the different applications of each of these subjects in daily life. This, as a result, can help them to embrace the basic educational values in a relatively better way.
Education should not be restricted to books
If we are to talk about basic education, educating students about sports and physical activities becomes an equally critical aspect. Sports education is undeniably one important point of concern. And students across the globe cannot afford to overlook its importance.
The idea is to talk more about sports, encourage and involve students to participate in interactive games, physical activities like running, swimming, cycling and more. Comprehensive education for all will only be possible once each of the crucial aspects of education is met with precision.
Immediate steps should be taken to increase adult literacy
Not only for the children, but education should be made accessible to the adults as well. A downward graph of adult literacy scale can bring a huge negative impact on the society. The educators across the world and various authoritarian bodies worldwide should come together with an initiative to improve adult literacy rates.
Education in higher academic institutions can be made more interactive and value-driven. The members of local literary councils, research wings, and higher-secondary tutors from recognized institutes can initiate educational campaigns. This can eventually help all learners above 15 years to acquire knowledge and make the most of their lives.
To Wrap It Up,
Ever since the world has been created, one critical tool that has backed up mankind through thick and thin is "Education". While there are contractions, setbacks and failed attempts concerning this particular field, we should consider figuring out more of such effective measures that can foster global education.
The very foundation of education has been one of the most critical aspects and a major factor responsible for the progress of mankind. Now that the solutions are here, and the initiatives required for the essential improvements are well-defined, let's hope for a better tomorrow.
Are You Looking for an Assignment Writing Service? Visit MyAssignmenthelp.com and Go Stress-free
Are you looking for a reliable assignment writing service to help you with the task of composing an overly complicated academic assignment? The professionals of MyAssignmenthelp.com will provide you with the most effective solutions on time. With several years of experience in the field of academic writing, our firm is all set to deliver you with the best performance, and solve all complicated academic works with precision. In case you are wondering what academic writing services we provide, here's an informative list for you:
We have the best team of focused academic writers to provide flawless dissertation writing help
Hire the finest academic experts and have your coursework composed brilliantly.
Be the class topper and impress your professors like never before with technically accurate thesis paper help.
Overcome the odds of writing complicated essays and seek professional writing assistance from us
Experienced and highly qualified writers will help you with complicated research papers
In addition to offering the best writing services, we offer exciting discounts on all assignments. So, hurry up! Time's flying past. We are right here, at your service!