Category:
Math Assignment Help
Mark
13 December,2021
Quadrilaterals are an essential part of your arithmetic syllabus in schools, colleges, and even universities. However, most students often ask themselves, "What is a quadrilateral?" when solving ...
Mark
04 December,2021
In simple words, the volume of a sphere is the exact measurement of the area it can occupy. A sphere is a three-dimensional figure with no edges or vertices. Finding the volume of a sphere equat...
Mark
23 September,2021
The cubic function is an important element of mathematics. You need to understand the same while studying the subject. It is true that most students try to avoid the subject and ignore the different ...
Mark
07 September,2021
Variables are characteristics used in research to identify different values. These can be age, species, height, or even exam scores. In scientific research, students often study the effect of one var...
Jacob Thompson
09 June,2021
Permutation and combination are quintessential parts of a high-school math curriculum. While the chapter may seem comparatively easier than other math chapters for permission to use the calculat...
Mark
28 May,2021
To understand how to calculate standard deviation, you first need to know the meaning and importance. Students, pursuing the subject, 'statistics' will know this term better as it is well related to ...
Mark
19 February,2021
Percentage error identifies the difference between the experimental values to its exact values. The simple per cent or percentage error formula helps calculate the error between the experimental...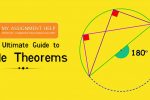 Ethan
12 April,2019
GCSE or General Certificate of Secondary Education is an academic qualification. This course includes numerous subjects pursued by the pupils of secondary education in England, Wales and Northern Ire...
Mark
08 May,2015
When you see an equation like 3+3×3-3+3, it immediately tickles your brain: how to solve it? MyAssignmenthelp.com, the world's No. 1 writing service provider, knows how tough it can be to crack...
Mark
23 December,2014
Learn To Solve Cubic Equations In mathematical terms, all cubic equations have either one root or three real roots. The general cubic equation is, ax3+ bx2+ cx+d= 0 The coefficients of a, b,...
Mark
28 November,2014
What, according to you, is the toughest chapter of math? Did you say Linear equations? Well, we heard you. Many students share the same perspective towards this particular topic of algebra. ...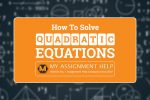 Mark
28 November,2014
Solving Quadratic Equations : We now move on to difficult terrain. Once you have mastered linear equation, we now must tackle quadratic equations. A quadratic is a polynomial that looks lik...