Category:
Science Assignment Help
Mark
05 June,2015
Today, 5th June, we celebrate World Environment Day, one of the principal vehicles resorting to which billions of people across the globe raise awareness to take positive environmental steps. Correct...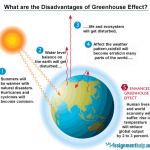 Mark
21 November,2014
Greenhouse effect is nothing but the process by which radiation from the planet's atmosphere warms up its surface to a temperature above the atmospheric level. The thermal radiation from earth's ...