Category:
college interview help
Mark
04 September,2020
It is okay to feel nervous before an interview. Everyone does in their first-ever interview. Whether you are a student, trying to get admission into your dream college/university, or someone who is a...
Mark
23 May,2020
An interview is a gateway to bag a job in your dream company. Like a dynamic beginning, the way you end an interview also leaves the final impression. Hence it is vital to know how to end an int...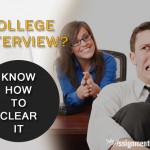 Mark
20 July,2016
College Interview! With this term all the exceptional qualities, learning as well as the performance capabilities of students diminish. Tension and panic of sitting for a college interview is a commo...