Category:
Dissertation research
Mark
11 May,2016
The dissertation section for a Ph.D. has always been similar to the ritualistic steps that one has to ascend in his search for existential and esoteric meaning. The levels of the academy — be they ...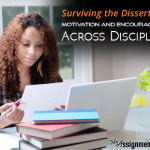 Mark
04 May,2016
"I spent every night until four in the morning on my dissertation, until I came to the point when I could not write another word, not even the next letter. I went to bed. Eight o'clock the next mor...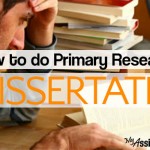 Mark
08 January,2015
Primary research is very important for your dissertation, irrespective of whether you are opting for a qualitative or quantitative approach. It helps you to draw an outline regarding your daily task ...