Category:
Dissertation Writing Topics
Mark
30 August,2017
The topic of your dissertation is the life and soul of it. Without it, your dissertation is like an aimless wanderer in the sea, lost and pointless. But that doesn't mean you choose just about any ... Mark
19 December,2014
Dissertation is the final assignment you submit before receiving your final grade. It is a formal extended document based on research work. This work is carried out on an individual basis, although u...
Mark
05 December,2014
When it comes to dissertation writing, you have to keep one thing in mind — the final copy of your dissertation will reflectall the hard work and dedication you have put in as a university student....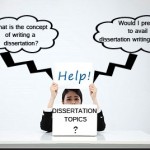 Mark
17 November,2014
Choosing dissertation topics can be quite challenging. Whether it's an undergraduate or post-graduate course, a dissertation is a crucial piece of work. Are you unable to narrow down your ideas? Go...