Category: Referencing Style
Mark
23 September,2019
Nobody can deny the fact that referencing is quite a complicated matter. It is mainly due to a lack of a clear concept. For example, many students are still confused about the difference between MLA ...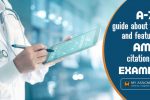 Ella Thompson
24 July,2019
Did you know that 11 out of 50 cases of plagiarism are due to lack of proper citation and errors in referencing list? However well you write your paper, you will not be able to make a mark with your...
Mark
11 May,2017
It is very common for students nowadays to copy writings of one person and put it in their assignment or essay paper whichever they are writing. This is not only illegal but punishable as well if cau...