Save Time & Improve Grades
Just share your requirements and get customized solutions on time.
Clear Your College Interview With These Proven Guidelines by Experts
Mark
20 July,2016
College Interview! With this term all the exceptional qualities, learning as well as the performance capabilities of students diminish. Tension and panic of sitting for a college interview is a common thing among students. But the college interview is one of the most important tasks where students need to perform and must excel to get an admission in the college.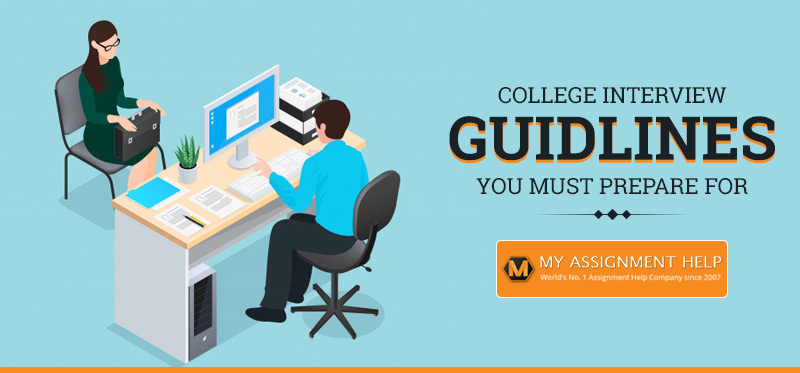 Today, we are going to learn the best ideas for clearing a college interview. We will also look at the best tips and tricks that will enable you to clear the interview with ease. But, before that, let us look at the importance of a college interview.
Significance of a College Interview
College interview keeps a much greater importance. It is the first step where the capabilities of the student are judged accordingly. The main idea lies with maintaining the reputation of the college or the university.
The Common Scenario
It is found that many aspirants sit for college interviews without proper preparation. Their primary thoughts and desire is dreaming about the college campus, making new friends, getting acquainted with in-house bands and finally getting popular among new peers. Dreaming about all such stuff, they forget about the performance that they need to deliver in the college interview.
To provide you with an accurate idea, let us look at the factors that are looked upon by the interviewer in the college interview.
Factors looked upon at College Interview
Universities and colleges are places where students from various communities come together. They specifically have a common goal i.e. acquiring education. In order to keep the college environment neutral and maintain a unity for intellect, college interviews are used for admitting students.
The time frame is short for students to impress the interviewer. The qualities that the interviewers check are as follows:
• Behavior
The interviewers analyze the behavior of the students. This is to learn, how a student will behave in the class and the campus. It becomes necessary for the college authorities to analyze the behavior of the students so that they never can turn out to be a threat for the college's reputation.
• Personalize the Admission Procedure
College interview is the best place where things are taken down to a personal level. The college authorities feel the necessity to judge the personality of the student. Hence, an opportunity to impress the panel of members with a wow personality is provided to the student.
• Unveil the Real Personality
It is very important for the interviewer's panel to understand the real personality of the candidate. A student might possess academic success but zero interpersonal skills. Such candidates are not much preferred in the college interview and are more tend to get rejected.
• An Opportunity to Advertise
College interview is the place where a candidate can give himself some market value by advertising accurately his capabilities in an appealing manner. This fact of advertising is useful. It helps a candidate to accurately sit for job interviews in the later phase. Job interviews are indeed based on advertising oneself where college interview gives you an opportunity in brief to understand the interview session for a job.
• Depth of the Personality
Students learn the procedure to sit for a college interview and try to answer to question as per they learnt. But the case is very different. It is tough to impress interviewers with learnt and memorized speech. The interviewer knows very well the difference between memorized speech and generalized conversations. They will ask you tricky questions where learned stuff will not work.
• Both Ways Conversation
College interview is not a place where the interviewer will speak and the candidate will remain silent. The interviewer expects the candidate to speak as well. Interview session is a place where the candidate can ask things that they want to know about the college or university. Yes you can know that from the website and the college brochure. But there are certain things that are not mentioned there. Students can readily ask that in the interview session.
• Perceptive Analysis
Here the confidence of the candidate is also looked at while knowing how a candidate is efficient in carrying himself. The behavior of the candidate under pressure is also judged. This is because a candidate getting a place in the college will be future custodians carrying the aim and purpose of the college or the university.
• To Establish That Academic Record is Not Enough
Indeed the academic qualifications keep importance. But when it comes to college interviews or getting enrolled in reputed colleges and universities, the academic expertise is just not enough. The interviewer or the panel of interviewers has some analytical tools that allow them to judge the candidate. This tools can only be used when a meeting in person is organized and hence the procedure of college interview. Tools like body language, attire (formal dress, polished shoes), gestures and expressions to what is being said along with the voice modulations that establishes confidence or over confidence and sometimes, lack of confidence.
• Know the Candidate Better
Personal interaction is the best way to know a candidate. No matter he is lying or speaking the truth, it all depends on the perception of the interviewer. Speech from the candidate is acutely analyzed by the interviewer and it is his job to look at the future perspectives of the college.
These factors are essential for understanding the qualities of a candidate and hence we can now easily realize the necessity and significance of a college interview.
Tips and Tricks to Clear a College Interview
With the clarification of the fact of why college interview keeps a permanent significance for the admission procedure, let us now look at the tips that a student can follow to clear the college interview.
1. Prepare Yourself
You are eager to get an admission in the college of your dreams but the last step is panicking you i.e. it's time for college interview. Indeed the day for the college interview is a big day for aspirants. Prepare yourself before hand with a bit of research about the college. Refer to the college website and pick up details. Eventually you can also ask people and seniors as well. When you do a bit of research, you will be in a position to analyze the informations and ask questions accordingly as well as answer to questions at the college interview session.
2. Dress for Making an Excellent Impression
It is known that "First impression is a Lasting Impression". So why not utilize this fact to excel in the college interview? A candidate that goes for the interview in formal attire with formal shirt, polished shoes, and blazer along with a tie is going to get much preference than a candidate who has worn casuals or t-shirt and jeans. When a student sits for a college interview suited up, he readily projects his personality and his ability to carry his personality in front of people. Although, sometimes it is not necessary to wear formals for interviews but, suiting up shows that you are a mature student with a sense of responsibility and seriousness.
3. Indulge in the Conversation to Ask Specific Questions
Your interviewer expects you to speak so that he can analyze your personality. It is to find out whether a candidate is applicable according to the aims and objectives of the college or university. When you prepare yourself beforehand with collected information from the college website, you will be in a position to ask question related to the college campus or the educational exposure during the academic career that might not be available on the portal. The college interview session provides you with this excellent opportunity to learn more about the college and you can ask question according to your needs and academic preferences. This will give the interviewer an impression of your interest towards your academics as well as the college or university.
4. "Tell me something about you" – Prepare an Answer
It is a common question asked in every interview. It is also seen that students fail to answer an appropriate answer that is true to them. It is due to lack of preparation. There are many students who reply with interrogative phrases like "What do you mean?" and some of them also say "What do you want to know?" Replying back with a question to clarify the asked question is a foolish step. Students must not do this. You must try to answer with things that are not mentioned in your resume. Utilize your previous academic experiences and your performances here. Inform them what you are best at and as you proceed, end the conversation with establishing your purpose to join that particular college or university.
Let us understand this with an example
You might have seen or known that when authors or writers publish their books, people and common public gather to learn about the story and so on. But their first intention is to know the author as a personality. If they would have only interest in the book, they could have read it at the earliest. The author summarizes his purpose of writing the book and then gets into a generalized chat with the public. Same is the case with college interview. Present things that are not mentioned in the CV and attract the interviewer towards your personality.
5. No Babbling and Late Replies
There are many students who get confused perfectly at the moment when a question is asked. If you are taking too much of time to answer questions, then you are providing the interviewer with the impression of your lack of confidence and the interviewer is also not able to extract much information about yourself. Also if you are a frequent chatter and love to blabber, learn to limit your babbling during the college interview session. When a candidate babbles, he goes off track and says irrelevant stuff that is not required. Yes, exceptions are always accepted. If you have something very amazing to convey and you are eager to say, find a relevant thread of conversation to bring up your point. Do not unnecessarily provoke the interviewer to listen to off topic stuff.
6. Mature Up. Do Not Let Parents Do All the Talking
It is also seen at most of the cases, that students are accompanied by their parents into the college compound at the time of the selection process. It is good, but do you think that they will accompany you to the interview as well? No, they will not be allowed. Hence, in order to boost up your confidence, a student must do the tasks of the admission process by himself or herself. This will allow them to keenly analyze the process and master it. For any queries from professors or college administrators, ask your questions by yourself and do not ask your parents to collect information for you.
7. Your First Priority is Academics
The college staff and the interviewer are looking for your academic bent of mind. Hence, you must prioritize academics so that you can project them your expertise. If you have had a bad semester previously, this is the place to inform them. When you inform such stuff and sit for an interview, it will ready project your quality and your focus on acquiring knowledge. The college is looking for candidates who want to study, whose first need is education. So, whatever you say or convey, you must project your academic bent.
8. Represent your Qualities with Something
You can bring something that accurately represents you and your qualities. Carrying a CV or a Resume is not the end. You can also utilize something that is not related to your previous college or school, but can represent your personality and project your thought process. For Example: If you are applying for Humanities, you can bring up the book of illustrative short stories and poems that you have written. It can project your capabilities to the college or the university at the very first point.
9. What Makes You?
Spend some time to analyze what makes you, before sitting for the college interview. Analyze the places or the points that you are unique and efficient with. Utilize them to create an impression in the interviewer's eyes. This will allow you to answer efficiently the question of "tell me something about yourself" as well.
MyAssignmenthelp.com Excels In Providing Assignment Help Services Worldwide
After you clear your college interview, you will be beginning with a new academic career in the college of your dreams. You will be prescribed by your professors and instructors numerous assignments that you will be doing. There are many students who are seen to get panic attacks immediately with the receiving of assignment writing tasks.
Here in this section, let us look at the exceptional features of MyAssignmenthelp.com that will allow you to seek help from our experts without having a second thought.
• Vast Variety of subjects: Myassignmenthelp.com provides assignment help services on 100+ subjects. Be it any subject, we guarantee you accurate assistance.
• 3000+ Ph.D. Experts: Your assignments are done by in-house experts who are profound in preparing quality assignments. Stay secure with assistance from professionals.
• Live Chat: Get into a live chat session with us through the live chat option made available on the portal.
• Voice Call: Avoid miscommunication with our excellent feature of voice call options. Dial up the number given in the portal and call us.
• Cheapest Price: Avail the best assignment help that too at the cheapest price in the industry. Our in-house experts are provided with all the resources required, hence allowing us to cut down costs.
• Plagiarism-Free Content: Get unique and non-plagiarized contents or assignments from our experts. Our experts have enough experience in helping students with assignments.
• Turnitin Report: Only at the cost of $2 you will also be able to acquire a plagiarism report from the world's best software i.e. Turnitin.
• Wide Variety of Assignment Help: We provide help in dissertations, essays, case studies, custom essays as well as customized assignment helps.
• Privacy: We take our client's privacy very seriously. Stay secure with us. We never share your credentials with third parties.
• Attractive Discounts: Avail discounts on initial purchase. Also you can get one assignment free by placing an order for three.
• Easiest Payment Option: We use only the reliable and well known payment medium, i.e. PayPal. You can directly pay with PayPal and avail services from us.
Placing an Order Made Easy
All you need to do is follow the following steps:
• Visit our portal: Myassignmenthelp.com
• Fill up your email-id
• Mention the desired subject
• Number of pages or word count
• Deadline and
• Place an order.
With a view at all the features, you can now readily seek help from our experts and score the highest marks in the college or in your academic career. Feel free to connect with us. We are only a few clicks away.