100000+ Students
can't be Wrong!
1018817
Orders
4.9/5
Ratings
5028
PhD Experts
Get best grade, order now!
Be Disciplined or These 13 Mistakes Could Cost You Your College Acceptance
Mark
22 June,2017
College is not an institution, it's a feeling. I'm sure you have heard your elders saying this and probably wondered how amazing it is to be in a college. As a matter of fact, it is, and if you are a high school senior, then it's almost time to experience the feeling all by yourself.  However, there's a slight problem. While you are busy dreaming about your extraordinary college life, millions of other students are losing their sanity over the college admission process. Everybody wants to be in the top colleges of the country, but the seats are limited, which makes it harder to compete.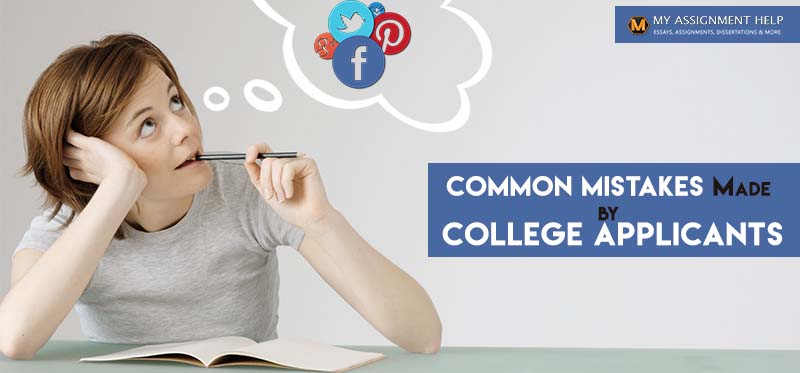 You must realize that there are more qualified students out there who are fighting for the same thing. So you can understand the odds. However, you can be one step ahead of these students if you are aware of the mistakes that can ruin your chances of getting into the top colleges of the country.
Avoid these common mistakes which can cost you your college acceptance.
1. Flaunting Everything on Social Media
It has become quite a trend to post anything and everything on the social media. You are watching a movie, you put it as a status on your facebook timeline; you are having dinner, so you click a photograph and upload it on your Instagram account. This happens every single day, and you are not the only one. And nobody told you that it is wrong. It turns ugly when you lose your sanity and post without thinking about the consequences. When an admission officer receives your application he does your background check, and this includes your social media presence. So if you have something on the internet that puts you in a wrong light, you should take it down immediately. Also, when you are in the process of admission, try not to put the institution's name with "hashtags" or "mentions" and post negative things about them. If something bothers you, deal with it in real life. Saying negative things about the college on the social media will ruin your chances of getting the admission.
2. Lying on the Application
As mentioned earlier, you will face a competitive admission environment but that shouldn't make you do something which you should not. For instance, lying on your resume attached with the application. Students are often intimidated by the fierce competition, so they choose to lie on their resume and boast about something that they haven't done. If the admission committee gets to know about the lie, it won't be good for your academic career.
3. Not Preparing for the Standardized Test
If you are willing to stay ahead of the other students, you need to prepare for the standardized tests. Most of the students neglect these tests and appear with very little or zero preparation. If you prepare for these tests and score well, your application will automatically look better than most of the applicants. It may even get you scholarships as well.
4. Not Being Careful about Your Grades
Some people usually say that marks don't matter in real life. But in a college application, they do. If you were not giving proper attention to your grades during high school, it could come back to haunt you. GPA is an integral part of your college application. So make sure to improve your grades by the finals of your senior year.
5. Neglecting your Application Essay
If you think the application essay doesn't affect your admission process, then you are mistaken. Your application essay describes you to the admission committee. It tells them why they should give you the admission. If you don't take your application essay seriously, they may not find any particular reason to include you in their new batch of students. It is the one part where you can add your personal touch.
6. Not taking the Admission Interview Seriously
Interviews are formal and professional in manner. So if you show up at the interview with stressed jeans and a baggy t-shirt, looking like a hipster, you should consider applying for a different college. Your first impression has a lot to do with your admission. So you need to make a solid impression, with your appearance and also with your confidence.
7. Being Careless after Applying to a College
Colleges are capable of rejecting your admission offer once they receive your final transcript. If you have been careless in the final stage of your senior year, it can affect your grades and lead to rejection. It is important for you as an applicant to remain focused academically.
8. Use of Inappropriate Email Addresses
As a teenager, you may have done a lot of stupid things. Creating an email address with an inappropriate title may be one of them. But when you are sending an email to the admission officer, don't use that email id. It may not create a good impression if they receive an email from chickmagnet96@hotmail.com. Create a decent mail id and use it for official work like sending the college application. This will present you as a serious applicant and create a good impression to the recipient.
9. Ignoring the Deadlines
When you are applying for your college admission, be aware of the deadline. If you are late during the submission of the form or you arrive late for the interview, it can sabotage your chances of getting the admission. This may project you as an undisciplined person which is not a good thing to be.
10. Not Applying for the Big Colleges
This is one of the biggest mistakes people make during their admission. If you think those big colleges are way beyond your reach and you cannot afford it, then you are wrong. You can talk to your parents and see if you can get a loan. A lot of students do that. Plus, there are scholarships. If you are a bright student or you excel in the field, you don't have to worry about the money.
11. Getting VIP Recommendations
It is stupid to think that recommendations from eminent politicians, corporate personalities or someone from the college's board of trustees can land you in the top colleges in the country unless you have actually worked for that person as an intern or other substantive position. Colleges look at your resume for the admission. The more impressive it is, the better chances you have of getting the admission.
12. Choosing Colleges from the List
If the idea of top colleges comes from a particular magazine, then you should not pursue it. There are dozens of magazines with different lists of top colleges. So you should understand that the lists are flawed, and they can be misleading as well. The brand name of a college does help you get a better job in the market, but that shouldn't be the only quality you look for while choosing a college. Consider significant factors when you are short-listing the colleges you want to go to.
13. Trying to be an One Man Army
When the colleges pick their students, they try to put together a class that has a good ratio of scholars, athletes, artists (dancers, musicians and actors), potential club leaders and other talents. If you try to do everything, you may come out as "Jack of all trades, master of none". When you're mediocre in every aspect, it may be hard for you to get the admission in colleges that specifically look for the students who are dedicated to something and excel at it.
If you want to see yourself in the college you always dreamed of, then you should avoid these mistakes. Otherwise, you may have to spend the whole year sitting at home or working somewhere, while most of your friends will go to colleges and tell you stories about their wonderful experience.
Are you Worried How will you Survive in College after the Admission? Let MyAssignmenthelp.com do all the Heavy Work While you Enjoy your College life to the Fullest
MyAssignmenthelp.com is known for its services which make students' lives easier. Our team of qualified and experienced experts is always ready to help a student with all his/her academic issues. Whether it's a history assignment or a complicated case study, we take care of every academic task.
It can be tedious for a student to finish an assignment on time as he has a lot of other things to care about. We help you to keep a balance between your personal life and academic career, as the experts at MyAssignmenthelp.com take care of your homework and assignments. Most of the academic writing service providers are PhD holders and they understand the requirements of a student. The 24×7 customer support is also there to help students with their doubts and queries.
You can avail academic assistance from us just by visiting the website and registering on it. You can also receive assignment writing tips from the experts. MyAssignmenthelp.com aims to offer a helping hand to every student who is struggling with their assignments and other project works. We not only help to finish your assignment but make sure the content is impeccably written, free from all sorts of plagiarism, with proper referencing.
With our expert assistance, you can achieve all your desired academic goals. The services offered by us are also affordable in price. So students from any financial background can avail them. There are also discounts and substantial offers for existing customers.
To know more give a call on +61-3-4000-0033 or visit us.