Save Time & Improve Grades
Just share your requirements and get customized solutions on time.
Enjoy 10% Discounts on Assignment Help and Writing Service throughout the Ramadan Kareem Season
Ruby Walker
19 May,2018
Ramadan Kareem season is indeed a very auspicious month for Muslims all over the world. We know that this is the festive month for you when you want to get rid of all the extra burdens of your academic works. It would be really painful for you to accomplish your assignments during this time of the year.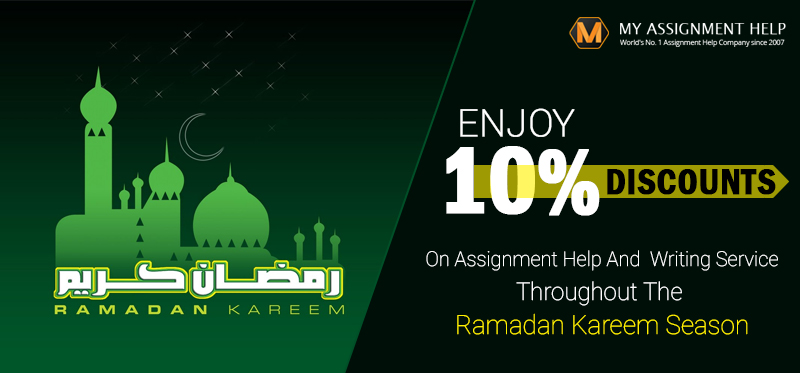 Ramadan Kareem is regarded as the 9th month according to the Islamic lunar calendar. In this whole month, all the Muslims fast according to the moon's cycle. In this very month, they need to be clam, composed and totally dedicated to their prayers. Muslims follow this ritual whole heartedly. They have to follow a lot of things that is associated with Ramadan Kareem. In this month, it is not possible for the students to think about the academic aspects. Some very important things that need to be followed are:
Performing the Swam for the month; fasting means swam which is fifth pillar of Islam.
Prohibiting from smoking, food, drinking or alcohol consumption during fasting.
Controlling self from any kind of bad behaviour.
Open the door for mercy and reading Quran
Maintaining the fast breaking time
As they have to follow these norms throughout the Ramadan Kareem season, it can be very tiresome for them to put attention in academic works. However, the time is also of peak season where the burden of semester cannot be ignored. Therefore, MyAssignmenthelp.com has come up with 10% discounts on any type of assignment help and other writing services.
How Ramadan Kareem has different interesting facts?
Not only Muslims, but people all over the world must know that how Ramadan Kareem has different facts.
In Egypt, clocks are pushed back to make the days shorten.
Muslims are obliged to do as much charity they can in this period.
In some Muslim countries, breaking fast in public is a crime and there are penalties for the same.
The date of Ramadan Kareem changes every year.
Apart from these points, there are also something indeed very interesting about Ramadan Kareem. In this total auspicious month, there are many things that have certain inner meanings.
The word Ramadan means scorching heat. It significantly describes the condition of the Muslims who fast the entire month without even drinking a sip of water.
Fasting is not only eating or drinking. It is like the emancipation of the soul to get closer to their lord or 'Allah'.
They involve themselves in extra devotional prayers in the last 10 days of Ramadan
This is the month of showing kindness and love
With all these factors during this holy month, meeting the deadline with academic burden can be troublesome.
MyAsssignmenthelp.com provides the best academic help service
Our academic help service is the best in the market in terms of price as well as quality. We have a team of top-notch experts of various fields who can nail with your work. In this auspicious month, MyAssignmenthelp.com has come up with the solution by providing the best online assignment help service at a real low price along with 10% discount.
We wish everyone a happy Ramadan Kareem. May god shower his blessings to you and you can fill your life with sheer happiness. MyAssignmenthelp.com gifts you 10% discounts on academic papers. Do not forget to choose us if you are in a need of this help.