Save Time & Excel Academics
Share your requirements & connect with top tutor !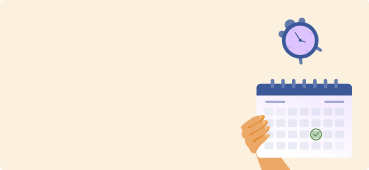 15 Brilliant DIY Ideas for Easter Egg Decorations
Mark
31 March,2018
Again, it's that time of the year when people get their paint brushes and display their creativity by decorating eggs.
It's Easter! And if you are looking for some new ideas to decorate the Easter eggs this year, there's no need to look further.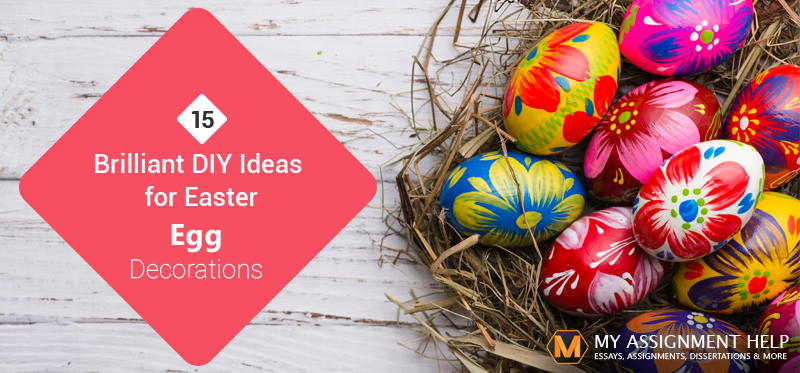 Well, the conventional way of dyeing the eggs in the vinegar based dye is something that works just fine, but if you want your Easter eggs to stand out, you need to do something new.
Here are some unconventional DIY ideas that you can use to decorate your Easter Eggs:
Cactus Easter Eggs:
This is the perfect example to start with. All you need is a terracotta pot that is used for planting saplings, a small piece of tissue paper, some glue, egg dye kit and a fine tip marker.

Start with dyeing the egg-shell with the green color. Once it's done, keep it for drying. You can use the marker to draw the thorns when it is dry. And finally, use scrunched tissue paper to make the flower which will go on top of the egg cactus. Use glue to stick it firmly.
Place the egg on the rock-filled pot. And ta-da! Your decoration is done.
Ice-cream Easter Eggs:
Everyone loves ice-cream, but this one is for decoration only.

This one's even easier to make. You'll require a black marker to draw the faces to give the ice-cream eggs a cuter look, an orange marker to draw the curves of the cone and dye to paint the ice-cream part.
Cute, aren't they?
Sprinkle eggs:
You might have seen people using glitters to decorate their Easter eggs. This one uses sprinkles instead.
You will need pastel rainbow nonpareil sprinkles for this decoration, and a bottle of cheap glue (no need for buying a good one).

Use a brush to apply glue on the egg-shell. Then gently put the shell inside the bowl of sprinkles. Once the whole egg is covered with sprinkles, take it out, and you are done.
Floral crown:
If you don't want to get your hands on paints or glue, this is the perfect decoration idea for you.

Get some eggs, draw a face on them with a marker. And use the stems of baby's breath flower to create crowns for those eggs.
Simple, yet good-looking.
Marbled Easter Eggs:
Did you ever play with marbles? Well, if you have, you must have noticed some amazing patterns on them.

This decoration requires nail paint (any color you want) as well as nail paint remover. Use your imagination to paint abstract art on the egg-shells. To give then some unconventional pattern to the decoration, use the nail paint remover.
Metallic Easter Eggs:
You may have seen people painting the eggs with the golden or silver color to make them look like metallic. Well, you can add some twist in the conventional decoration of metallic eggs.
Get a chalk marker and a bottle of gold paint. Paint the egg-shells completely with the gold paint, and when the paint dries, decorate the eggs with the chalk marker.
Flowery Easter Eggs:
If you are good with painting, this can be useful for your Easter egg decoration. All you need is craft paint set and brush set. Hopefully, you already have those things with you.

To make these decorations, you need to paint the egg-shells with black paint. That will be your canvas. Now once the black paint dries up, you can start painting the floral designs. If you are skilled at painting stuff, that won't be a problem for you.
Mosaic Easter Eggs:
If you have broken a few eggshells before you could start decorating them, don't stress. This hack will let you use your broken eggs as well.

To give the eggs a mosaic effect, you will require a few broken eggshells, paint and a bottle of glue. You can either paint the outside of the broken shells or the shells of the ones that are intact. Once the paint dries, apply glue to the inside of the broken shells and fix them in a mosaic pattern on the normal ones that are still intact.
Emoji Easter Eggs:
Emojis are fun. Most of us use them every time we chat or text someone. In fact, it seems weird if someone does not use emojis while texting.

Well, you can decorate your Easter eggs like the emojis we all love. All you need is paint marker and craft paint set.
Paint the eggshells yellow, and draw the emoticon faces on them. That's all you need.
Balloon Eggs:
People use balloons to decorate their rooms. You can use your creative idea to turn your decoration into balloons.
To make the eggs look like balloons, you'll require water balloons, some glue and craft paint set.

Firstly, paint those eggs with colors. And when the paint dries, get the knots of the water balloons you bought and paste them at the bottom of the eggs with glue.
Gold-dipped Easter Eggs:
Well, it's yet another metallic decoration of Easter eggs, but this time it's something you haven't tried.

You can find the liquid gold paint at any stationary shop. Use the paint to make it look like the paint is dripping from the eggs. It will definitely blow your peers' minds off.
Galaxy Easter eggs:
This decoration may look artistic, but it doesn't take much of your effort. However, it does require a certain bit of knowledge about colors though.

For this decoration, you will need craft paint set and eggs (obviously). Start by painting the eggs with black, purple and indigo. You can mix these colors, or use multiple layers of colors. Once the paint dries, you can use the fine tip of the brush to draw the tiny stars on the empty space that you painted on those eggs.
If you like stargazing, this may be an ideal decoration for you.
Ombre Easter Eggs:
You can use Easter egg decoration to create Ombre effect. The idea of gradual change in color hue leaves a great impression on the people who come to see your Easter egg decoration.

It does not take much of an effort. All you need is craft paint set, and paint the eggs from the darkest of the shades of the particular color you have chosen to the brightest shade of the same color. The gradual change does look soothing to the eyes.
Subway Art Easter Eggs:
You can turn your creativity into the Easter egg decoration using the subway art form. It's an interesting way of putting your Easter eggs which only uses dye or craft colors.

You can paint the eggs using the dye or craft color, as mentioned previously, and then write the message you want to write in the subway art form. You can use quotes that you love or any other line that sounds relevant to the occasion.
Silhouette Easter Eggs:
If you are a big fan of paintings or other art forms, but art really much of an artist yourself, this decoration idea can be perfect for you.

You will require small cutouts of any random figures. It can be a famous character like Sherlock Holmes, Tintin or even cartoon characters like Bugs Bunny, or normal animals like a duck, rabbits, etc.
You'll also require paint or dye.
Firstly, place the stickers on the eggs in such a way that they can be peeled off later. Next, paint the egg entirely with colors. Once the paint dries, peel off the stickers, and voila! You have a silhouette of a famous character or maybe an animal on the eggs.
Fascinating, isn't it?
Well, there're thousands of other ways to decorate your Easter egg, and surprisingly, none of them cost too much.
The ideas that are shared above are also pretty easy to perform. So go crazy with the decoration ideas and share them on your Instagram or Pinterest profiles. Some of the ideas can surely get you hundreds of likes on those platforms.
Want to enjoy this holiday with your loved ones? Give all your tedious academic tasks to the experts at MyAssignmenthelp.com and say adios to all the assignment-related stress
Holiday is the time when you supposed to take a break from your monotonous routine and enjoy quality moments with the people you love. However, the pending assignments and homework often prevent students from enjoying their holidays to the fullest. My Assignment Help is one of the leading academic solution providers on the internet, which aims to relieve students from the academic stress. If you are willing to enjoy this holiday with your loved ones, but cannot because of the unfinished homework and assignments, the assignment writers at MyAssignmenthelp.com can provide the necessary assistance for you.
There are more than 4500 academic experts at MyAssignmenthelp.com who are constantly helping thousands of students reach their academic goals with ease. If you want, they can also prepare your unfinished assignment for you within the given time frame, while you spend quality time with your friends and family. Most of the services provided by the experts here are quite affordable, and you can always expect them to offer them quality assistance, no matter which subject/ topic you are dealing with. MyAssignmenthelp.com has been rated highly (4.9/5) by the customers. Thanks to their unmatched support, plagiarism-free content, 24x7 customer support and guaranteed on-time delivery.