Save Time & Improve Grades
Just share your requirements and get customized solutions on time.
How to Balance School Homework and Fun
Mark
19 August,2014
Homework has always been source of arguments, mood offs and stress in students life. May it be a school or university assignments are always daunting. It ruins weekend parties, movie plans, guitar classes, sports and many more. One needs skills to navigate homework in the manner that will foster independence, knowledge, and good study habits. Studying hard always does not mean that staying awake late night compromising on relaxation. It is important to participate in other activities in addition to education. Academic professionals always fail to address this issue. Teaching has been overemphasised since ages and mental well being has always has been neglected. Social and emotional development has always been ignored which if taken care of will yield better results.  However, at university life, homework is much easy with homework help available online.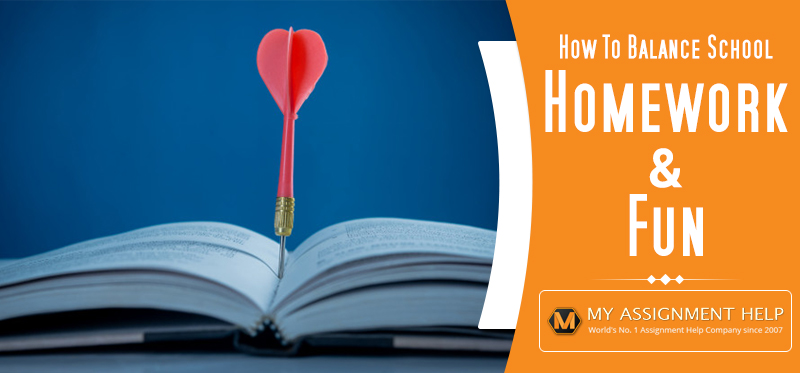 There is an immense help available online, with the advent of the internet. There is a growing industry of the online homework help services since the last decade. The aid of technology facilitates the online academic help-seeking behaviour among students. Student can buy homework from the online academic services. Students can understand the best way of doing the complicated homework. The completed solutions delivered by the homework writers act as a model to be referred in future for similar assignments. These unique on-demand services fulfil the needs of the students with what they want. A single click in time of need would ease your burden, and you may have a peaceful sleep. Unlike you, the online tutors deliver every solution on time without plagiarism. Thus, these services are very dynamic. There will be plenty of time saved which can be used for fun and any personal pleasure. Taking online help will assist the students to give equal time to both professional and personal life.
The blog helps students, struggling with homework and stressed in life. If you are overburdened with the homework and unable to maintain the balance between academics and fun, you may find this blog useful. Here are some tips to make your life more organised and balance homework and fun. As per the online homework help experts, the below given strategies are useful for students
Analyse- analyse the time required to accomplish the work and set the deadline accordingly. You must be loyal and honest with the set routine. Think and work with the daily activities. Analysing will give a clear idea. Routine must be prepared in manner that incorporates everything from studies, to bathing, eating, sports and fun.
Strong determination- Once the routine is set, you must be determined to accomplish every task mentioned on it as per the deadline. No matter what natural calamity comes never compromise on the timetable. Practicing this activity will make life more organised. Go for your favourite hobby, movie or play only when you have completed your homework
Effective scheduling- It is necessary to evaluate what can fit in the schedule and what cannot. It is better to omit some of the activities that were part of the school. With age we need to engage in activities that will add more value to life. Some of the activities need to be replaced such as arts, dance and others. At the university level one may not have sufficient time in regular art work. Therefore, fun can be added to life through simple activities. It may be a peaceful walk in park at sunrise or hitting gym for 30 minutes. It can be watching movie or a long conversation with friends. Engaging in too many outdoor activities will only rip of the physical energy and will leave us mentally exhausted. It is difficult to concentrate effectively on any work with poor physical and mental well being.
Engage in self-refection- self-reflection is an important activity that will inform one about their strength and weaknesses. Critically evaluating of self believes and values will give insights of what is wrong and what needs to be rectified. Maintaining a journal and analysing the specific activities performed or the results obtained from it help devise better way to perform. It will help an individual become introspective and retrospective of their fundamental nature.