Save Time & Improve Grades
Just share your requirements and get customized solutions on time.
Golden Rules To Composing A Perfect Query Letter
Sienna Kelly
29 August,2019
It is a busy Wednesday afternoon. A pretty ordinary day for everyone, except one person. For 5 years or so, Mr Brown has been waiting for this day eagerly. He is seen to be standing in front of a rusty mailbox, clutching a hefty blue envelope in his hand addressed to a publishing company. He says a prayer under his breath and pushes the manuscript in the letterbox. He wishes that he does not have to wait long for a reply. However, he had no idea that his request was going to be turned down due to the absence of a query letter.
Major publisher these days do not accept 'unsolicited manuscripts' sent randomly through the post. Writing a query letter is utmost crucial if you are serious about seeking an agent and getting your novel published.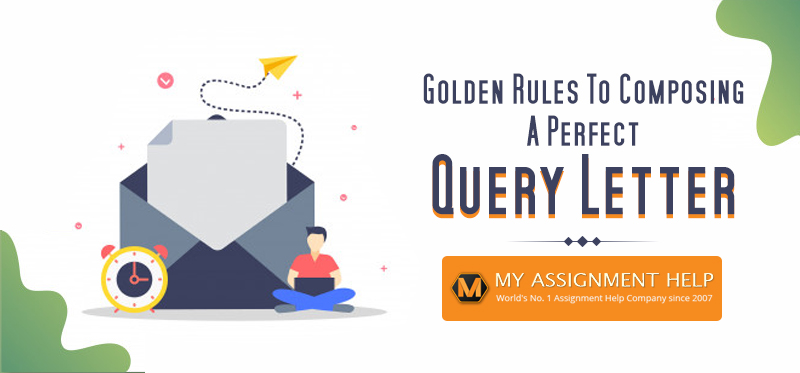 Many fail to draft a remarkable query letter as they don't have the faintest clue of how to write a query letter' or 'how long should a query letter be'. If you are one of those, then reading this blog will surely put you miles ahead of your competitors.
In this blog, we will walk you through the intricacies of a query letter formatting, remarkable guidelines to write impeccable content and query letter samples. This will enable you to nail your query letter like a pro.
What is a Query Letter?
Before understanding how to deal with the intricacies of writing a proper query letter, it is crucial to understand 'what is a query letter?".
A query letter is a formal letter sent to magazine editors and literary agents asking whether they are interested in publishing your work.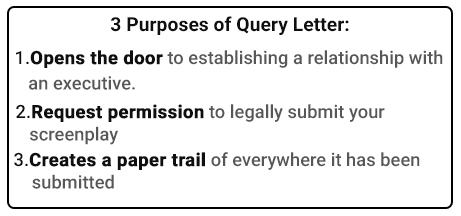 If you want to see your work published, you need to produce a quality query letter. A successful query letter would make the difference between being published after 20 and 200 rejection letters. Hence, it is crucial to invest your considerable time and effort in writing a letter of query.
How to Write a Darn Good Query Letter- Secrets that No One Would Tell You
Learning how to write a query letter is nearly as significant as writing an amazing manuscript. After all, an enticing letter of query is what would compel your agent to say-"Love your story. Send over the full manuscript".
Now, we know you may be pondering over the question "How to write a good query letter that will up my game?" To help you get started, we have provided effective guidelines for writing an amazing query letter that will enable you to fulfil your dream of getting published.
Have a look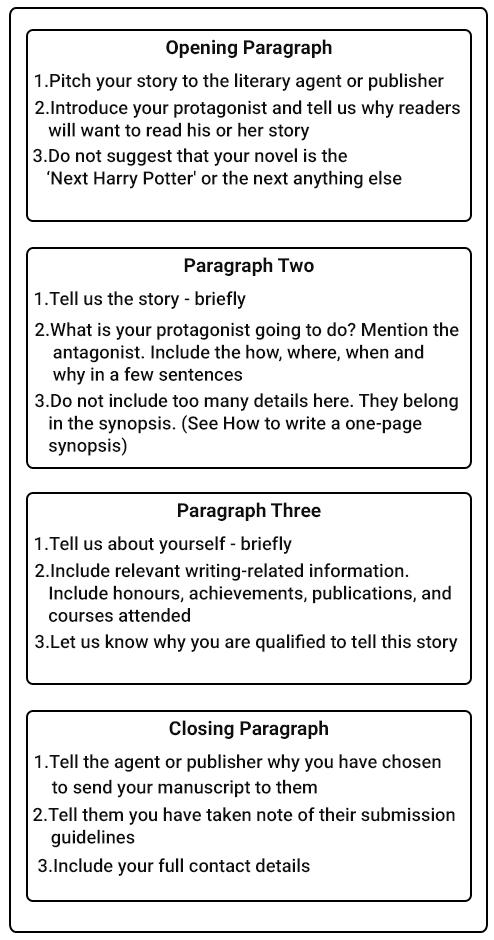 1. Capture the agent's attention with your greeting
A personalised query letter is the only way to grab the attention of the publisher or the agent right away. It not only demonstrates that you are careful and diligent, but also that you have chosen the agent/publishing house for a reason. Ensure the agent you are sending your query letter deals with your genre of work. Always remember to mention your genre, word count and target audience in the query.
2. Craft an irresistible hook
You need to instigate the interest of the readers so that it becomes impossible for them to put down your work after reading its first few pages. In a query letter, you are required to do the same within just a few lines. This is better known as the 'hook'. Your hook should demonstrate agents why your book is unique from a hundred others in your genre. It could be an awesome concept or an interesting central conflict that makes the reader wonder why someone hasn't thought of it before.
3. Write a tantalising synopsis
Once you have 'hooked' the agent, it is time to convince them with your brilliant synopsis. Synopsis is your opportunity to shed some light on the plot, central characters, primary questions or conflicts that drive your story. Your hook and synopsis should be 50% of query letter length.
4. Reveal your credentials and publishing perceptive
After the synopsis, it is significant to push an agent over the edge with your bona fides as the author. To accomplish this, focus on your publishing history like whether you had other novels published, awards won, or attended significant conferences, workshops, etc. You can also mention the inspiration of your novel or why you are the only person who can do this story justice.
5. Personalise the letter for each agent
Your query letter is your sales tool. Personalising your letter is crucial; without it, your letter is just a spam. You can do with referencing to the agent's existing clients, or something he has written or said in public. For best results, personalise every query letter you write.
After following these steps, just simply thank the agent and sign off. Implement these guidelines to write a kickass query letter and impress your publisher right away.
Click here to get your hands on some amazing query letter tips.
Inspiring Query Letter Examples to Help You Out
We understand that writing a perfect query letter that appeals an agent or publisher can be a challenging task. Therefore, to aid you, we have provided you with some remarkable query letter samples. It will offer you a lucid idea of how to draft a fantastic query letter and maximise your chance of getting published.
Have a look.


Parting Words,
Undoubtedly, the road to drafting the perfect query letter can be a challenging task for you. However, this comprehensive guide will help you understand what's really crucial to include in your sales pitch. Implement the tips and give yourself the best opportunity to find success.
Happy writing, mates!
Tide over your query letter writing miseries with MyAssignmenthelp.com experts
Is the task of composing a perfect query letter causing you troubles? Are you breaking into cold sweats of anxiety at the very thought of being rejected from publisher?
Worry not. Let the professionals of MyAssignmenthelp.com be your saviour.
At MyAssignmenthelp, we work with an aim to provide supreme assistance to students and professionals alike. We assist students all across the globe.
We have a pool of 5000+ experts who aim at providing supreme solutions to even to the most complex requirements. Our experts have satisfied more than 2,00,000 students over the decades.
Provide us with specific requirements, and we promise to deliver a flawless paper right within the stipulated deadline.
Our premium quality services are available at the most jaw-dropping deals that would surely not burn a hole in your pocket. To hire our services, call us or drop an email at contact@myassignmenthelp.com, and we promise to get back to you in no time.