100000+ Students
can't be Wrong!
1107582
Orders
4.9/5
Ratings
5042
PhD Experts
Get best grade, order now!
Digital Flagship University – A partnership between Ohio State University and Apple
Lachlan Nguyen
05 October,2017
"I'm a very big believer in equal opportunity as opposed to equal outcome. Equal opportunity to me, more than anything, means a great education… We could make sure that every young child in this country got a great education. We fall far short of that."
                                                                                                       – Steve Jobs
The co-founder of Apple himself, the late Steve Jobs, would have been very happy today if he knew what the newspapers hold as their top story. Apple has long made inroads into the field of education, encouraging the use of its tablets in the field of learning at the school level. In fact, Apple even has its own education program wherein it offers its products and services to students at highly discounted rates.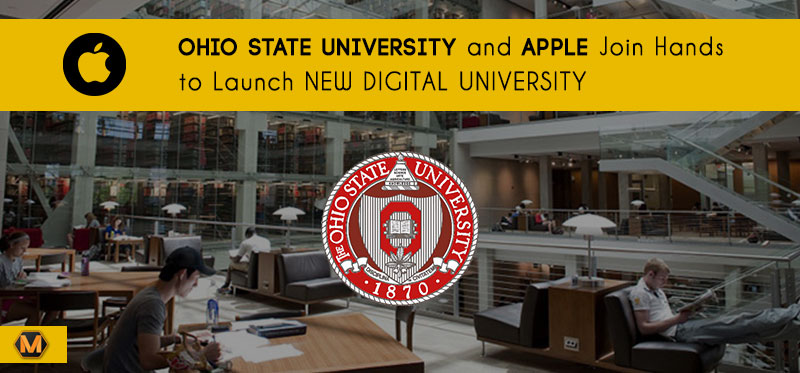 Now the tech giant has taken this up a notch by collaborating with the Ohio State University to announce the beginning of a partnership, which will result in the establishment of the one of a kind Digital Flagship University. This comprehensive e-learning initiative will bring forth educational innovation, which students of the university will have access to, coupled with opportunities for economic development of the community at large.
What is Flagship University?
Generally a state's flagship is its land grant institution. The University surpasses all other universities in terms of infrastructure, reasearch scope, docorate programs etc.
What is the Digital Flagship University all about?
Part of the Ohio State University's strategic plan, the Digital Flagship University will centre its focus on digitizing teaching and learning in the college as well as bringing about advanced research and creative expression. Apple and Ohio State University together aim to establish the following –
An initiative for student-success that will bring about the integration of technology in the learning process throughout the university
An iOS design lab, which will be a part of the Columbus campus of the university and will be open for use by the faculty, students and staff as well as the members of the community
Extensive opportunities for students to learn coding and improve their future prospects in the app economy.
Both Apple and the Ohio State University are very excited about this digital learning initiative and have high hopes for it. Speaking about this development, the president of Ohio State, Mr Michael V. Drake had this to say: "We are establishing our Digital Flagship University initiative by combining the resources and talents of an international technology leader and one of the most comprehensive public universities in the world. Our students and community will have outstanding opportunities to develop modern mobile skills to enhance learning and excel in the competitive workplace."
The current CEO of Apple, Tim Cook, echoed these thoughts and emphasized on the role technology will play in the coming years in transforming the education system for the better: "At Apple, we believe technology has the power to transform the classroom and empower students to learn in new and exciting ways."
He also commented on the collaboration between his company and the university, saying: "This unique program will give students access to the incredible learning tools on iPad, as well as Apple's new coding curriculum that teaches critical skills for jobs in some of the country's fastest-growing sectors. I'm thrilled the broader central Ohio community will also have access to coding opportunities through Ohio State's new iOS Design Lab."
Indeed this program will help not just benefit the students of the university but also those of the Ohio community, making it a bold step towards the future of education.
The student-success initiative will commence from 2018, and all first-year students who join the Columbus campus next year will receive iPad Pros along with Smart Keyboards and Apple Pencils as supporting tools for classroom learning. The university's Administrative Efficiency Program will be providing funds for this.
As for the iOS design lab, this too will come into action next year (from spring 2018 to be precise), offering technical training and certification in coding to students and faculty alike. App developing in Swift (Apple's core programming language for writing apps) will also be taught in the design lab.
Ohio State University using Apple's products
Some of the examples include –
In a chemistrycourse, students were given lectures in the classroom and were asked to complete their assignments online with the help of iTunes
For the biology course of the university, iPads are used as field notebooks for the documentation of plant life; they also act as supplementary textbooks and instructional aids during field trips
The Marching Band of the university, which is a part of the School of Music, utilizes iPads to teach as well as learn their formations, which are nationally recognized
The medical studentsof the university have been given iPads since 2013; these are used for insemination of clinical instructions at Ohio University's Wexner Medical Center.
With such instances, the future of technology in education looks hopeful. The university will also work with Apple for the development of new apps and tools that will be a part of the Digital Flagship University. The university will own the iPads and related technology from Apple and will provide it to students.
On a closing note, this is what Bruce A. McPheron, vice-president of the university had to say, "Our bold aspiration is to create the world's largest and most effective integrated environment for teaching, learning and discovery."
We hope that happens and wish Ohio State University and Apple good luck for its initiative, hoping that more and more universities will follow in their footsteps in the near future. 
Online Tools that the students will have access to
The program is to be extended to Ohio State's 10,700 first-year students.
As published on the University Website https://digitalflagship.osu.edu/students/technology
Under this program , students would recieve
"1. Apple iPad
10.5 inch Space Gray, 256GB, Wi-Fi
2. A Protective Case
You will be provided a high-quality case to provide protection for your device and hold your Apple Pencil. STM Dux Shell pictured.
3. Smart Keyboard
The keyboard is easy to attach and allows you to type with your iPad as you would a laptop.
4. Apple Pencil
The pencil can be used to navigate and make selections on your iPad, hand-write notes, draw, design and more.
5. AppleCare+
All devices are covered by a 1-year manufacturer warranty. Additionally, you will receive three years of AppleCare+ which also covers your device in the case of accidental damage. The Apple Pencil has one year of AppleCare+. The Smart Keyboard is not covered by AppleCare+. If you do experience a major damage and need to utilize AppleCare+, you will be responsible for paying the $49 damage replacement fee associated with AppleCare+."
Certain News about the Flagship Program
1. Ohio State's Mobile Design Lab puts digital skills on the move
(https://news.osu.edu/ohio-states-mobile-design-lab-puts-digital-skills-on-the-move/)
– Onio State News
2. Evolving Education: Digital Flagship Initiative Changing the Student Experience
(https://newark.osu.edu/news/evolving-education-digital-flagship-initiative-changing-the-student-experience.html)
— Ohio State Newark
3. Local teachers become students in Apple coding workshop
— The Lantern
4. Apple boot camp teaches Swift coding to educators
https://www.cultofmac.com/643772/apple-boot-camp-teaches-swift-coding-to-educators/
—  Cult of Mac
Under this flagship program, the students are more aware of the technology, they had been recieving. They would be getting a code and app development certificate. They will learn about iOS design lab. 
Need Essays On Current Affairs?
Choose MyAssignmenthelp.com
Have you been asked to write an essay on a current topic by your teacher? Is the topic unknown to you? Don't panic just yet. Simply pick up your phone and call the experts of MyAssignmenthelp.com. Our 4000+ PhD experts will be more than ready to your essay for you, making sure it holds relevant information and gets you an 'A' grade. What's more, we can help you out with all other kinds of essays and assignments too; and that too for 100+ subjects! So if you want professionals to write your assignments from scratch for you and deliver a plagiarism-free solution to you on time, give us a call on +61-3-4000-0033 today.
Suggested Reads
https://techcrunch.com › 2017/10/05 › ohio-state-university-apple
https://digitalflagship.osu.edu › about
https://edscoop.com › Higher Education