Save Time & Improve Grades
Just share your requirements and get customized solutions on time.
Professor and Former Students to Launch Organic Chemistry Game App
Georgia Taylor
27 April,2018
A chemistry professor named Neil Garg from the University of California along with other former undergraduate students of chemistry have collaborated and developed an organic chemistry game app which is going to educate potential students with the basic concepts of organic chemistry in an interactive manner. The gameplay named "Backside Attack" is said to be quite similar to that of "Angry Birds". The application is going to be available on iOS for free later this month.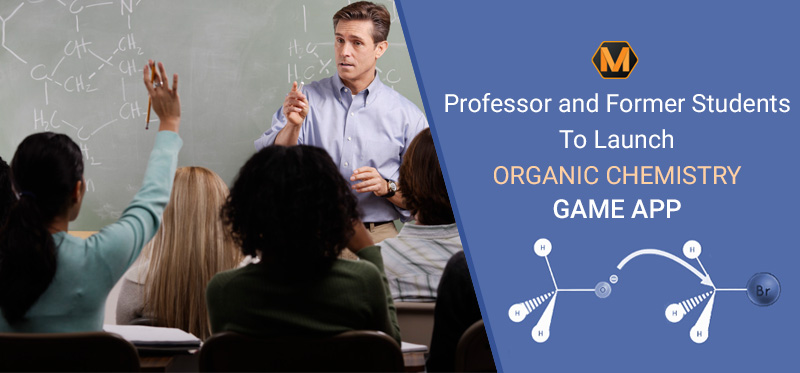 Professor Garg said that few students from his Chemistry 14D (Organic Reactions and Pharmaceutical Course) wanted to come up with something that can influence science education. He further added that during the initial days they had no experience or a direction, but all they knew was that they want to create an application. On receiving inputs from students, the professor and his students stared drawing rough blueprint sketches of the gaming app interface, back in the year 2015.
Later on, the sketches were converted into computer software by a programmer and a graphic designer. According to the professor, the gaming app has been developed in order to teach the SN2 reaction to the potential students. The SN2 reaction is said to be one of the simplest ones in Chemistry and the one which most of the students of organic chemistry learn. Backside attack is actually the name of one of the features that a SN2 reaction consists of. In this particular case, a molecule approaches another molecule from the back to cause a reaction. Garg has also said that most of the classes dealing with organic chemistry begin with SN2 reaction, and they also thought that it is going to be a simple way to teach other concepts of organic chemistry to the prospective students.
The application will lead the players through various gaming stages. On completing each level, the players will be able to move on to the next stage consisting of a bit more complex concept. There's a gaming level that shows a syringe which is filled with a certain molecule that the potential players will be required to shoot inside a flask that contains another molecule to react with. With the gradual progress of the game, as the players will be advancing to higher levels, the size of the opening of the flask will get smaller and more complex for the players to aim at. Thus, it will make it harder for the players to finish the level. There's another level in the game which will need the players to draw an accurate molecular mechanism before they can advance to the other one.
Garg added further that each stage of the game will consists of options for the potential students to learn more about the concept. They will get an access to paragraphs explaining the subject. The application would also prompt the players to answer a question, which would decide whether they have learned about the concept or not.
According to Stefan Prisacaru, an UCLA graduate and member of the gaming application development team, assisting his co-members to build this application has made him more interested towards education related to science. He also added that the entire process of developing the app made him realize that science education is not always about scoring grades, but the concepts learned can be applied outside the classroom as well. He is now interested in developing other science education project, for example coming up with a medical coloring book. It would help other people learn about the basic health concepts, such as what cholesterol is all about and how smoking affects the body.
Another graduate from the UCLA named Tara Kappel, who is also a member of the application development team, said that she had helped in providing the perspective of the students who have recently learned organic chemistry. She has also added that there are several students who are terrified with the reputation of organic chemistry as a complex subject. Kappel said that the team wanted the subject to be engaging and interesting. They wanted it to be accessible to a lot of potential students and to make them understand that the studying organic chemistry is not at all a difficult task. According to her, the most complex part of developing this gaming application was to cater to students who haven't learned the subject ever and to those who were still the process of learning organic chemistry.
Professor Garg is now planning to promote the gaming application via a campaign in social media. He would also reach out to the UCLA's organic chemistry faculty and other universities as well. Garg is of the opinion that if the application is well received by the potential users then he would make the game available on other mobile OS as well.
There will also remain a possibility of creating more applications that can teach students other chemical reactions too. The professor is certainly impressed and happy to see his students engaging in developing the application and coming up with helpful inputs and applying them outside the classroom.
Is it an intricate affair for you to cope with a last-minute Chemistry assignment submission? Here's MyAssignmenthelp.com at your rescue
If you are currently stuck with a complicated chemistry assignment topic and looking for an urgent assistance that can help you deal with the complex situation with a timely submission of the project, then getting in touch with our company can help you get rid of the difficulty in an absolutely promising way. From structuring the paper thoroughly to coming up with brilliant proofreading and editing of the paper, you can expect our expert writers to meet every vital aspect of assignment writing in an utmost professional way.
Even if you have a difficult topic concerning organic chemistry to complete on time, and in case the entire situation is giving rise to a last-minute anxiety, then instead of being anxious, simply choose to hire our writers right away, and take home technically flawless papers on chemistry prior to the actual deadline. Our experts offer free revision as well. In addition to it, we guarantee completely plagiarism free copies, which are written from scratch, according to the student briefs. So, hurry up and place your order today; we are just a call away.