Save Time & Excel Academics
Share your requirements & connect with top tutor !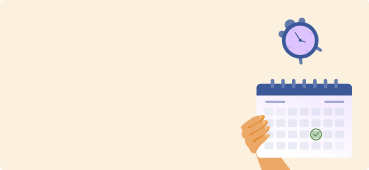 Plan Your Studies With These 13 Effective Strategies
Mark
01 May,2017
No studying, no grades. That's the only rule that applies during exam season. If you can't sweat it out with your books, don't expect yourself to have a report card that deserves a spot on the esteemed refrigerator! But studying itself is not enough to land you that grade you've been eyeing all this while in your imagination. What you're looking for is TIME. If you don't have the time to study all of your subjects, how can you possibly do well? But even that alone is not enough.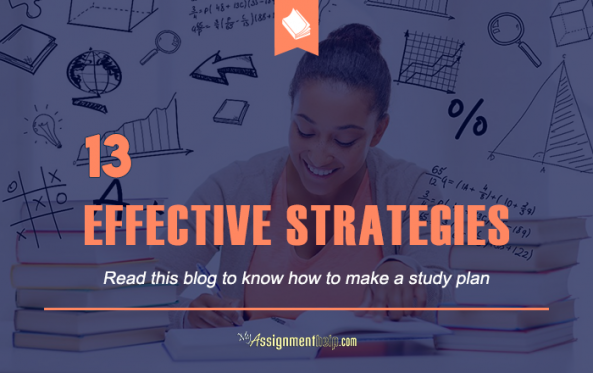 So in essence what you really, really need is this –
Studying + Time = Study Plan
Yes, our student friends. This is the
magic equation to nail those annual examinations
. And we are here to teach you how to create that one and only study plan that is destined to take you to the top of the ladder of academic success. Here, we present to you the strategies you need to know to make an effective study schedule.
1. Know your Exam Schedule
The key to effective planning is to know the due date of what you are planning for, which in this case are your exams. While this may come as a no-brainer, we won't be surprised if you mix up your exam dates when the time finally comes and consequently end up preparing for the wrong test. Many universities, in fact, have the tendency to set up widely spaced out exam dates in different rooms all throughout the campus, which can get really confusing. So get a print out of your schedule before starting.
2. Identify your Study Pattern
In a previous blog, we had discussed all about
finding your own unique studying pattern
. Well, this pattern can greatly influence what your study plan looks like. It can shift your timetable's focus from being a morning-centric to one that functions best in the dark hours of the night. Plus, the advantage of identifying your studying pattern is that it will help you in determining how to use all that time you normally waste doing nothing at all.
3. Analyze your Daily Timetable
To cram in a new schedule into your existing one, you have to assess what your current schedule is like. This means analyzing how you spend your entire day. While evaluating your current schedule, you will know which activities to shun in order to make time for studying and how to use whatever time you have efficiently. An analysis of your timetable will also help you to reschedule all of your social activities for a later date.
4. Make a List of the Subjects you have to Study
Welcome to the first step of actually making your timetable now that all the pre-planning is out of the way. On a planner, list down all the subjects which you need to study for your upcoming exams. Writing them down will give you a clearer picture of what exactly you are dealing with.
5. And Add the Chapters you need to Study for Each Subject
The next step is to figure out what you need to study for each subject. Even though your teachers will prescribe you a set number of chapters for each, that does not mean you have to study all of them. You can consult with your teacher on the aspects of the chapter that are really important and focus only on them if you're facing a time crunch. Nonetheless, make sure you put in enough time for reading and reviewing your notes.
6. Prioritize What you have Written Down
Is your math exam due before your English one? Then you may want to study for it before you start with anything else. Prioritizing can help you prepare thoroughly for each exam that is on your roster. Give a rank to each of the subjects you've put in your list in order of priority, starting with the number 1 and ending on the total number of subjects you have. However, before you start giving them ranks of priority, ensure that you take into account the difficulty level of the subject so that you can devote more time to it.
7. Assign a Time Slot to Each Priority Block
For the sake of simplicity, let us explain this with the help of an example. Let's say the subject and the chapters you have listed under it are referred to as a single chunk that needs to be done one at a time. Now when you see your planner, you will find that it is divided into different slots, say 3 pm to 4 pm and so on and so forth. Depending on your preferences, you can assign one subject to one time slot and refer to them together as a block. Now while dividing your syllabus into blocks, be sure that you maintain the order of priority that you chalked out in point number 6.
8. Set Clear Albeit Realistic Goals
Now that we have progressed far ahead into the planning stage, let's talk goal setting. And this is related to the priority blocks you have just created for yourself. You see by adding the element of time to every priority block; you have set out a specific task for yourself within a specific time-frame in which it needs to be completed. Now, while setting such a goal, you need to have a realistic outlook. Do not try to stuff in two chapters in a one-hour slot. Instead, keep it manageable and within your limits even if all you can do is half a chapter in an hour.
9. Schedule Break Time into your Timetable
You are not a machine that can go into a 24-hour study marathon, seven days a week without any breaks. In fact, that is something you should not do even if you are a machine. So pick your pen back up again (in case you had put it down thinking that the process of making your study plan is over) and start factoring in the time you will allot to breaks. Between each one-hour long study block, you should give yourself at least a 15-minute break. And this is not inclusive of activities such as eating, bathing and the like.
10. Don't be too Rigid
If for some reason you could not achieve your set goal for the day, do not panic and radically upset your schedule for the remainder of the days. Instead, just make slight adjustments in the next day's schedule to fit in the portion that you couldn't finish the previous day. You should always allow some scope of flexibility in your timetable so that you can mould it according to your will if your situation so demands.
11. Take a Printout of your Schedule and Put it Up
But be sure to put it up in a place where it is easily visible. Otherwise, there is no point of having a planner. However, before you print out your planner (or even write it on an existing calendar in your room), make sure that there is enough space on either side of each block so you can make adjustments as and when required.
12. Include Variations in your Plan
When making your schedule, it is important for you to mix up things rather than keep it bland and boring. What we mean here is that your schedule, as you already know, is going to be divided into several blocks that you're going to be studying in a day. Instead of studying all the blocks of the same subject in a day, mix it up and do two or three different subjects (depending on what you're comfortable with). This way you will prevent boredom and exhaustion from setting in.
13. Have Fun while Making your Timetable
It might be a boring activity on the surface, but you can turn it into an enjoyable one by customizing your schedule to the extent possible. You can start by creating a schedule on Excel, treating it as a blank canvas with endless possibilities or you can try out one of the apps available on the internet these days such as Evernote (undoubtedly the most popular one out there) or Any.Do, Timeful, etc. Use different colors for different blocks and even fonts and patterns to add a touch of creativity to your timetable. You can also throw in a motivational quote in the corner for each day to stay inspired. We hope we helped you create an effective study plan that will help you in completing your syllabus successfully. Now that have a timetable to work with, your job is to ensure you stick to it at all costs. You can do that by having a reward system in place. For every portion of your syllabus that you complete, reward yourself with something you really want to do. We wish you good luck for your exams!
Let MyAssignmenthelp.com Do Your Assignment As You Study Hard For Your Examinations
So you made your timetable but totally forgot about making adjustments to fit in your assignments? That's okay; there's no need to panic as MyAssignmenthelp.com is here to help you. We operate 24x7 on all 365 days of the year (including holidays), so you can call us anytime you want help with your assignment. We offer our services for all subjects and only deliver
plagiarism-free assignment
solutions. Call us on +61340000033 to know more about our other exclusive features.