Save Time & Improve Grades
Just share your requirements and get customized solutions on time.
'Tis The Season Of Love! Pamper Your Valentine With These Heart-winning Gifts
Mark
27 January,2017
"I like not only to be loved, but also to be told I am loved" – George Eliot
"I love you" – these magical words have melted millions of hearts. To be in love is the craziest feeling ever. As Valentine's Day is approaching, why don't you make your love feel special? Embrace your mushy side and convey your feelings by gifting him/her something unique. Let us look at some amazing gift ideas.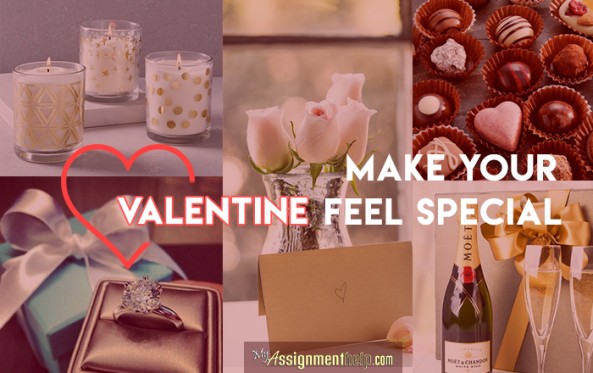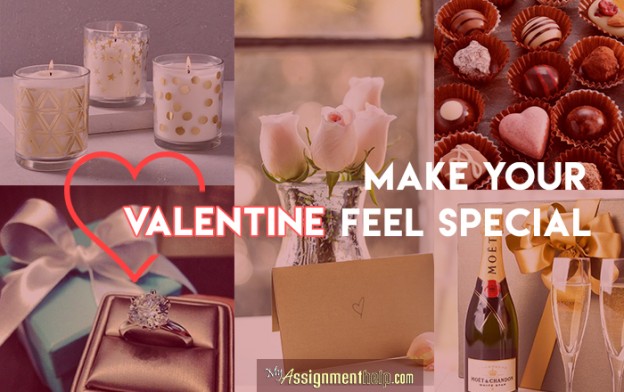 1. Flowers with a little love note (old school but heart winning!)
Gifting a bouquet of flowers is old school. But flowers can easily lift anyone's spirit. You can gift your partner a bouquet of roses. Rose is the symbol of romance, love, perfection and beauty. You can go for daisies, tulips, alstroemeria, orchids, lilies, carnations, sunflowers and irises too. Attach a little love note with the bouquet. You can simply write, "I love you" or "you are very precious" or whatever you feel. Do not write a long note. Keep it short, simple and sweet.
2. Scented Candles (spread the fragrance of love!)
Why don't you gift your partner something that will last for few days or a week (if you are lucky enough)? You can gift her/him a heart shaped scented candle. When your partner will light the candle, the room will fill with fresh fragrance. It will make him or her feel refreshed and loved.
3. Handmade Cards (finding time for someone you love is the best thing!)
Why not become little creative this Valentine's Day? You can gift a handmade card to the most special person of your life. You can draw a heart or anything you like on the front. Write down whatever comes straight from your heart. It will surely make him/her happy.
4. Photo Collage (Make him/ her remember those special moments that you have spent together!)
Karl Lagerfeld says, "What I like about photographs is that they capture a moment that's gone forever, impossible to reproduce". Let your partner walk down the memory lane by gifting him/her a photo collage. It will make him/her feel nostalgic.
5. A bottle of Champagne (Celebrate the victory of your love!)
"Raise a toast" to your love by gifting your partner a bottle of Champagne. First, take her/him out for dinner. Then give her/him a beautifully packed bottle of Champagne. Tell your companion that you want to spend the rest of your life with him/her. It will surely melt your partner's heart.
6. Chocolates (Let him/her taste the sweetness of your love!)
Love is a mixed feeling. Sometimes it's sour and sometimes sweet. Let your partner enjoy the sweetness of love by gifting him/her a box full of variously shaped chocolates.
7. Watch (Make your partner realize that you want to spend each moment of your life with him/ her!)
"It' not about having time, it's about making time" (anonymously said). Make your partner realize that you will always have time for her/him by gifting a watch. You can give a little note along with the watch. You can write, "I will be with you in your bad times".
8. Bake a cake (the way to anyone's heart is through his/her stomach!)
If your partner is a big foodie, then tickle your honey's taste buds with a delicious cake. Wait! Do not buy a cake. Bake one on your own. If he/she loves chocolate flavor, then black forest is the best option. You will get the recipe on the internet. Now what are you waiting for? Surprise him/her with a mouth-watering cake.
9. Customized phone case (let your love feel your presence all the time!)
If your partner is obsessed with his/her phone, then you can gift him a customized phone case. You can scribble your love note on the case so that he/she can see it every single moment.
10. Customized tees (I'm his… I'm her!)
Get customized tees for you and your love on this Valentine's Day. It is a perfect idea for lovey dovey couples. If your partner is possessive about you, then he/she will definitely like the gift.
11. Perfume (The fragrance dreams are made of!)
You can make this Valentine's Day more special for your partner by gifting him/her a perfume. There is hardly anyone who does not like to receive perfume as gift. Every year big brands come up with special V-day offerings. Top picks for 2017 are ACQUA DI PARMA, TOM FORD's CAFÉ ROSE, and Ralf Schwieger's Lipstick Rose.
12. Rose Gold Mac Book (Be in touch with your love always!)
Couples who are in long distance relationship always complain that they do not get enough time to spend with each other. If you are also in a long distance relationship, then we have come up with an excellent suggestion for you. Why don't you gift your partner a rose gold Mac Book on this Valentine's Day? It will surely make your partner feel more loved. You people can do video call for hours after hours without any interruption.
13. Diamond ring (Let your love shine!)
Commitment is the foundation of an everlasting relationship. Why don't you take your relationship a step ahead on this Valentine's Day by gifting your partner a beautiful diamond ring? Promise him/her that you want to grow old with him/her. Go for heart-shaped diamond rings.
You can also gift prestos, diaries, shades or glove puppets. Have fun on Valentine's Day. But remember there is no special day for celebrating love. You can celebrate love every single day.
Take Care of your Beloved's Gift and Leave your Assignment Worries to Us!
MyAssignmenthelp.com is the leading assignment help service across the world. We have highly-qualified experts from every field such as engineering, management, nursing, law, humanities, social sciences etc. Get your assignments done by our writers so that you can spend time on looking for gifts for your love and enjoy the day.