Save Time & Improve Grades
Just share your requirements and get customized solutions on time.
US, UK Colleges Brace for Financial Cuts, Post-Brexit & Trump
Mark
22 April,2017
As colleges in UK and Europe stare at a post-Brexit world of impoverished funding and shrunken collaboration, a similar pattern of reactionary politics and conservative education policies is being witnessed across the Western World too.
Reason: Donald Trump's prediction of "Brexit, Plus, Plus, Plus," coming true! Trump had enigmatically called himself "Mr Brexit" during the Presidential poll campaigns, and further predicted an oversized "Brexit style" result to the U.S. elections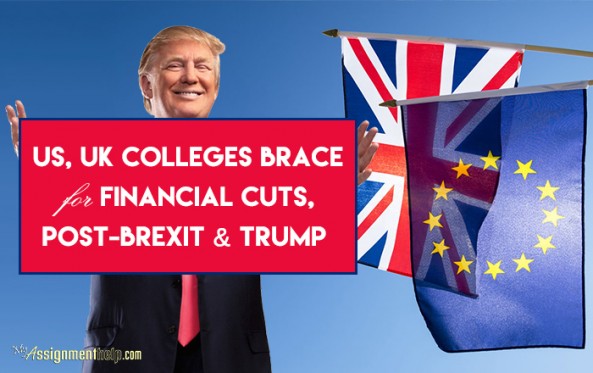 No wonder, liberal Americans woke up on November 9, 2016 (the day Donald Trump heavily defeated favored Hillary Clinton to the U.S. President post) with a feeling similar to what 'Remainers' experienced in Britain on June 24 morning when Britain's exit from European Union was confirmed through a referendum vote. While UK rejected its longstanding membership in European Union (EU), Americans voted for an "inexperienced" ruler. Progressives in U.S. were in disbelief and shock as to how pollsters had got their numbers wrong. But somewhere in their sub-conscious mind, they knew Brexit had already showed the world that the "brand of populism" defies all logic and conceptions about the progression of the modern politics as we assume or know it.
The "death knell" had been sounded to the progressive educationists in U.S. even before Trump came to power when Sam Clovis, policy director of Donald Trump's campaign, made a "disturbing" statement – "Trump's proposals would be upending the current system of student loans in the country, compelling all the colleges to share the risk of the loans, and make it even tougher to secure loans for those seeking to major in liberal arts at non-elite institutions."
Wondering why Trump's proposed education policy and Brexit is being described as equivalent to "sounding the death knell" for higher education in U.S. and UK?
To understand, let's shift our focus to UK and Brexit first, and then we will come to Trump and U.S. Congress.
The apprenticeships minister of UK, Robert Halfon recently confessed to the House of Commons that by March 2017, the government would have coughed up a total of £140 million for supporting colleges facing extreme financial crunch. This money, he, however, added should have been spent on education and training priorities. The shocking revelation about the dire straits of the UK colleges was made during a debate on Technical and Further Education Bill last week.
This "exceptional" financial aid for colleges facing cash crunch was initiated by the Department of Education in 2015. But the government now seeks to cut down on this "bailout" figure.
Easier said than done!
Although the minister was "right" in his assessment that the £140 million support funding should have gone directly to the frontline, Brexit and the government's plans to hike regulations faced by overseas students applying for higher studies in UK could hit the nation's economy by £2 billion every year. This has been revealed by a study on the impact of Brexit on number of foreign students in UK, carried out by the HEPI think-tank and Kaplan International. The findings portray an uncertain future for the education sector as the government pursues its "draconian" policy of cutting down on net migration. To make matters worse, the nation's post-Brexit policies are far from clear till date.
Julian Gravatt, the assistant chief executive of the Association of Colleges, therefore, "rightly" opposes the proposed cut in financial aid. "Yes, there have been a few cases where colleges have mismanaged their finances. But these difficulties are unavoidable when we have an unpredictable funding from the government," he was quoted as saying to a weekly magazine. "This support has become all the more necessary because of the funding cuts. Take for instance, the 35 percent adult skills cut by the government recently," he pointed out.
The statistics presented by UK Council for International Student Affairs makes the pitch for "no cut in government funds" stronger. According to the council, there were over 400,000 overseas students in UK higher education institutions in 2015, which made up for 19 percent of the nation's total student population. With UK leaving European Union, the higher education institutions are likely to raise their first year fee for the students from the member-nations. The government expects that this would bring a £188 million boost to the economy.
In reality, however, the migration of students from European nations is going to reduce. Even if their fees are made at par with those of non-EU students, enrolments are predicted to fall by 57 percent; to be precise, 30,000 students, resulting in a loss of around £40 million in the first year itself. To make matters worse, the home office is looking to make it tougher for overseas students to come and study in UK. This could deter more 20,000 students from enrolment. Depreciation of Sterling will prove to be the last nail in the coffin. The losses triggered by Brexit could cost the UK economy £2 billion annually – which include tuition fees income of £465 million, non-tuition fee expenditure of £605 million and detrimental impact on an institution's supply chains amounting to £930 million.
The director of Higher Education Policy Institute, Nick Hillman, is spot on with his assessment. According to him, this research reveals British universities are in "choppy waters". He adds, "Everything now depends on the government's plans. A crackdown on international students will not only damage our glorious educational institutions but also the whole economy." Hillman concludes the lives of all those who voted for 'Leave' as well as those who voted 'Remain' are soon going to be affected.
Even top academics agree that a "hard" Brexit could spell the "biggest disaster" in higher education. The UK university vice-chancellors last week gathered in front of the Education Select Committee and discussed the potential effects of Britain's exit from EU. Devaluation of the pound, uncertainty over research projects and strict regulations towards immigrants were deterring postgraduate students from heading to UK, the board was reportedly told.
While Oxford Brookes University vice-chancellor Alistair Fitt termed Brexit as "probably the biggest disaster for the higher education sector in many years", John Latham, Coventry University's vice-chancellor, expressed apprehensions that it would make the UK universities "extremely uncompetitive".
It was unanimously agreed in the hearing that the reputation of UK as a hub for quality higher education and research was at stake; it could be damaged irrevocably by Brexit.
Evidences were presented to strengthen the claim!
Evidence 1: Applications from European Union students has already dropped by 15 per cent at Cambridge University, post-Brexit
Evidence 2: Oxford University has taken serious note of the ramifications and set up a Brexit observatory to collect data on the impact of quitting European Union
Evidence 3: UK desperately needs to employ thousands of engineers from European Union countries to fill the gap of 50,000 graduate staff in the industry (according to Engineering Professors' Council president, Stephanie Haywood).
Now, let's come back to U.S.!
Although it's too early to predict what kind of drastic changes Donald Trump will bring about in the education section, it is more or less being expected that he is going to aggressively shake up the current education regime. Trump's presidency has cast immense doubts over federal education policy going forward.
The "negative" effects had in fact started showing even before Trump came to power, courtesy Trump's statement in October 2015. "No, I'm not cutting services, but I'm cutting spending. I may also cut Department of Education," Trump had quipped.
Though Trump and his trusted lieutenants have made vague statements pertaining to their education policy, he and his surrogates have dropped ample hints that they would drastically minimize the role of the federal government in higher education.
It is almost confirmed that the Trump government would either restrict the powers of the Department of Education or might do away with it.
And if that happens, it's doomsday for American colleges and universities. The Center for American Progress Action Fund has revealed in its analysis that around 8.5 million students would end up losing their Pell Grants which contribute majorly to their college education. Now, the worse part: Around 500,000 teachers would lose their jobs too.
Sounds unbelievable? Then go through few more "startling" facts below.
Southern Illinois University, which has a student capacity of 17000, has already eliminated almost 25 percent of its graduate teaching assistant jobs. Further, it has let 50 faculty positions remain vacant too.
"The prevailing uncertainty is interfering with our opportunities," said a student who quit his research job because he was unsure he would be paid.
The university is further expecting the number of students to go down by 6 percent. Johnathan Flowers, the graduate student union's president at the varsity, lamented that graduate students were in a perplexing situation. They were unsure as to how they would be able to afford their education.
"The current situation is both alarming and frustrating," described Randy Dunn, the president of Southern Illinois University.
Similar is the situation at Chicago State University where enrollment has tumbled after dearth of state funds pushed it to the brink of closure.
This university too has cut down on more than 350 jobs. It is also expecting enrollment to go down by about 25 percent this year, according to a report published in Chicago Tribune. The Higher Learning Commission, the body entrusted with accrediting universities in central U.S., has put the institution on notice. The university is now staring at a possibility of its certification being revoked.
"We are extremely concerned about the overall fiscal and financial picture for most of the universities in the state," Dan Heckman, a senior official at U.S. Bank Wealth Management, was recently quoted as saying in a newspaper. He pointed out that enrollment had been hurt by financial indecision at the federal level and dearth of support funding.
To make matters worse, the crisis has made recruitment and retention of faculty difficult too. And all this because of the lingering uncertainty prevailing in U.S. higher education sector post Trump-victory.
Thus, it becomes necessary to find out the "financial fitness" of your college before enrolling.
You don't need any rocket science to understand that millennials would be ruling the workplace in the coming years. But what about the student loan debt? According to an ORC International survey carried out by PadillaCRT, an independent public relations and communications agency, the majority of the millennials believe their student loan repayments will last their entire 30s and some even 40s.
The survey results reveal:
• One out of every four millennials owes more than $35,000 in college debt, and would take more than 20 years to pay off the loans
• Women, in comparison to men, are two times more likely to think that it would take more than 20 years to pay off their college debt.
The final outcome: millennial employees never feel financially secure. This financial insecurity hampers almost all their life events and impacts how they engage with the workplace. For millennials, the next 20 years after college include major life milestones – right from purchasing a new car and buying a house to getting married and having kids. But the millennials choose to delay these milestones because of their outstanding debt.
So, it is imperative for the students to assess the financial fitness of a college before enrolling for their major studies there. More so as post-Brexit and Trump, majority of the colleges and universities are staring at financial instability. Hence, students must gauge whether their chosen college or university is financially stable and will let them complete their graduate studies.
Confused?
Why should you care about non-profit colleges and universities' financial health? FORBES Financial Grades explain the rationale behind it. Each year, they assess the fiscal health of around 900 colleges. Their reasoning is that the struggling institutions charge high tuition fees and then offer steep discounts to entice the students. They then tend to cut back on basic facilities and even quality faculties. Shockingly, some colleges often go out of business too, leaving the students in the lurch.
Forbes, therefore, analyses data procured from the U.S. Department of Education and measures financial fitness based on 9 internal parameters.
1. Endowment Assets Per FTE (15%):
Here Forbes measures the year-end endowment assets divided by number of full-time equivalent students (FTE).
2. Primary Reserve Ratio
(15%): Here they check how well a university's expendable asset covers its annual expense.
3. Viability Ratio(10%)
: Similar to the primary reserve ratio, here the amount of expendable asset a college has is relative to its debt load is measured.
4. Core Operating Margin (10%):
The sheer operating profit known as surplus is measured here.
5. Tuition As A Percentage of Core Revs (15%):
This is used to measure tuition dependency.
6. Return On Assets (10%):
Change in net assets over the year divided by the assets at the beginning of the year is simply measured here.
7. Admission Yield (10%):
This simply looks at the percentage of admitted students that choose to attend the college.
8. Percent Freshman Getting Institutional Grants (7.5%):
Here, Forbes measures the percentage of students getting institutional grants from colleges to entice enrollment.
9. Instruction Expenses Per FTE (7.5%):
This indicates how much money the particular institution devotes to the core mission of higher education.
In the context of Brexit and Trump's victory, all eyes will be therefore on the FORBES Financial Grades 2017, which is expected to show a slump in the number of colleges being awarded the "A" grade. Brace for more "Bs" and "Cs"!
Is Doomsday near for higher education institutes in U.S. and UK?
Time will tell, but the cloud of uncertainty does loom large in both these educational hubs.
Our final advice to students:
Choose your college after careful research and study. Assess its financial health and employability percentage for a sound future and prosperous career!
MyAssignmenthelp.com Can Help You Write Assignments That Can Instantly Elevate Your Grades!
Everyone needs a little help every now and then to succeed. And you may need it to when it comes to your assignments. MyAssignmenthelp.com can be the perfect companion in this regard. We'll create beautiful assignments for you that'll take your report card to the next level with our assignment help. We have 3000+ Ph.D. writers who can solve any type of assignment. We only provide plagiarism-free copies and that too, at the most affordable rates.