Introduction
Increasing competitive business environment have pushed the organisations towards adapting a strategy, which can help them to sustain in such environment. Today, organisation is trying to identify different types of strategies to fulfill their objectives. Among these strategies, blue sky strategic planning has its own relevance. The core aspect on which this strategy works is that, it emphasizes on the 'vision' of an organisation, but at the same time gives little attention on the details through which the vision will be converted into an actionable plan (Gürhan-Canli & Maheswaran, 2000, pp.309-317).
Focus of this strategic report is to understand the impact of a national brand and its country of origin in context of Burberry. Concept of nation branding is focused towards the examination of the strategic management, value and execution of brand's national identity. As an organisation, Burberry was founded in 1856, when its first outerwear garment for sportsmen of Basingstoke was constructed. This, strategic report will analyze the concept of the national branding in context of Burberry as a popular brand in United Kingdom (Peterson & Jolibert, 2015, pp.883-900).
About Burberry
Burberry Groups plc. is an organisation which is one of the top most British luxury fashion house today. As a fashion house, Burberry has engaged in several activities such as distribution of outerwear, fashion accessories, fragrances, sunglasses and cosmetics. One of the most famous product from Burberry is its trench coat. Burberry functions on three models, which are branded stores, franchises, and through concessions in third party stores (Burberry, 2015). Popularity and success of Burberry can be understood by the fact that in 2014, company was ranked 73rd in 'Best Global Brands' report from Interbrand, which further listed it as one of the most valuable brand in the world today. Burberry is also listed on the LSE (London Stock Exchange) since 2014, and is a member of the FTSE 100 index as well.
It can be said that Burberry is famous for providing an authentic British heritage it provides through its products. According to organisation's strategy, its integrity originates from three important principles of quality, function and contemporary yet classic style. These principles are deep rooted in its integrity. It can be said that Burberry as an organisation has a global reach, where it has presence in all the major economies of the world. Based on its operating model it can be said that, Burberry also has expertise in selling its products through a multichannel mode.
In terms of financials, Burberry's finances are displayed in below table:
Figure 1: Burberry Facts & Financials.
Above-mentioned table clearly indicates that how over a period of 6 years (2006-2012), Burberry's revenue and operating income has grown rapidly. For example, in 2006 its revenue was $1190 million USD; however, in 2012 its revenue rose to staggering $3000 million USD, which is more than double of what Burberry, was earning in 2006. In fact, its operating income has also increased significantly from $250 million to $600 million. This substantial growth in the revenue of the organisation the focus of organisation on its performance and improving the productivity over a long period of time (Future Growth Strategies, 2015).
In terms of fragmentation in the luxury market of fashion, Burberry has been able to place itself comfortably among its competitors. Below diagram clearly indicates that how Burberry has able to maintain its position of semi-luxury brand, which has something to offer for various segment of the societies in UK.
Figure 2: Luxury fashion market research. Source: FT Research
Hence, Burberry as a brand has already positioned itself in a place where it can move towards becoming highly premium brand such as Louis Vuitton or becoming a more accessible brand like Ralph Lauren. Ultimately, it all depends on the overall strategy of the brand that it how it grows further not only within United Kingdom, but also at global level (The hypocrisy of Burberry's, 2015).
However, in order to fuel the growth of Burberry at international level, an approach of nation branding and country of origin can be applied. Further sections will analyze these two concepts of branding and their application in context of Burberry.
What is nation branding?
Nation branding is defined as a way in which international public perceives a specific country. This opinion of public from different countries is formed based on the success or failure of the brands/businesses originating from that particular country. Nation branding, has also displayed significant level of impact on the cultural and diplomatic ties between the countries. However, it is important to understand that nation branding cannot be compared to a product branding process. Unlike products, nations cannot be sold. Hence, the process of nation branding cannot be perceived or attempted in a similar fashion like that of product branding. In fact, over a period, several small and large companies that have invested millions of dollars to achieve benefits have practiced nation branding as a concept. In order words, it can be said that nation branding is more about what, exactly a nation can offer to the entire world. For example, United Kingdom is associated with the Jet engine and internet, which it offered to world. In other words, these products and inventions are ways through either which nations have been able to brand themselves explicitly or implicitly (Dinnie, 2010).
Hence, nation branding is targeted towards measuring, building, and managing the reputation of countries, in similar way to branding of a place. In this entire exercise, approaches are applied such as focusing on the symbolic values of the products, which in turn provide country distinct characteristics. In this case, example of famous liquor brand Johnny Walker can be considered. Today brand worth of Johnny Walker is estimated to be 3bn GBP, because of which it is considered one of the most valuable whiskey brand in the world today originating from United Kingdom. Today, Johnny Walker is not just a whiskey but is an iconic Scottish brand itself that does not mean that presence of the brand is limited to UK itself; for example, more than 1 million cases of Johnny walker were sold in US, Brazil, and Thailand in 2012.
Hence, nation branding as a concept is not only a concept which helps in building the overall image of the nation as a brand, but it also reflects on its exports to the other countries. This phenomenon of nation branding is also known as country of origin effect (COO). It will not be wrong to say that COO or nation branding has significant amount of impact on the perception of the end customer. This can be understood by example China. As a country even though China is famous for its innovative products, but despite of several attempts, China is still considered to be a country which produces maximum number of counterfeit products, due to which credibility of Chinese companies is always under scanner throughout world. Ironically, majority of the electronics companies across world include Apple, uses Chinese manufactured parts, despite of these fact Chinese products still find it hard to remove the infamous tag of hub for duplicate and non-reliable products (Burberry - Iconic British Luxury Brand, 2015).
Due to rapid globalization, concept of COO has only intensified, as organisations have realized that COO has major impact on the perception of the customers and it plays a major role in the decision making process. That is why, it is important to understand one basic philosophy, that even though products might be manufactured in factories and workshops, but what consumers buy is the brand. Example of Johnny Walker clearly indicates that how brands can become a face of the nation. That is why organisations irrespective of their size, continue to invest in this direction where they can associate their products with the concept of nation branding (Fan, 2006).
Burberry and implementation of COO
Now that there is clear understanding of concept of nation branding or COO, and a brief background of Burberry, it is important to formulate a blue-sky strategy report on Burberry w.r.t nation branding. It is important to understand that a blue-sky strategy report is focused more on the vision aspect rather than providing an actionable plan to implement that vision (Han & Terpstra, 2011).
Before analyzing the overall strategic plan, it is first essential to conduct a situational analysis of Burberry. Currently Burberry has established itself comfortably within the fashion industry and offers range of products to its customer. Range of products, which it offers include, women's wear, menswear, children's wear, watches and accessories. However, with UK luxury fashion segment dominate by players like Gucci and Prada, Burberry has maintained its focus on the international markets such as US, India, etc. (Brand Finance, 2015).
SWOT Analysis of Burberry
Strengths

· Burberry has a strong brand perception not only in UK but also across globe.

· It is considered a more of a heritage product company.

· One major strength is its flexibility in product sourcing.

Weakness

· Because of low vertical integration margin and value from manufacturing reduces significantly.

· Currently Burberry earns its maximum profit from apparel segment, which has seen an increased fashion risk.

· In developing countries outside UK, Burberry is still considered a highly expensive brand.

Opportunities

· One major opportunity for Burberry lies in its retail network expansion and further increasing the reach of its wholesale distribution.

· Burberry has an opportunity to further extend its apparel offering in different countries.

· Market for luxury fashion accessories has been booming, and Burberry has a major opportunity to setup developmental plants in Spain and Japan.

· Burberry should focus extensively on promoting its international distribution under brand 'Burberry London'.

Threats

· Burberry in its quest to establish itself in international market has been collaborating with third party vendors, which is not a positive situation, as any disruption in relations with third party vendors might affect its international operations.

· Counterfeit of Burberry products have become a major issue with the organisation. Due to this issue, often customers also buy counterfeit products resulting in bad customer experience, and hampering the overall brand image.

Ansoff's Matrix for Burberry
A typical Ansoff's matrix is displayed below based on which matrix for Burberry will be derived.
Based on the above matrix, following matrix can be designed for Burberry:
Figure 3: Burberry's Ansoff's matrix
Hence, based on above matrix it can be said that Burberry has not focused much on its diversification aspect. Even though it has a major market penetration through class garments, outwear trench coats etc. but it is yet to diversify its product portfolio especially in international markets. In addition, in its bid to develop the market, it has launched an exclusive children's wear line in China, which reflects its focus on developing international market for its products (Anholt, 2002).
Based on the current analysis of Burberry, and its financial condition it can be clearly said that Burberry has positioned itself in a strategic position in the fashion market. Burberry is one of the iconic fashion brands, which has dominated the luxury fashion segment in the United Kingdom since decades along with other brands such as Gucci, Prada etc. However, with fast saturating market of luxury fashion market and dominance of the brands such as Gucci, Prada, Ralph Lauren etc. Burberry should focus on further diversification and internationalization of its products (Bilkey & Nes, 2011). Burberry should take advantage of its rich heritage and history behind its product and should invest significantly in the concept of nation branding.
There have been several iconic brands such as Mini Cooper, Johnny Walker etc. that have benefited tremendously from the concept of nation branding. In this era of rapid globalization, consumers are intensively conscious about the brand they use or consume, and when it comes to fashion brand becomes even more relevant. In this regard, nation brand concept can play a significant role in making Burberry a truly global UK brand with a rich history and heritage behind it (Gudjonsson, 2005).
Alignment of Burberry with nation branding
Burberry has already a well-established presence in the international market. Its iconic-checkered pattern has dominated fashion industry for a long time. However, Burberry should focus on capitalization of these aspects to create itself as a brand synonymous with values and culture of United Kingdom (Gürhan-Canli & Maheswaran, 2000).
In order to create nation brand out of Burberry it is important that Burberry focus on specific aspects mentioned below:
Focus on ancient heritage value of Burberry
Considering the fact that Burberry was established in 1856, it has a rich historical background behind it. It is important to understand that in concept of nation brand perception of customer is driven by the fact that how old a company is. For example, brands like Johnny Walker etc. have been in existence for at least 100 years now. Burberry should take advantage of this and should associate its ancient background in the promotion (Anholt, 2008).
For example, in the promotional campaigns, Burberry can use promotional materials reflecting old advertisements as displayed below: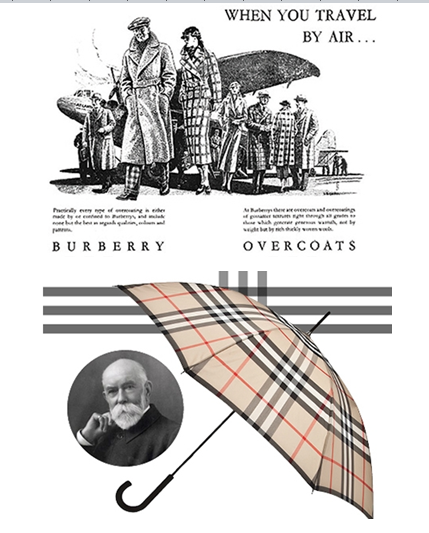 These images as mentioned above in it are iconic representation of Burberry huge heritage. Consumers, who use any luxury fashion product, try to find the origin of the fashion or the brand. That is why there is inclination towards fashion brands, which originate from Italy or France, because these two places are considered hub of the contemporary fashion. Similarly, Burberry should also focus on establishing itself as a brand, which has an ancient origin and has legendary or iconic products like checkered trench etc. that are still a rage in the fashion market.
Focus on this aspect by Burberry will also give significant amount of reliability to its accessory line of products as well. For examples over a period, Burberry has been focusing extensively in expanding its fragrance line of products. In this regard, Burberry can relate the concept of nation branding, with its products with tag lines like 'Fragrance from UK's oldest fashion house' etc. Such tactics helps the customer to instantly trust the product and consider the same in the buying decisions (Kaneva, 2011).
Tactical promotions of the product
Burberry should focus on tactical promotion of its products, where its focus should not be just selling the products, but also making the customers making aware and inquisitive about the brand and country from which it originates. For example, below image can be used as a promotional material for Burberry (Volcic & Andrejevic, 2011).
Above image has nothing fancied to it, but it still reflects one of the most popular brand identities of Burberry. Check pattern of Burberry has been a rage since it first emerged. Hence, Burberry can utilize this aspect in order to create awareness in the mind of its international products. Hence above image despite of being a simplistic representation of the iconic check pattern scarf, tells a customer about the brand of Burberry and its history (Widler, 2007).
Existing situation of Burberry w.r.t COO concept
Based on the recent survey conducted by a brand agency related to interaction between COO and brand for luxury products, there was study on four popular brands in field of luxury fashion industry. These brands were Burberry, Ferragamo, Armani, and Chanel. Finding of this study is displayed in the image below, which clearly reflects that Burberry products are mainly purchased due to its brand name, as compared to products like Chanel or Armani, which are not just purchased because of its brand name but also due to its national origin.
Thus above diagram reflects the importance of COO for Burberry.
Focus on brand equity elements.
Concept of COO has a major impact on the brand equity elements such as brand awareness, brand association, perceived quality, and brand loyalty. This aspect can be understood by the image displayed below:
Hence, for Burberry, it is important to focus on the alignment of these brand equity elements with the concept of COO. It is important to understand for Burberry that perception of product, which is made in a country with a stronger product category, has interpretation that is more positive. This can be understood by example of German automobile industry. Companies like Audi or BMW are synonymous to German automobile sector and vice-versa. The product positioning has been so impactful for these companies that they are seen as the representatives of the high quality automobiles being produced by a German company (Hanna & Rowley, 2008).
In long run, Burberry should focus intensively on creation of a global brand image, which remains in sync with its strategy for nation branding (Dinnie, 2004).
Potential issues with the COO based branding strategy for Burberry
If there are tremendous benefits, which Burberry can derive from its COO branding strategy, then there are several pitfalls as well which it should try to avoid. For example, majority of the production of garment sold by Burberry is produced out of Britain in Asian and other developing countries. In such situation if Burberry decides to run a campaign such as "Made in Britain", etc. then people aware of this fact might term this strategy of Burberry as hypocrisy. Such kind of situation never has a positive impact on the brand image (Peterson, 2015).
If Burberry has to establish its distinct 'British' brand image, then it should first focus on bringing its manufacturing units in United Kingdom, or in a situation if bringing entire manufacturing unit to UK is not possible then it can focus on hybrid facility, where some part of the manufacturing is taken care in UK itself. Currently majority of its manufacturing takes place in China, as a result of which even if Burberry is a British brand, it will find difficult to position itself as a luxury fashion brand, just because of the fact that its garment will have 'made in china' label on it.
Most importantly, relocating the manufacturing facilities back to UK will not only help the brand to improve its international image but also will help in generating favorable response and support from government as well. In case of manufacturing relocation, the company will also generate number of local jobs, because of which it will be able to support the local community (Anholt, 2008).
Co-branding with other events and partners is also an important step towards COO based branding strategy for Burberry. For example, Burberry can collaborate with fashion events across globe and sponsor them prominently as a British brand. Considering the fact that Burberry is a British organisation with product line in luxury fashion items, it will become a logical branding strategy for the organisation, and the organisation will be able to target its potential customer.
Secondly, in age of e-commerce and e-business, Burberry should tie-up with either Amazon or eBay in order to sell its products across globe. Considering the fact that e-retailers like Amazon have global presence will help Burberry to increase its global reach. However, it is important for Burberry to promote its brand as hardcore British Brand on every medium whether e-commerce of brick and mortar model. Also, Burberry should focus on intensive promotional campaign in rapidly developing market by organizing events showcasing its products and brand name (Olins, 2002).
In markets like Japan from where 60% of Burberry's £109m in licensing income currently comes from, should be given more importance in order to improve the penetration rate. Most importantly, developing countries like India, Brazil etc. should be focused where there is a rising class in society, which is extremely cautious about the brand they wear. Such type of customers are always inclined towards the product which originates from a brand like US or UK due it its past legacy related to various brands. Hence, Burberry can learn from the success of other British brands such as Johnny Walker, or Mini Cooper, in order to position itself (Morgan et al, 2002).
Conclusion
Based on analysis of Burberry, it can be concluded that nation brand approach is an important strategic move for the organisation, which it can use towards gaining significant advantage over its rival companies. However, it should be aware of various pitfalls that it might encounter as a result of this strategy. Nation branding approach has to be planned first and based on the plan only it should be executed. As evident from above examples and analysis, Burberry should intensively focus on the promotional aspect of its brand, since promotion and marketing is the backbone of the entire strategy. Nation branding concept not only associates the brand with the nation's image, but vice-versa scenario is equally true as well, that is why any promotional strategy by Burberry should also consider the image of country, as any negative promotional tactic might create resistance for the brand within country itself.
References
Anholt, S. 2002. Nation branding: A continuing theme. Journal of Brand Management, (10), 59-60.
Anholt, S. 2008. Place branding: Is it marketing, or isn't it?. Place Branding and Public Diplomacy, 4(1), 1-6.
Anholt, S. 2008. Place branding: Is it marketing, or isn't it?. Place Branding and Public Diplomacy, 4(1), 1-6.
Bilkey, W. J., & Nes, E. 2011. Country-of-origin effects on product evaluations. Journal of international business studies, 13(1), 89-100.
Brand Finance. 2015. Brand Finance. [ONLINE] Available at:https://www.brandfinance.com/news/press_releases/brands-are-great-british-brands-grow-by-over-37-billion. [Accessed 20 March 2015].
Burberry - Iconic British Luxury Brand Est. 1856. 2015. Burberry - Iconic British Luxury Brand Est. 1856. [ONLINE] Available at:https://in.burberry.com/. [Accessed 20 March 2015].
Burberry: A great British success | Analysis | Retail Week. 2015. Burberry: A great British success | Analysis | Retail Week. [ONLINE] Available at:https://www.retail-week.com/burberry-a-great-british-success/5034635.article. [Accessed 20 March 2015].
Dinnie, K. 2004. Place branding: Overview of an emerging literature. Place Branding, 1(1), 106-110.
Dinnie, K. 2010. Nation branding. Routledge.
Fan, Y. 2006. Branding the nation: What is being branded?. Journal of vacation marketing, 12(1), 5-14.
Future Growth Strategies (Part 1: Analysis) | On Burberry.... 2015. Future Growth Strategies (Part 1: Analysis) | On Burberry.... [ONLINE] Available at:https://brandburberry.wordpress.com/2011/11/06/future-growth-strategies-part-1-analysis/. [Accessed 20 March 2015].
Gudjonsson, H. 2005. Nation branding. Place branding, 1(3), 283-298.
Gürhan-Canli, Z., & Maheswaran, D. 2000). Cultural variations in country of origin effects. Journal of Marketing Research, 37(3), 309-317.
Han, C. M., & Terpstra, V. 2011. Country-of-origin effects for uni-national and bi-national products. Journal of international business studies, 235-255.
Hanna, S., & Rowley, J. 2008. An analysis of terminology use in place branding. Place branding and public diplomacy, 4(1), 61-75.
Kaneva, N. 2011. Nation branding: Toward an agenda for critical research.International Journal of Communication, 5, 25.
Morgan, N., Pritchard, A., & Pride, R. 2002. Destination branding: creating the unique destination proposition. Butterworth-Heinemann Ltd.
Olins, W. 2002. Branding the nation—The historical context. The Journal of Brand Management, 9(4), 241-248.
Peterson, R. A., & Jolibert, A. J. 2015. A meta-analysis of country-of-origin effects. Journal of International Business Studies, 883-900.
The hypocrisy of Burberry's 'Made in Britain' appeal | Carole Cadwalladr | Comment is free | The Guardian. 2015. The hypocrisy of Burberry's 'Made in Britain' appeal | Carole Cadwalladr | Comment is free | The Guardian. [ONLINE] Available at: https://www.theguardian.com/commentisfree/2012/jul/16/burberry-china-british-carole-cadwalladr. [Accessed 20 March 2015].
Volcic, Z., & Andrejevic, M. 2011. Nation branding in the era of commercial nationalism. International Journal of Communication, 5, 21.
Widler, J. 2007. Nation branding: With pride against prejudice. Place Branding and Public Diplomacy, 3(2), 144-150.