Question:
Write down a report related to Managing Change of Nissan Motors?
Answer:
Introduction
(a) —Business Environment is changing due to globalization.
—(b) Factors like technological advancement, changing demand etc are driving the changing environment.
—(c) Nissan Motors have undergone change since 1999 after Carlos Ghosn, had taken Nissan's wheel.
Position Of Nissan Motors In 1999
(a) In 1998, Nissan was in a terrible position financially.
(b) decrease in their market share to 4.9% in the year 1998 compared to 6.4% in 1990.
(c) By the end of 1998, Nissan reported a loss of 14billion euros and increase in the debt ratio by 66%.
(d) Due to bankruptcy, Nissan was operating at loss, they were losing money on dealership and cars as they lacked in autonomy of choosing the right model and the negative feedback against the organization was rising.
Cont…
Presently the situation is good for Nissan as shown in the graph below: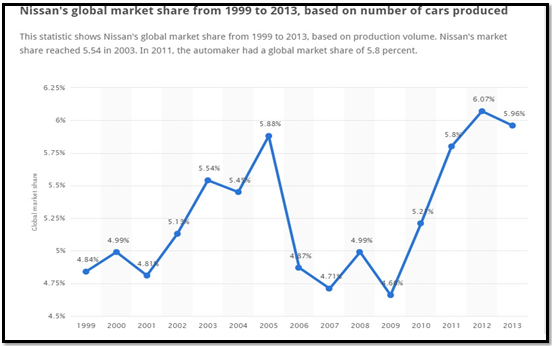 Swot Analysis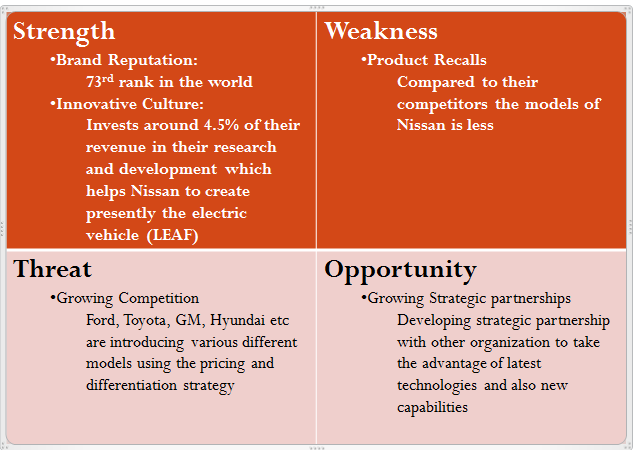 New Mission And Vission In Relation To Strategic Planning
(a) Offer innovative and distinct automotive products and high quality services to deliver high values to all their stakeholders
(b) To enrich the lives of the people, building trust with the customers, partners, employees, shareholders and dealers by working passionately with their Alliance partner- Renault.
(c) Introduction of Nissan Revival Plan by Carlos Ghosn focused on reducing the cost and also increases the growth of Nissan.
(d) Creation of centralized control for worldwide operations like brand management and corporate planning to move Nissan from multi-regional firm to global firm.
Cont…Ghosn declared three main commitments
(1) Return to net profitability by 2000
(2) To achieve operating income to sales margin of atleast 4.5% by 2002
(3) Also to decrease consolidated net automotive debt by 700billion euros by 2002
Role Of Leadership
(1) Cross Functional Team" management approach which help to revitalize Nissan
(2) Encouraging all the employees to participate in solving the problems of the organization, thus Ghosn formed a Brand Identity Committee within Nissan.
(3) Developing good public relation was one of the key strategies of his management approach
(4) Ghosn, mainly followed the transformational leadership role
Success And Failures Of The Company
Success:
(a) Volume of the industry was 83.1million units that means rise in 4.8% globally
(b) Sales increased by 5.6% at 5.19million units
(c) Due to strong sales of DAYZ series of Nissan in domestic market, sales had increased by 11.1% achieving a market share of 12.6%
(s) In the fiscal year, 2013, the organization had launched around 10 vehicles like Dayz Roox, Dayz in Japan, Teana Long-Wheel Base in China, Datsun model in India, Infiniti Q50 in US, Qashqai in Europe
Failure:
(a) customers have been complaining about the products like electric LEAF. The sales of Leaf decreased by 31.5% compared to 2011
Opportunities And Threats
Opportunities:
(a) Expanding the Line of Products
(b) Investment in Zero-Emission Technologies
(c) Strategic Partnership with Daimler
Threat:
(a) Restricted Emission Standards
(b) Competition in the Automobile Industry
Conclusion
Nissan had faced a huge down turn financially due to ineffective strategies. However, due to effective role of Carlos Ghosn, the CEO of Nissan Motors had made the organization to come back to its original position. This shows that leadership has a strong impact on the performance of the organization.
References
Ciferri, L. (2014). AvtoVAZ rebound key to Ghosn's grand plan for Renault-Nissan. [online] Automotive News. Available at: https://europe.autonews.com/article/20141006/ANE/141009893/avtovaz-rebound-key-to-ghosns-grand-plan-for-renault-nissan [Accessed 13 Jan. 2015].
Financial Times, (2013). Nissan seeks to overtake Toyota in Europe - FT.com. [online] Available at: https://www.ft.com/cms/s/0/5404b782-8680-11e2-b907-00144feabdc0.html#axzz2N9fFzTIH [Accessed 13 Jan. 2015].
Ghosn, C., Riès, P. and Cullen, J. (2005). Shift. New York: Currency/Doubleday.
com, (2013). Previous Years - Best Global Brands - Interbrand. [online] Available at: https://www.interbrand.com/en/best-global-brands/2012/Best-Global-Brands-2012.aspx [Accessed 13 Jan. 2015].
Magee, D. (2003). Turnaround. New York: HarperBusiness.
MarketWatch, (2011). Daimler to supply Nissan Infiniti engines: report. [online] Available at: https://www.marketwatch.com/story/daimler-to-supply-nissan-infiniti-engines-report-2011-03-06 [Accessed 13 Jan. 2015].
Nissan-global.com, (2010). NISSAN | Renault-Nissan Alliance Signs Zero-Emission Vehicle Partnership with City of Toronto. [online] Available at: https://www.nissan-global.com/EN/NEWS/2010/_STORY/100927-01-e.html [Accessed 13 Jan. 2015].
nissan-global.com, (2014). Annual Report 2014. [online] Available at: https://www.nissan-global.com/EN/DOCUMENT/PDF/AR/2014/AR2014_E_All.pdf [Accessed 13 Jan. 2015].
Nissan-global.com, (2014). NISSAN | 115th Annual General Shareholders' meeting Business Report. [online] Available at: https://www.nissan-global.com/EN/DOCUMENT/HTML/FINANCIAL/SPEECH/2014/fs_speech20140624.html [Accessed 13 Jan. 2015].
Tabrizi, B. (2007). Rapid transformation. Boston: Harvard Business School Press, p.77.
Takarabe, Seiichi. Carlos Ghosn wa Nissan wo Ikanishite Kaetaka (How Carlos Ghosn changed Nissan). Japan: PHP Kenkyujyo, 2002
Thakkar, K. (2014). Even with Datsun, Nissan's going nowhere - The Economic Times. [online] The Economic Times. Available at: https://economictimes.indiatimes.com/industry/auto/passenger-vehicle/cars/even-with-datsun-nissans-going-nowhere/articleshow/39858124.cms [Accessed 13 Jan. 2015].
Tuttle, B. (2012). Is It Time to Declare the Nissan Leaf a Flop?. [online] TIME.com. Available at: https://business.time.com/2012/09/07/is-it-time-to-declare-the-nissan-leaf-a-flop/ [Accessed 13 Jan. 2015].