2. With its size as well as scale, Starbucks possess power to seek advantage of the suppliers and also maintains fair trade. This imparts low bargaining power to suppliers.
3. The suppliers give a less threat against Starbucks by integrating forwards and so the power is quite low (Pederson, Tkachuk and Allen, 2008).
1. There is a monopolistic competition within the industry and Starbucks possess the greatest market share; also its competitors possess adequate market share which creates constant pressure for Starbucks.
2. Customers have certain cost of switch to different competitors and this give rise to high intensity within rivals (Rundh, 2003).
3. The Company maintains key competitive advantages with differentiated product and services that lead to medium extent of intensity within competition.
4. The industry shows maturity with low growth rate which leads to intensity of competition among the firms to be high moderately on account of all seeking to enhance market shaper from firms like Starbucks (Sharma, 2004).
5. The industry lacks over capacity presently and all factorsleads to intensity amongØ rivals to be moderately high.
PESTEL Analysis of Starbucks:
Starbucks has a macroeconomic environment that is attributed with continuous economic recession globally that has been denting buying power of customers. The following Pestel analysis on Starbucks would provide information about its macroeconomic environment.
Political
1. The most concerning political issue for Starbucks is that of its sourcing its raw materials attracting politicians of the West World. This makes the firm to stick to the social as well as environment conditions and following sourcing strategies which are suitable in conformance with fair trade and mutually agreed upon by global firms as well as national governments (Shaw and Shaw, 2009).
2. Starbucks must adhere to regulations as well as laws at the nations where it sources its raw materials. This is due to the political awareness within the developing countries.
3. It faces regulatory constraints at the home market of the United States due to increased scrutiny of processes that are subjected within the nation (Layne, 2014).
Economic
1. The key economic driver for the firm is the constant economic recession globally that has been denting profitability of several firms.
2. Research shows that customers are switching over to low priced coffee products rather than cutting off consumption expenses completely (Lin, 2012).
3. Starbucks is still facing problem of rising costs of labor and operation in the macro-environment with decreased profitability.
Social
1. The Company may easily offer cheaper products but then it has to compromise its product quality and this would act as a challenge for the firm for expanding and acquiring more customer base (Marchi, Maria and Micelli, 2012).
2. The social factor states that the customers demand for low priced products from the firm. This acts as the recent challenge for Starbucks.
Technological
1. Starbucks has been utilizing the technological advancement by collaborating with Apple to generate discount coupons.
2. It has introduced Wi-Fi capabilities at all its outlets and this attracts customers to their stores. They feel relaxed and enjoy surfing along with coffee. This adds to the brand value of Starbucks (Snyder, 2006).
3. Starbucks may also introduce payments by mobile app and it has been testing the practice in the US.

Environmental
Activists, customers, and international advocacy exhibit concerns about business practices of Starbucks. So the firm needs to be well aware of all such concerns fr enjoying continued trust from its customers.

Legal
The company needs to ensure that it is well aware of the legal matters and regulations in places where it sources its raw materials and that in home markets (Patterson, Scott and Uncles, 2010).
The analysis shows that the company has been operating in quite a stable environment. The reason behind this is that Starbucks operate in Food and Beverage industry that refers that despite presence of recession, customers do not cut off their expense of coffee consumption completely (Shaw and Shaw, 2009). Hence it is important for Starbucks to focus on increasing its value as well as reducing its product cost as far as possible.
Marketing Objectives:
The marketing strategy of Starbucks is based upon emphasizing upon customers who would willingly buy its products. Its products are meant for brand loyal customers. The firm has a goal to offer products to higher class which permits customers to experience highly at Starbucks at the home comfort (Vrontis and Kogetsidis, 2008). The marketing should display the convenience as well as quality of products of Starbucks by means of publications like television ads, print ads, word of mouth, and social media. The firm feels that the most effective way of achieving the objective is to offer quality products and services exclusively to the shoppers of Target Corporation and all loyal customers of Starbucks.
Pricing Objectives:
The products of Starbucks are positioned as high end coffee creamer which are readily accessible to customers. It is up to the customers who immensely value quality products and hence willing to spend enough money upon the best. The Company differs from rest of its competitors in terms of its premium quality ingredients.
Positioning Map:
Target market refers to the people who would willingly buy products of Starbucks. The groups include all loyalists of Starbucks, adults of ages 35-55, students between 18 and 24, and also Target Shoppers (Wang and Montaguti, 2002). They attach a lot of prestige and loyalty with the Starbucks brand, and also have the capability to buy premium quality products at a quite high price. The company products are so situated that these represent both high quality as well as high price. The positioning map shows the market position of Starbucks as compared to other competitors.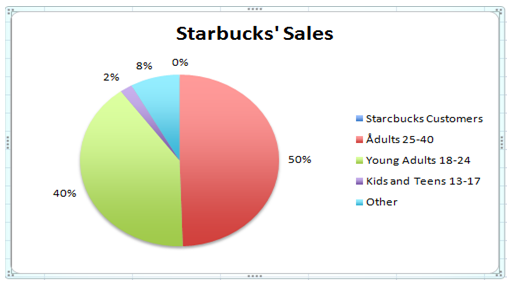 Market Demographics:
Starbucks focuses its marketing basically upon four different target customers –
Starbucks Loyalists: As per research around 72% of coffee drinkers prepare coffee at home. Starbucks Corporation holds only 15% of the sector. Out of this percentage buying beans for using at home, 67% of such drinkers add creamer. By targeting only this segment, the firm may reach 7.3% of coffee industry (Wuehler, Hess and Brown, 2011).
Adults of age groups 35-54: This group constitutes around 42% of total market for coffee. As the customers are busy office-goers, coffee is an important consumption on a daily basis. They not only demand for the products greatly, but also afford to buy expensive products (Sindhwani and Ahuja, 2014).
Students of age groups 18 and 24: As per the National Coffee Association, since past few years there has been a rise in the number of students consuming coffee on a regular basis to around 10%. The total percentage becomes 40%. As this group of customers has no intact brand loyalties, the firm may seek to have increased market share in this target group.
Target Shoppers: This refers to discerning customers who prefer high quality products more than that of prices. As per research, people shop at Target in return for competitive prices as well as increased value apart from selection (Wee, 2011). The products of Starbucks claim to fit in to the trendy arrangement of products which Target has to offer.
Geographical: The Company extends itself possibly farther geographically which is suitable for international advertising. This gives an idea to the company about the feasibility of each of the markets they expand.
Psychographic: This factor enables a market to be similar in values, attitudes and lifestyles. The Company aims at targeting its customers based on this factor as well. It is because attitudes and values of customers of one country varies from that of another.
Product Strategy:
The desirable objectives would be attained by Starbucks by focusing upon quality, natural ingredients, and simple design. All the target customer groups are said to benefit from the available products in context to premium quality as well as convenience (Wuehler, Hess and Brown, 2011).
Pricing Strategy:
The product prices are quite higher as compared to that of its competitors. Initiatives relating to cost reduction like rationalizing global retail network are implemented for improving profit margins (Kotler, 2004).
Place Strategy:
The Company retail stores are concentrated in the United States; however market opportunities exist in other nations especially in the Europe and Asia. As per the market research, key opportunities also exist in Japan due to their preference for high quality products (Chung, n.d.)
Promotion Strategy:
The firm aims at targeting these markets by different media like television ads, social media, and print ads. Since Starbucks offers all its products to particular customer base who value increased quality at a premium level of cost (BERNASCO et al., 2013). It need not saturate all media with its ads. Its products as well as brand would speak for themselves. So, most of the ads which are not based on social media would be offered in relation to Target Corporation which is one of its main distribution channels for its new product.
Implementation of Strategies:
By means of diversification of product base as well as creating innovative pricing strategy, the Company may successfully expand its operation scope. The Company targets particular customer. Due to this, even if the competition upholds comparable products, it would lack the combination of higher value-higher quality ingredients, prestige level, or taste which its customers crave.
Marketing Strategy:
The Company is on the path to internal marketing control with the means of restricting channels that it uses at its stores or selective grocers. The target market of the Corporation presents increased opportunities to bring about growth in the firm as the very industry has been experiencing growth and enhancement (Upson and Ranft, 2010). The firm presently holds a majority of the market share. It is quite confident of its dominating capability in the coffee market. The most effective means to achieve desirable objectives on the part of Starbucks is to make every customer increasingly aware of the product accessibility. On account of brand awareness as well as with effective marketing, the firm expects all its products to sell by itself.
Conclusion:
In overall perceptive, Starbucks is regarded as a potentially strong firm operating in a growing industry. It has been taking a firm stand in the industry as well as introducing innovative strategic goals. With increased effort and strategic management, it may successfully grow in the international market. It is believed to possess a potential business model and continues to grow sustainably. It has to act more responsively towards varying markets (Lee and Trim, 2006).
References
Aiello, G. and Dickinson, G. (2014). Beyond authenticity: a visual-material analysis of locality in the global redesign of Starbucks stores. Visual Communication, 13(3), pp.303-321.
Bernasco, w., ruiter, s., bruinsma, g., pauwels, l. And weerman, f. (2013). Situational causes of offending: a fixed-effects analysis of space-time budget data. Criminology, 51(4), pp.895-926.
Brondoni, S. (2013). Innovation and Imitation for Global Competitive Strategies. The Corporation Development Models of US, Japan, Korea, and Taiwan. Symphonya. Emerging Issues in Management, (1).
Chargualaf, K. (2015). Situational Transitions and Military Nurses: A Concept Analysis Using the Evolutionary Method. Nurs Forum, p.n/a-n/a.
Dobni, B., Dobni, D. and Luffman, G. (2001). Behavioral approaches to marketing strategy implementation. Mrkting Intelligence & Plan, 19(6), pp.400-408.
HUANG, Z. and SU, Y. (2013). Network security situational assessment based on link performance analysis. Journal of Computer Applications, 33(11), pp.3224-3227.
Kotler, P. (2004). A three‐part plan for upgrading your marketing department for new challenges.Strategy & Leadership, 32(5), pp.4-9.
Kumar, A. (2010). Reforms in the NPT and Prospects for India's Accession: A Situational Analysis.Strategic Analysis, 34(2), pp.295-308.
Lee, Y. and Trim, P. (2006). Retail marketing strategy. Mrkting Intelligence & Plan, 24(7), pp.730-745.
Li, S. (2000). Developing marketing strategy with MarStra: the support system and the real‐world tests.Mrkting Intelligence & Plan, 18(3), pp.135-144.
Lin, C. and Fu, H. (2001). Exploring logic construction on MECs to enhance marketing strategy.Mrkting Intelligence & Plan, 19(5), pp.362-367.
Ochsner, M. (2000). Case study: Life-cycle design strategies at the saturn corporation. Environ. Qual. Manage., 10(2), pp.35-44.
Pederson, J., Tkachuk, H. and Allen, M. (2008). How Perceived Situational Frequency and Situational Importance Affect Communication Apprehension: A Cross Cultural Analysis. Journal of Intercultural Communication Research, 37(3), pp.189-198.
Rundh, B. (2003). Rethinking the international marketing strategy: new dimensions in a competitive market. Mrkting Intelligence & Plan, 21(4), pp.249-257.
Sharma, B. (2004). Marketing strategy, contextual factors and performance. Mrkting Intelligence & Plan, 22(2), pp.128-143.
Shaw, H. and Shaw, J. (2009). The Durable Corporation: Strategies for Sustainable Development20092Güler Aras and David Crowther. The Durable Corporation: Strategies for Sustainable Development . Gower UK and USA, 2009. 300 pp., ISBN: 978‐0‐566‐08819‐3 £55.00 (hardback). Int Jnl Law Management, 51(6), pp.458-460.
Snyder, M. (2006). State of the Profession: The Starbucks Effect. Academe, 92(1), p.70.
Vrontis, D. and Kogetsidis, H. (2008). Environmental analysis as a means to customer satisfaction: the case of Starbucks in Cyprus. JIBED, 3(3/4), p.188.
Wang, Q. and Montaguti, E. (2002). The R&D‐marketing interface and new product entry strategy.Mrkting Intelligence & Plan, 20(2), pp.82-85.
Wuehler, S., Hess, S. and Brown, K. (2011). Situational analysis of infant and young child nutrition activities in the Sahel - executive summary. Maternal & Child Nutrition, 7, pp.1-5.
Bernstein, E. and Rasmussen, J. (2013). Colors of Competence in Competition: A Guide for Active Learning in Competitive Activities. Strategies, 26(2), pp.14-18.
Chung, H. (n.d.). Marketing Control and Marketing Standardisation Strategies: An Integrated Typology.SSRN Journal.
Jocumsen, G. (2002). Marketing Strategies for Competitive Advantage20022Dennis Adcock. Marketing Strategies for Competitive Advantage . Chichester: Wiley 2000. viii + 406pp., ISBN: 04719 81699.European Journal of Marketing, 36(1/2), pp.273-275.
Kolberg, W. (n.d.). Marketing Mix Theory: Integrating Price and Non-Price Marketing Strategies.SSRN Journal.
Lapersonne, A. (2013). Managing Multiple Sources of Competitive Advantage in a Complex Competitive Environment. FSRJ, 5(2), pp.221-251.
Layne, T. (2014). Competition within Physical Education: Using Sport Education and Other Recommendations to Create a Productive, Competitive Environment. Strategies, 27(6), pp.3-7.
Lin, E. (2012). Starbucks as the Third Place: Glimpses into Taiwan's Consumer Culture and Lifestyles.Journal of International Consumer Marketing, 24(1-2), pp.119-128.
Marchi, V., Maria, E. and Micelli, S. (2012). Environmental Strategies, Upgrading and Competitive Advantage in Global Value Chains. Bus. Strat. Env., 22(1), pp.62-72.
Patterson, P., Scott, J. and Uncles, M. (2010). How the local competition defeated a global brand: The case of Starbucks. Australasian Marketing Journal (AMJ), 18(1), pp.41-47.
Sindhwani, P. and Ahuja, V. (2014). A Study of Online Co-Creation Strategies of Starbucks Using Netnography. International Journal of Online Marketing, 4(1), pp.39-51.
Upson, J. and Ranft, A. (2010). When strategies collide: Divergent multipoint strategies within competitive triads. Business Horizons, 53(1), pp.49-57.
Wee, J. (2011). Pyramidal Structures and Competitive Strategies of Business Groups*. Asia-Pacific Journal of Financial Studies, 40(6),