Introduction
Many companies in the airline industry are providing continuous support and services to the community. Jetblue is one of those companies in USA who are providing good services to their many of satisfied customer throughout 61 countries in American continent. Their major focus area in providing their services to their customer was "value for money". Jetblue emphasizes, "to bring humanity back to air travel". Jetblue has incorporated many strategies, which attract to the all economic class of customer. Moreover, they also started a low-cost airline service, which was affordable to the low economy class of people. Jetblue was keen to provide the best customer services in their business, which awarded then many of top awards for their performance. In the year of 2006 Jetblue was listed as the second lowest rate of consumer complaints among all US airlines. This was one of the biggest achievements for Jetblue to develop their business and services in future.
Blueprint: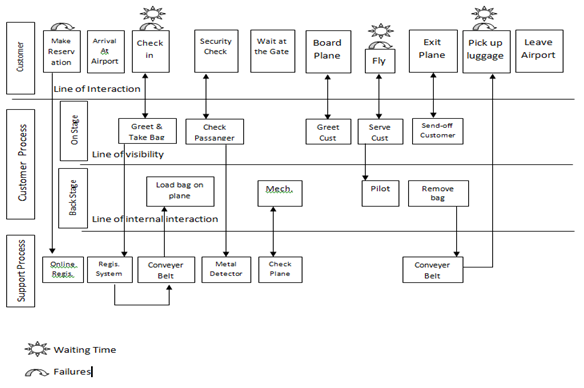 Analysis of the service elements of Jetblue
If a business is growing and there is a possibility to be successful in near future one must examine the details whether or not the products or services will be necessary and attractive. In order to target all the elements at right time at the right people one must employ right type of service marketing mix. Jetblue was not the exception to apply this technique to provide best of services.
Product or Service
Jetblue was very much concern about the marketplace with its customer service, in flight features and productivity. They have purchased only single type of new plane and ensures that maintenance downtime is low and keeps the plane in the air. Jetblue was able to maintain highest average in-air in the industry. They introduced many stratigies to enhance their product. One of them is "operational recovery tool" which is a technology to reduce delays and minimize cancellations allows planners to do it in better ways. Jetblue treats its entire customer as equal and provide maximum comfort than other airline companies.

Price
Jetblue was in the airlines industry where generally people spend more for their travelling as compared to the conventional public transport. However, that does not mean that customers are not sensitive about the price. Here comes the strategy of Jetblue was low fare with high quality service that redefined Jetblue as a "different kind of airline" which customer will prefer over the competition. And Jetblue was very successful in their pricing strategy with quality service which transform many customer in their favorer. This successful implementation resulted in huge growth to the company.
Place
Place is one of the most important factor to make any kind of business. Where to sale the product or services direct the company's future sustainability in the industry. Jetblue very strategically choose their place of business. They decided not to compete between Boston-New York and Washington-New York, because higher economy class of people used to travel in this rout who are only sensitive to service quality not about the price and moreover competition was high among the industry. Therefore, they consider choosing the high demanded Caribbean market. This market was low in competition and economic class was not so superior. This kind of market was perfect for Jetblue to promote their low-cost, high quality service strategy.
Promotion
Jetblue is one of the companies who are very keen to gain satisfied and loyal group of flyers that will produce repeated business for them. Because initially attracting new customer was difficult as well as costlier. This was possible by their quality service and various innovative promotional activities. They use to publish front page advertisement in the leading news papers about their unique features, benefits and quality service. This was the first step of their promotion of their commitment and a responsibility to implement them.
People
To run the business in a service industry it was very important to choose the right people by whom the best of service can be provided. Their employee and services is the face value of the company that will feel a customer value for money. Therefore, recruitment and proper training of the employee was very important for Jetblue. Involving these employees to provide best of support was another important criterion for Jetblue.
Process
Process is one of the factor where a company in service industry majorly emphasis. For Jetblue it was all about to satisfy a flyer not only during the journey but also in other different issues of compliance. Jetblue use to return the fares to their customer if any flight is being cancelled by the companies end. If any kind of service delay is happened company use to subsidies that with a apology note from the higher management.
Physical evidence
Physical evidence is the implementations of those things which company commit to their customer during their promotional activity. Jetblue also has lot of commitment to their customer. Customers always evaluate the services according to the commitment while availing it. Jetblue was the first company to incorporate a personalized TV screen in the back of every seat at the same price, they provides the most legroom, unlimited branded snacks and soft drinks that too in very low cost.
Effects of service scope to the customer
Jetblue through their years of services gained lot of belief in their customers mind. They incorporated many features and strategies to create their scope of business. Many companies were providing flights to their customer. Therefore, it was not only about providing a flight anymore; it was about creating new customers with newer interest.
Cognitive
There is nothing very complex to creating business scope it is all about providing better support and services. Customers always evaluate the commitment to service ratio. By making a good market strategy Jetblue creates a good amount of business scope such as which market to capture to which economic class of people.
Emotional
Emotional attachments always come with whom you are doing your business. Jetblue was also emotional in those cases where customers get affected due to their fault. They use to refund money in those cases, Jetblue use to serve free unlimited snacks to their customer. They use many emotional quotations to touch the customers heart. This kind of services attaches customers emotionally; make them loyal towards the company.
Physiological
Jetblue was the first company in the industry to provide a personalized TV with 20 channels during journey, they provides to more legroom, over pack under pay, branded snacks and drinks along with newer technologies. These kind of services resulted in a comfortable and safer journey creating huge business scope in the highly competitive market.
Problem areas
There was a problem with the promotional strategies of the company. Jetblue management was very confused about their promotional activities. They use to advertise in newspapers. They have many ideas of marketing so their quotation was always different in various advertisements. This kind of approach could create confusion in the customers mind that what kind of service they wanted to offer. Another problem was the aggressiveness of the management. Customer sometime suffers a lot due to those decisions. This may create negative impact in the minds of customers.
Suggested solutions
Advertisement should happen in a continuous process so that customers do not get confused about what they are getting. There should be promotional activity, which depicts long term benefit to the company. Loyal customer was very important in this industry, which can be created by proper management decision and quality of the service.