Introduction:
Be it a physical resource, human resource, time, funding and technology fusing all types of resource together for the achievement of organisation's objectives is the key function of strategic resource management. As commented by Armstrong (2012, p- 14), at the heart of this function there is efficient and effective planning and distribution of resources according to the organisation's needs. Effective resource management results into resource utilisation, waste reduction and yielding of high organisational productivity.
For working with McDonald's (UK), the learner has an easy access to the information required for conducting the investigation. McDonald's is a chain of fast food restaurants that operate throughout the world. In the UK, the organisation started operating in 1975 (What makes McDonald's, 2015)
Activity 1- Human Resource Management
Objectives of McDonald's and Contributions of Human Resource Management (HRM) in achieving the Objectives:
The corporate objectives of McDonald's are as follow-
To become customers' favourite place to eat
To maintain consistent profit for the shareholders
To foster and nurture a motivating environment for employee development
To maintain high standard of ethics and give back to the community
(Refer to appendix 1 for further information)
As opined by Lawler (2008, p- 353), in contemporary business, the management focus hangs on ROI. Therefore, it is very important that HRM is geared to the effective utilisation of the workforce in realising the business objectives and objectives. In McDonald's, the HRM plays a very important role in achieving the objectives of the organisation. The nature of HRM of the organisation needs to be analysed for understanding its contribution in objectives' achievement. In accordance with Hope-Haileyet al. (2005, p- 61), effective HRM employs performance-oriented pay, profit sharing and attitude survey in motivating the workforce to achieve organisational objectives. In McDonald's, HRM uses a variable pay for motivating employees to achieve their individual targets. Employees are provided with incentives in case better performance regarding sales. In addition, various rewards such as home telephone bill assistance, life assurance cover, pension, and company car (McDonald's UK, 2015) are offered to the employees for generating a strong sense of responsibility.
It clarifies the HRM exercises, models of HRM, viability of hierarchical goals, execution observing of McDonald's restaurant. The HR of any association is an essential asset that is the direct joined between the workforce's nature and extreme objectives. It likewise shows us what is the utilization of human asset administration and how can it work in the organization.
Critical Evaluation of the Roles of HRM in McDonald's:
The role of HRM in an organisation has been evolving since it first originated. Earlier the role of HRM was only to maintain records of employee information. Now, the role of HRM includes "Performance Management", resource planning and employee relations (Bjorkman and Stahl, 2010, p- 56). In McDonald's, HRM guarantees ROI (Return on Investment) by performing the following roles-
Roles Played by HRM in McDonald's
"Performance Management"
Recruitment and selection
Pay and compensation
Career development
Employee retention
Tracking work hours
Training and development
Employee welfare
Table 1: Roles Played by HRM in McDonald's
(Source: Created by the Learner)

Figure 1: Karen Legge Model of HRM
(Source: Becker and Huselid, 2009, p- 921)
In accordance with the Karen Legge Model of HRM, there are two types of HR managers- Conformist innovators and Deviant innovators (Becker et al. 2009, p- 923). The first type of managers always tends to put effort in achieving the organisational goals and objectives. The other type of managers always tries to propose and obtain support for a different set of organisational objectives (Boxall and Purcell, 2007, p- 189). In McDonald's, the HR managers can be considered as conformist innovators, as they always try to achieve McDonald's objectives by performing HR functions. In this organisation, the goals of the HR department are always aligned with the organisational goals and objectives, so that the corporate goals and objectives of McDonald's can be easily achieved.
HRM is the general population administration capacity where a hierarchical function is satisfied and concentrates on the issues identified with individuals. Those issues are as: instance pay, execution management, association advancement, security, advantages, worker inspiration, correspondence, organization, preparing and, and so forth.
Control within McDonald's is just not attained by the direct supervision, machines, physical layout of restaurant as well as detailed prescription of the rules and regulations but also via proper recruitment policy. Even unskilled labors here have little power to interrupt efficiency of operation through withdrawing the co-operation from production procedures, disrupting process otherwise through simply leaving the firm. Staffs here are also allowed to submit to the power of employer, yet are always probable to retain very strong interest within use of their workers.

Advantages and Disadvantages:

Advantages-
Flexible work hours- Flexible work hours and good amount of motivation by the managers make the staffs of the firm feel at home and thus they are capable of supplying their best to the organization.
Team building- HRM policy and strategies at McDonalds enables team building and also insists the employees to remain loyal to the firm.
Innovation and assessment- Strategic vision of the firm influences creation as well as evaluation of the HR policies and human resource management of this firm helps in monitoring its progress towards attaining the desired aim and goal in the strategic plan as these plan lie upon the people working within the firm. The HR management system of the firm is overall an efficient one except some cons that are mentioned below.
Disadvantages-
Privacy- A major con of the firm's HR management scheme is that it enhances the capability of the breaches in privacy of its staffs, management and also business officials
No realistic data can be drawn- The HR management scheme at McDonalds is effective in choosing staffs for some particular posts or for advancements on basis of performance scores as well as some other information. Moreover, when human factor is removed like while analysing staff talent, the system at time reveal high score in sales, new accounts and marketing efforts but does not reveals a staff's habit or his/her performance
Evaluation of Recruitment and Retention Strategies in McDonald's:
As per Hope Haileyet al. (2005, p- 51), methods used for recruiting employees can be either "you find us" or "we find you". In the first method, organisations communicate about vacancies through their corporate websites, newspapers or other public channels. This is a very common method of recruitment. In McDonald's, for recruiting employees for the restaurants, this strategy is followed (refer to appendix 2). Such job advertisements attract many candidates, and HR managers have to work hard for selecting pick qualified candidates. As McDonald's is a well-renowned organisation, it can be easily assumed that the HR managers have to spend a considerable amount of time for recruitment. As argued by Lawler (2008, p- 363), this strategy is not at all effective in case of urgent recruitment. For recruiting in important positions such as top managers, "we find you" strategy is followed. The organisation identifies top achievers and reaches them. This is effective because this strategy is less time-consuming, more concentrated and reduces number of applicants.
For retaining strong performers, McDonald's offer a number of benefits to the employees. Both the part-time employees and full-time employees enjoy such benefits (refer to appendix 3). Attractive rewards and benefits to the employees have facilitated the HR department in McDonald's to retain strong performers.
The major success of McDonald is totally dependent on quality of the production that is makes and its link with excellence of the services that it provides to worthy users. At McDonald's, employees are considered as most vital part of the firm. The firm treats its staffs as the most important part of the firm. They also provide best employment skills and experience for all of their employees for to attain their goal and aim of supplying their customers, world's best and quick-service food restaurant experience. The firm strives to anyhow recruit best, hire best, and retain them for longer time through providing them the best place of work (Blythe, 2006). Commitment towards their workers also is shaped upon simple fact that the firm values the staffs, their growths as well as their contributions. This is the organization which strives to attain success through actions of staffs day to day.
Number of staffs leaving per year is equal to the number of staffs joining per year- McDonalds is actually one of the best food chains in the globe and has vast quantity of staffs working for the firm. The count of members leaving each year is almost equal to the people recruited same year. This not just enhances the recruitment and selection cost rather even spoils the general reputation because of which people dislike to work for and in McDonalds outlets.
Some staffs feel burdened- Because of recession few staffs cannot even afford to leave the existing job and this makes their job a burden on them and rather than enjoying they become careless towards their work and later result in efficient and ineffective carry outs. The firm thus needs to motivate its staffs at this point of time and try to enable them to work more efficiently for the firm.
Long way to go in HRM- A feeling of love and care must be developed by the supervisors and managers in the minds of lower level staffs. And thus the firm has yet long way to go for attainment of better HR system. Recommendations such as treating staffs as customers; and encouraging novel ideas as well as initiatives, involving staffs in the decision making, particularly those which directly impact them, providing the staffs with the sense of the ownership in all their work and restaurant, giving staffs a proper chance to develop and grow as well as learn new knowledge and skills, taking proper time to hold regular team meetings plus organize exterior activities, identifying, rewarding as well as promoting staffs based on individual performance plus sense of good security could definitely reduce turnover rate. All these recommendations might take some time to implement yet in reality could bring a very positive change within the race of the competition.
Critical Assessment of the Techniques Used for Employee Development in McDonald's:
In McDonald's, the most used techniques for employee development are as follow-
Technical trainings
Mentoring programs
Job rotations
Leadership trainings
Formal career mentoring
Interpersonal skill trainings
In McDonald's, employee development is aligned with organisational development. In initial training, employees are informed about the organisation standards and expectations. After that, employees are provided with structured training in all of the business areas. In this organisation, employees are facilitated to open their own restaurants and earn a lucrative sum of money (McDonald's UK, 2015). Employees are also provided with management training.
The firm also provides proper training to its staffs whenever something new is brought in the firm and also makes them understand the facts and details of the novel technology and tools in use. This training at the McDonald's is kept extremely structured. The internal recruitment process is also designed to attain advantage of the existing staffs and give them a chance to enhance their career. Primary workers actually are first given the essential crew training and then others are focused on. Each phase of staff development helps crew members to attain training with skills becoming extra complex as well as generalized. Planning for the human resource in the firm is also related to variety of functions like recruiting, empowerment, utilization services, selection, motivation, compensation, training, development and promotion as well as retirement. The main and leading function of the management of human resource is to control plus manage as well as utilize human resource efficiently (Gould, 2010).
For more information refer to appendix 4
Contribution of the Above-discussed Techniques in Employee Engagement:
As per Budhwar and Debrah (2009, p- 514), an employee can be engaged, if he or she is both intellectually and emotionally committed in the achievement of the organisation mission, vision and objectives. An employee is less likely to hesitate for leaving an organisation, if he or she is not provided with career growth and self-development opportunities. As analysed in the previous section, employees in McDonald's are provided with excellent self-development and career growth opportunities. These opportunities play a significant role in increasing employee engagement in the organisation. As argued by Brewster and Harris (2009, p- 964), in an organisation, where development and learning becomes a common and expected norm, it fails to have expected impact on employee engagement. In a country, where the employment rate is very high, the impact of employee development opportunities on employee engagement becomes lower. The present unemployment rate in the UK is lower than past statistics. The current unemployment rate in the country is 5.8% (BBC News, 2015). It implies that though McDonald's invests in employee development, it will not have an expected impact on the employee engagement. Moreover, this is not a new practice in McDonald's. Employees have become accustomed to it. Therefore, in order to have increased employee engagement, the organisation needs to invest more in employee development programs.
HR planning is worried about getting the right individuals, utilizing them superbly, and preparing and creating them to accomplish the McDonald's objectives. McDonald's starting points and destinations are effective. Individuals utilizing are to distinguish flawlessly and compelling route and to recognize any issue that are prone to happen, (for example, enrolling the best applicants) and after that getting with the appropriate adaptation. "Human Resource Planning (HRP)" is the procedure of guaranteeing an association has the right staff at the opportune time, with the right aptitudes and capacities in the perfect place.
The points of HRP are to:
Make the best utilization of HR
Anticipate the issues with surplus staff
Develop a very much prepared and adaptable specialists
Reduction association's reliance on outside enlistment offices
Strategic Analysis for HRM in Context of Achievement of Organisational Strategy:
The first strategy that must be employed in HRM for achieving organisational strategy is that the HR department in McDonald's must align employee competencies with the career development plan and job requirements. For doing this, the HR department can follow competency-based approach to recruiting employees. By doing this, they will be able to align the competencies of the employees with the organisational requirements.
The second strategy is working as a strategic business partner. As commented by Budhwar and Debrah (2009, p- 501), in a knowledge economy, the strategy of an organisation must be closely associated with its human talent. It is of utmost importance that the HR department of McDonald's is deeply involved in strategy making and implementation.
Appraisal of the Processes of Planning Used in McDonald's:
Decisions for planning human resource requirements are based on the organisation business plan for a certain period (Arthur, 2012, p- 647). Planning requirements in McDonald's include reshuffling of job functions, downsize and open doors to recruitment. Every planning requirement aims to increase the organisational efficiency. The phases involved in human resource planning in McDonald's are identification of the size and skill requirements for the future, determination of the availability of strong performers to fill in higher positions in the future and designing of particular course of action for ensuring right sized human resources with right skills. This is an effective planning process, as with the help of such planning; HR requirements for future to achieve business goals can be identified. Like every single different business, for a day to day operations, McDonald's need the help of a staff. All the essential number of personnel in McDonald's satisfies a critical part of its functioning. Without complex innovation, McDonald's would not be effective, for setting up appropriately individual are mindful.
The director of McDonald's does not choose the potential workers incautious way. He does not coordinate against the capacity of post that implies who are unacceptable. It can make various issue, for instance
Poor profitability levels
No beloved sentiment among staff
Work disappointment
High non-appearance levels
Client gripes
Rejection
Substitution
For the interest of work, McDonald's examination it is feasible arrangements and appraisal the levels of action inside McDonald's. Accordingly, they can foresee that the association has a right number of the potential worker with the sound quality.
The outer work business sector is critical for any organization in light of it can make up to potential representatives, locally, provincially, who have the right abilities and capability fundamental whenever. For McDonald's, neighbourhood unemployment figures are imperative who give the general's sign work accessibility needed around then. Likewise, HR arranging of McDonald's incorporates looking at how work is sorted out inside of a business or an association.
Activity 2- Physical Resource Management
Physical Resources Required for Achieving the Objectives of McDonald's:
| | |
| --- | --- |
| Objectives | Physical Resources |
| To become customers' favourite place to eat | Restaurants, fittings and furniture, modern cooking and storing facilities, entertaining facilities |
| To maintain consistent profit for the shareholders | Restaurants, fittings and furniture, modern cooking and storing facilities, entertaining facilities |
| To foster and nurture a motivating environment for employee development | Office building, employee facilities |
| To maintain high standard of ethics and give back to the community | Not applicable |
Table 2: Physical Resources for Achieving McDonald's Objectives
(Source: Created by the Learner)
Apart from human resources, physical resources also contribute to the achievement of business objectives. As physical resources play an important part in the achievement of corporate objectives, management of the physical resources is of great importance in an organisation (Barker and Chitty, 2009, p-65). McDonald's is not an exception to this. As shown above, for the achievement of most of the business objectives of McDonald's, it requires certain objectives. Customer satisfaction is one of the key goals of the organisation and one of its objectives is to become customers' favourite place to eat. In order to achieve these goal and objective, the organisation needs sufficient number of restaurants at many places throughout the country. In the UK, McDonald's have around 1200 restaurants. Availability of the restaurants is effective to make a special position in customers' mind. In the country, there is strong competition in the fast food industry due to the existence of many players. In order to beat the competition, McDonald's requires sufficient number of restaurants with modern cooking and storing equipments, attractive decor and entertainment facilities. Most of the restaurants of McDonald's fulfil this need. These physical resources not only generate high customer satisfaction but also generate profit for the customers. Facilities provided to the employees such as company car, attractive office building and resting place are effective in achieving the objective of employee development.
McDonald has basic focus on the key areas for operations that are the effectiveness, calculability as well as preventability. Even machines in the firm play a vital role as machines perform in very consistent plus better manner as compared to human and even they help in getting uniform quality plus services to supply proper customer satisfaction. The firm values all its physical resources and regular checks are organized in the firm to check updating of all the machines and tools. The objective of such facet is to provide the decision process, as well as "Performance Management" scheme, and reward system. Physical resources within McDonalds include restaurant locations that are several buildings. These restaurants are equipped with latest cooking as well as storing equipment and tools. The firm has facility of the Play Place intended to students and also has a television (Johnson, Robison and Goodman, 1997).
Critical Evaluation of the Role of Physical Resource Management within McDonald's and Appraisal of Processes Used for Planning Physical Resource Requirements in McDonald's:
As identified above, without physical resource, it is not possible to run McDonald's. None of the organisations can run without physical resources, but in restaurants, the role of physical resource becomes more important, as customers have an easy access to the restaurants and its physical resources such as furniture and decor. The organisation can hardly generate employee satisfaction without an attractive restaurant environment and the restaurant environment can be made attractive with the help of certain physical resources such as comfortable and cosy furniture, attractive decor with the use of light, paintings, decorative plants etc. For serving premium quality foods to the customers, physical resources such as modern cooking and storing equipment are of great importance. Entertaining facilities such as free Wi-Fi, television, music systems and indoor games are important in generating customer satisfaction.
In McDonald's, requests for increasing physical resources are always guided by management approvals, policies and budget and these are generally backed up by justification. The organisation frequently opens new restaurants in various parts of the country. Decisions of opening new restaurants are always approved by the management committee. For searching good locations for restaurants, the organisation can contact external agents and consultants.
The firm is also concerned about all its resources, be it human or physical or even financial one. The firm also keeps proper check on all financing activities. Also McDonald's is now working with about two banks named CIMB plus May Bank that take care of financial activities of the firm inside as well as outside the nation and even supplies short-run loans to McDonalds. The firm also has a concern for knowledge management, and it is primarily implemented within McDonald's management system. The main essence of the systematization of skill plus knowledge is also followed by each outlet of the firm with a properly detailed deposit of the rules. Thus, operating practices also has become a part of each employee in the firm. (Lamb, Hair and McDaniel, 2002).
Salaman depicts that there exists two major theories underlying ideas of the performance and knowledge management and they are:
The goal-setting theory- this was given by scholar named Edwin Locke and it suggests that individual goals and aims established by the employee also play a vital role in motivating the person for better performance.
Expectancy theory- was given by scholar named Victor Vroom and the theory is actually based on hypothesis that people adjust their behaviour in firm on basis of the probable satisfaction of all the valued aims and goals that are set by them.
Performance Evaluation and Effective Solutions to the Manager to Improve the Current Situation
For the effective practices of individuals administration, "Performance Management" is an all-encompassing procedure which uniting numerous components of the authoritative capacity. It incorporates specific learning and advancement and gives an outline of representative status.
"Performance Management" is setting up a society where individual and gatherings get obligation regarding the nonstop improvement of business procedure and their particular commitments, ability, and conduct. "Performance Management" speaks the truth interrelationships and enhancing the nature of the relationship in the middle of director and individual, in the middle of supervisor and groups, between individuals from groups, and so on. In this way, McDonald's trust that it is a joint procedure, not an erratic occasion, not simply supervisors, apply to all representatives. In this manner, McDonald's business administrator can make clear what they anticipate individual and groups to do. For instance, how they ought to be overseen and what they have to carry out their occupations.
McDonald's takes after the continuous "Performance Management" for representatives. For instance, setting objectives, observing the representative's achievement of those prods, contributing criticism with the employee's, assessing the worker's execution, remunerating execution or terminating the worker. "Performance Management" incorporates regular exercises to build up authoritative expects to accomplish those urge all the more adequately and productively. McDonald's trust that the best way to deal with finish "esteem for cash" is to screen the execution levels of staff and need to decrease inefficient activities.
By checking change, departmental administrators or business supervisors can survey the productivity of representatives and figure out which ones are meeting the terms of their assertion and adding to McDonald's prosperity. McDonald's checking is the nature of work being created that is one of the components and the effectiveness levels inside of divisions. Representative's execution helps the chief to know how they have been showing signs of improvement in their business with the workers. For the future, it is a worker guide that expands work fulfilment. McDonald's surmise that it can help to add to their ability pool, bolster potential appraisal and progression arranging.
The work which is offered by McDonald's might have few positive elements, yet workers generally choose employment at this firm in context of having some other attractive choices. Almost regardless of what staffs think of work itself, working at McDonald's can also be said as offering advantages for few staffs who like and demand flexible hours as well as are engaged within other activities as well as responsibilities. For such marginalization in labor market that have some chances of getting job elsewhere, McDonald's also offers extra needed work.
Moreover, the staff's dependence upon McDonald's and their propensity to see employment as the short-run strategy also makes them very much vulnerable to the management manipulation. Such staffs with minimum interest just leave if anyhow they never like it, plus this is also clearly reflected within high labor turnover. Possibly they actually are attracted by mix of some fairly secure employment and familiar surroundings built by some highly paternalistic loom towards management and many employees of same age or similar temperament.
Activity 3- Marketing
Investigation about the Role of Marketing Activities in the Achievement of McDonald's Objectives: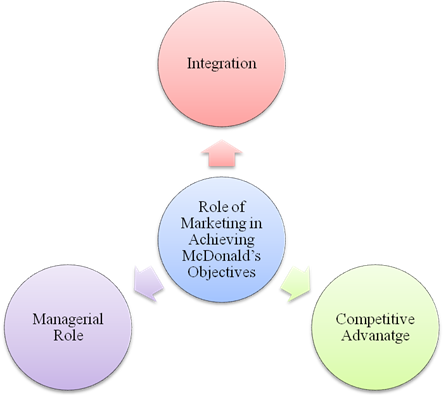 Figure 2: Role of Marketing Activities in Achieving McDonald's Objectives
(Source: Created by the Learner)
As identified above, generating high employee satisfaction is one of the key objectives of McDonald's. Generating consistent profit for the shareholders is another important objective of McDonald's. None of these objectives can be achieved without effective marketing activities. The roles played by the marketing activities in achieving McDonald's Objectives are as follow-
Integration-
Integration is one of the marketing roles in McDonald's. As the responsibility of determining organisational success does not depend only on marketing activities, marketing plays the role of integrating other departments for ensuring organisational success. In McDonald's, one of the main focus of marketing activities is research and analysis of the market trend, competition and change in customer needs. The other departments work as per the findings of the research.
Managerial Role-
One of the roles played by marketing in McDonald's is to make aggressive market plans for the achievement of the organisational objective. The marketing department in McDonald's makes effective market plan and implement those plans. Investment appraisal conducted by the marketing department of the organisation facilitates the organisation to understand the scope of investment.
Competitive Advantage-
The role of strategy formulation is also played by marketing activities. By conducting environmental scanning, identifying opportunities and threats in the external environment, marketing helps McDonald's to formulate effective business strategies.
Marketing mix:
McDonalds today has become the world's best known brand for the marketing strategy that it has. McDonalds also is constantly building its novel brand through listening all the recommendations and suggestions that come from its customers plus through recognizing several steps within business marketing. The 7ps for marketing are manipulated to ensemble the requirements of marketing plus environment (Mathis and Jackson, 2003).
Product:
McDonalds constantly tries to offer the customers with full menu with vast quantity of the choices that people and chose from. The firm emphasizes totally upon development of a new menu each day and also specialized within some from the list. The firm has a very vast number of paths where the firm spends its money. Market research of the firm also establishes for it all the specific needs and wants of people and the firm knows how to fulfil them all. The firm even adjusts with changing needs and demands. The form of the marketing undertaken as well as amount invested actually varies, depending on stage that the product has till date reached. Like launch of any new item involves advertisements on televisions and billboards. Few of the McDonald's options now are growing in popularity.

Source: (One, 2015)
Price:
McDonald's common pricing policy is actually followed for all its products in market segment. The firm provides products within very affordable price. Price is a factor that decides target customers. The firm, has till date been using price strategy named "Going rate pricing", which is all about selling at average price and the most average cost in the entire fast-food market. For instance, the firm offers its buyers a hamburger otherwise cheeseburger at lowest price of some 1 euro! Price decision made by the firm undertakes all profit margins and also the probable pricing response of the rivals in the market. The pricing by the firm not just counts on the list price rather even includes discounts, financing and other choices like leasing.
Promotion:
Promotion also is general policy of McDonalds and through this its properly communicates with customers. It uses promotional activities like advertising, exhibition, sales promotion, public relation plus direct mail (McDonald's jumps on the CSR bandwagon, 2002). Promotion at McDonalds is the most vital element which the firm uses to enhance its entire competitiveness in front of the other strong brands, such as KFC and Burger King. Theoretically, besides utilizing traditional methods like advertising and sales, gifts, direct mail and also telemarketing, exhibitions otherwise TV and radio, cinema, or even social sites like facebook & twitter, newspapers as well as magazines, the firm promotes their entire product line through using many athletes as well as celebrities. For example, their brand featured the nine Olympic as well as Paralympic Athletes upon cups plus packages during Olympics in the Beijing, in the year 2008. Another was the Marketing Campaign within Australia where customers were allowed to decide name of their own new burger.
Source: (How communication affect motivation?, 2015)
Place:
McDonald's has located itself in all the prime location within almost big cities and also at big malls as well as near some residential area. McDonalds has placed its outlets in such a way that in USA it just takes 3 minutes to reach from home to a McDonald's outlet. The firm has tried its best to be in most easy reach of buyers.
People:
People are key asset for McDonald's. The firm's staffs play very vital role in management of the decision making at the firm.The staffs in McDonalds also have a very standard uniform as well as focused and very prompt service to all its customers. The staffs in the firm are also treated very lovingly and firm care about its people as well
Process:
The firm has several different processes which includes the procedure of inventing novel equipment intended for cooking and also processes for using novel ways for packaging the food. Food manufacturing procedure at McDonalds also is totally transparent where whole process is very visible to customers. In fact, this firm also allows all its customers to see and judge hygienic standards within McDonald's outlets through permitting them to enter area where process actually takes place. The customers are invited to check the ingredients used in food. Customers are invited towards checking ingredients used within the food.
Physical Evidence:
The firm maintains full cleanliness, ecological friendly situation and also proper hygiene in all its restaurants. McDonalds focuses upon clean as well as hygienic interiors for is outlets plus even at same time interiors are also very attractive and fast food joint also maintains a good decorum at all its joints. The firm and its staffs are trained in a way that they are pleased if one can add their own points towards Marketing Mix of the firm.
Critical Evaluation of Marketing Operations in McDonald's:
Research and Analysis-
Market research and analysis is one of the key marketing operations (Boulding et al. 2009, p- 924), as without marketing operations, an organisation cannot be aware of the competition, customer needs and wants and opportunities and threats. In McDonald's, research and analysis cover company analysis, customer analysis and competitor analysis. The aim of customer analysis is to scheme development for market segment. Detailed profiles for each of the market segment are created so that McDonald's can effectively reach the segments. For creating sustainable competitive advantage, the marketing department analyses core competencies of the organisation. In analysing competitor, profiles for each of the key competitors in terms of strengths, weaknesses, opportunities and threats are generated.
Formulation of Marketing Strategies-
The marketing department of McDonald's formulates effective marketing strategies for increasing the organisational revenue and profit. For doing this, information gained through marketing research and analysis are utilised.
Marketing Planning and Implementation-
Integrated marketing plans are developed the identification of strategies, target market, competitive information and company positioning. This includes the use of relevant techniques such as promotions and advertising. Finally, the results are monitoring and changes in the marketing plans are made as per the requirements.
Appraisal of the Processes Used by McDonald's for Market Development:
For market development, the organisation puts special attention to customer segmentation, development of integrated marketing plans, customer retention, rewarding the loyal customers, and monitoring competition. Aaker (2010, p- 547) opined that for effective development of the market focus should be both on the existing customers and the new customers. An organisation with a lack of focus on the present customers can hardly be successful in retaining its customers and achieve a strong market growth. Market development processes of McDonald's focus both on the retention of the existing customers and attraction of the new customers. This has been helping the organisation to increase its customer base significantly. McDonald's offers attractive rewards to the loyal customers. This help in convincing the customers about their values. When customers understand that the organisation puts positive effort in retaining them, they become emotionally attached to the organisation. On the other hand, the attracting new customers, each of the customer segments are focused with different strategies (Anderson and Vincze, 2008, p- 885).
Activity 4- Information Systems
Investigation about how Information System Management (ISM) contributes to the Achievement of McDonald's Objectives and Critical Evaluation of the Role of ISM:
McDonalds actually is one amongst fast growing fast food chain within the globe. It has also developed an international recognition and a proper competitive advantage throughout the world. In McDonald's, the ISM, is greatly responsible for a large variety of connectivity and communications that increase organisational productivity. The hardware, software and IT components that comprise the IT asset of the organisation must be effectively protected. Information stored in IT systems should also be protected and used effectively (Mathieson, 2010, p- 231). Marketing data gathered by marketing researchers are stored in the IT systems that these data help the organisation to formulate effective marketing plans and strategies. As marketing data are of utmost importance to achieve organisation's objectives, effective IT systems must be there so that responsible personnel can easily access the data (Gill, 2011, p- 236).
The technology that firm implies relates to new paradigm for assessing the business performance as well as success of the firm (Mondy, Noe and Gowan, 2005). Today because of current advancements within the technology, the firm has developed proper computer as well as information technology scheme to manage operations that have now become the core competence of the McDonalds against all its competitors. McDonalds well understands that technology can actually be a vital competitive advantage alongside competitors if this is used resourcefully and correctly. By analyzing the operations of the McDonalds, it can be easily said that because of wide spread as well as diversity within operations of McDonalds, the firm needs a well complicated, complex as well as flexible interior computer database scheme and McDonalds has this at proper place. The diverse types of operating schemes that firm uses are Amiga, Windows, Acorn, Apollo, and Apple (O'Donnell, 2004). The firm selects its operating system by depending on its competence, known excellence as well as compatibility with firm's systems. Diverse categories of the operating systems within the firm are technology, licensing, ownership, usage and also working state.
ISM facilitates McDonald's to identify its strengths and weaknesses through the generation of revenue reports, error rate reports, employee performance reports and other data. As commented by Kendall and Losee (2012, p- 109), feedbacks provided by customers are helpful in understanding the organisational performance in satisfying customer needs and wants. This directly helps in achieving the most important objectives of McDonald's (generation of customer satisfaction). IT systems used in the organisation store customer feedbacks. The roles played by ISM in achieving McDonald's objectives are as follow-

Figure 3: Roles Played by ISM in Achieving McDonald's Objectives
(Source: Created by the Learner)
Appraisal of the Processes Used by McDonald's for Planning its IS Requirements:
In McDonald's, the process of planning its IS requirements include system design, system analysis, programming, implementation, conversion, testing, production and maintenance. In planning the IS requirements, the organisation focuses on cost reduction, improvement of efficiency and faster communication (Swanson, 2014, p- 291). Cost associated with the adoption of a new IS is compared with the cost that can be saved for the implementation of the system. If the result is positive, then the management takes the decision in favour of the implementation of a new IS (Szajna, 2012, p- 154)
Conclusion:
Management of both tangible and intangible resources of an organisation is crucial for determining the success of an organisation. In this assignment, only the management of tangible resource by McDonald's is analysed. It shows that though the processes of managing human resources, physical resources, and marketing and information systems are quite effective in the organisation, there are scopes of improvement. By improving the strategic resource management, the organisation can generate more revenue and achieve its corporate objectives easily. The current resource management processes of the organisation are effective enough in achieving its business objectives, but improvement in resource management can be considered for further development.
Reference List
Books:
Aaker, D. (2010) Strategic Market Management: Global Perspectives. 6th ed. Oxford: Blackwell Publishing.
Anderson, C. and Vincze, J. (2008) Strategic marketing management. 5th ed. London: Chapman and Hall.
Armstrong, M. (2012) Armstrong's Handbook of Human Resource Management Practice, 12th ed. London: Kagan Page
Arthur, D. (2012) Recruiting, Interviewing, Selecting and Orienting New Employees, 5th ed. London: Routledge
Barker, N., and Chitty, W., (2009). Integrated Marketing Communications Asia Pacific Edition. 6th ed. New York, London: Routledge.
Becker, B. E., Huselid, M. A., and Ulrich, D. (2009) The HR scorecard: Linking people, strategy, and performance. 4th ed. Boston: Harvard Business School Press.
Bjorkman, I.,and Stahl, G. (2010) Handbook of Research in International Human Resource Management. 6th ed. Oxford: Blackwell Publishing.
Blythe, J. (2006). Marketing. London: SAGE Publications.
Gould, A. (2010). Working at McDonalds: some redeeming features of McJobs. Work, Employment & Society, 24(4), pp.780-802.
Journals:
Becker, B. E. and Huselid, M. A. (2009) "Strategic human resources management: Where do we go from here?" Journal of Management, 32 (6), 898-925.
Boulding, W., Staelin, R., Ehret, M. and Johnston, W. J. (2010) A customer relationship management roadmap: what is known, potential pitfalls, and where to go. Journal of Marketing, 69(4), 155–66
Boxall, P. and Purcell, J. (2007) 'Strategic human resource management: where have we come from and where should we be going?', International Journal of Management Reviews, 2(2), 183–203.
Brewster, and Harris, H. (2009) Towards a new model of globalizing HRM. International Journal of HRM, 16 (6): 949-970.
Brodie, R J, Brookes R .W. and Little, V. (2009) 'Towards a paradigm shift in marketing; an examination of current marketing practices'. Journal of Marketing Management, 13(5), 383-406
Budhwar, P. and Debrah, Y.A. (2009) Rethinking comparative and cross national human resource management research. International Journal of Human Resource Management, 12(3), 497–515.
Gill, S. (2011). Information System Planning: A case review. Information & Management, 4(5), pp.233-238.
Hope Hailey, V., Farndale, E., and Truss, C. (2005). The HR department's role in organizational performance. Human Resource Management Journal, 15(3), 49-66
Johnson, C., Robison, R. and Goodman, D. (1997). The New Rich in Asia: Mobile Phones, McDonalds and Middle-Class Revolution. The Journal of Asian Studies, 56(1), p.156.
Kendall, K. and Losee, R. (2012). Information system FOLKLORE: A new technique for system documentation. Information & Management, 10(2), pp.103-111.
Lamb, C., Hair, J. and McDaniel, C. (2002). Marketing. Cincinnati, Ohio: South-Western.
Lawler, J. (2008). Strategic human resource management. Handbook of Organization Development, p. 353-364
Mathieson, K. (2010). Variations in users' definitions of an information system. Information & Management, 24(4), pp.227-234.
Mathis, R. and Jackson, J. (2003). Human resource management. Mason, Ohio: Thomson/South-western.
McDonalds jumps on the CSR bandwagon. (2002). Strategic Direction, 18(9), pp.8-11.
Mondy, R., Noe, R. and Gowan, M. (2005). Human resource management. Upper Saddle River, N.J.: Pearson Prentice Hall.
O'Donnell, M. (2004). McDonalds Education? My Experiences with Information Technology. New Zealand Journal of Geography, 117(2), pp.10-13.
Swanson, E. (2014). A note on interpersonal information system use. Information & Management, 1(6), pp.287-294.
Szajna, B. (2012). Determining information system usage: Some issues and examples. Information & Management, 25(3), pp.147-154.
Websites:
What makes McDonald's, (2015). When did McDonald's first UK restaurant open?. [online] Available at: https://www.mcdonalds.co.uk/ukhome/whatmakesmcdonalds/questions/running-the-business/company-history/when-did-mcdonalds-first-uk-restaurant-open.html [Accessed 28 Mar. 2015]
How communication affect motivation?, (2015). Communication: Effective vs Ineffective. [online] Available at: https://maxcommunicationmotivation.weebly.com/communication-effective-vs-ineffective.html [Accessed 10 Oct. 2015].
McDonald's UK, (2015). Learn how we work. [online] Available at: https://www.mcdonalds.co.uk/ukhome/People/Schools-students.html [Accessed 28 Mar. 2015]
One, C. (2015). Understanding PRODUCT LIFE CYCLE. [online] Are you on the go?. Available at: https://mobisynth.wordpress.com/2015/06/10/understanding-product-life-cycle/ [Accessed 10 Oct. 2015].
BBC News, (2015). UK unemployment falls to 1.9 million. [online] Available at: https://www.bbc.com/news/business-30913960 [Accessed 28 Mar. 2015]
What makes McDonald's, (2015). How many McDonald's restaurants operate in the UK and worldwide?. [online] Available at: https://www.mcdonalds.co.uk/ukhome/whatmakesmcdonalds/questions/work-with-us/employee-diversity/how-many-mcdonalds-restaurants-operate-in-uk-and-worldwide.html [Accessed 28 Mar. 2015]