Good Assignment Writing Tips
Assignment writing is the most common practice in colleges and universities. It is not surprising that students feel apprehensive when faced with their first writing assignment. Assignment writing tips help to come up with an excellent narrative essay, structured report, case study, dissertation, reflective essay, journal and book reviews. Each of our assignment writing tips has its own distinct characteristics.
It is difficult to find comprehensive assignment writing tips that are clear and simple. However, MyAssignmenthelp.com presents some uncomplicated straightforward assignment writing tips that will help you prepare an assignment.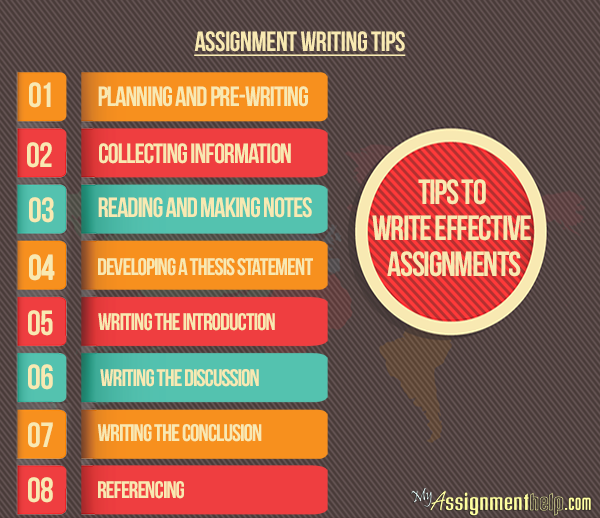 Features of a Good Assignment
Well-written assignments are not produced overnight; you need assignment writing service to come up with a good assignment. Here we are going to discuss the stages of assignment writing along with useful assignment writing tips that can be implemented in your work.
Our assignment writing tips focus on the following features of a good assignment:
A good assignment correctly interprets the assignment purpose.
Puts forward a well-thought argument and line of reasoning rather than merely reproducing information from the source material.
Treats the topic in sufficient depth with evidence of thorough research.
Demonstrates an understanding of essential principles, theories and concepts and builds these into the discussion.
Maintains focus, keeping relevance to the question.
Express ideas clearly, should be free of clumsy or awkward phrasing and errors in spelling, grammar and vocabulary.
Provides references for source material in the required referencing style.
Keeps to the word limit, without being substantially under or over.
Demonstrates an interest in and enthusiasm for the topic.
To reach these above criteria, you need to implement these following assignment writing tips.
Effective Assignment Writing Tips
Step 1 Planning and Pre-assignment writing tips
Assignment writing tips on planning involves researching the topic, deciding what information to include, putting ideas together, then back to more research. Our academic writing tips include the following:
Focus on the task by drawing up a timeline for the essential stages.
Be realistic to make sure how long things take.
You can save time by thinking about the assignments as soon as you receive your course information.
Keep topics in mind as you attend lectures and tutorials and do background reading.
Step 2 Collecting information
When you start gathering material for your assignments, you should refer to your lecture and tutorials notes, course materials and our assignment writing tips. Assignment writing tips on information collection involves finding information, reading and taking notes, grouping, sorting information and developing an outline.
Take a library tour or seek a one-on-one tutorial.
Use only authoritative sources from reputable authors and publishers such as universities, government departments or corporations.
Try to refer to articles rather than textbooks. Textbooks are good for the general overview, but articles offer a focused and up-to-date view on the subject.
Identify a relevant current journal article on your topic and find further resources from its reference list.
Determine how many sources must be included. If you are not sure about it, implement our Custom Writing tips.
Step 3 Reading and making notes
Our assignment writing tips are useful in making notes. Direct reading helps you to be more productive. The following are some general assignment writing tips for managing your reading load and making notes:
Sort out the books according to your needs and read for the background as time allows.
Before you start reading a book, get the big picture; review the table of contents and chapters.
First, understand what the author means by the lines you are reading. Do not proceed with the reading unless you understand the overview.
Avoid taking blocks of texts. Summarize the idea in your own words and make sure that you keep the meaning intact.
Carefully note down all reference details, including publisher, place of publication etc. This will help you to track the sources quickly.
Step 4 Developing a thesis statement
As directed in our assignment writing tips, mention the thesis statement of the assignment. Our assignment writing tips on thesis statement are:
Write one or two sentences that capture the assignment's central proposition and form part of the introduction.
As you introduce ideas in your discussion, check if it relates to your thesis statement.
Step 5 Writing the introduction
Your introduction should lead the reader into the discussion, setting the tone for what follows. Evaluate our quality assignment help writing tips to compose the first draft.
The Introduction should be concise, without any background information.
It should clearly state what the assignment is about.
It should inform the readers why it is important or interesting.
It gives an indication of what are the scopes of the discussion.
It should be no more than one-tenth (10 percent) of the overall word count. In short assignment (around 500 – 800 words), the introduction should be one paragraph long. If the assignment is longer, (1500 words or more) introduction should be one or two paragraphs long.
Step 6 Writing the discussion
If you have already arranged the points or taken notes, it will become easy to build a cohesive discussion. Here are a few assignment writing tips that you can employ in writing the discussion.
All content should be interrelated to each other and support the central argument.
The discussion should follow a logical order of the nature of the topic.
The discussions should be written in a manner that the readers are able to follow them.
Step 7 Writing the conclusion
Our assignment writing tips emphasize on the conclusion same as the introduction. TheConclusion should be concise one or two paragraphs. It should be one-tenth of the overall word count. Here are a few assignment writing tips highlighting the conclusion.
The Conclusion briefly summarizes the major discussion points.
It provides finality to the discussion, drawing the essay to a close.
Your conclusion should not include information not covered in the discussion
Step 8 Referencing
Our assignment writing tips emphasize on the citation of each source mentioned in your assignment. It is important that you acknowledge the authors and their ideas from where you have taken ideas or concepts. Referencing system is the most acceptable way to cite your sources. You will be greatly benefitted by the following assignment writing tips:
Make sure you follow the popular referencing system (like Harvard, APA, MLA, etc.).
Make sure you follow the same referencing style throughout the content, either mentioning your citations in the bibliography or citing the work from other sources within the text.
With our assignment writing tips, you are now well-aware to initiate the assignment and conclude it correctly. If you need assignment writing tips, put forward your queries to our online assignment writers any time. Remember, good assignments require drafting through several stages, failing on which, the structure of assignment will distort.
Assignment Writing Tips by MyAssignmenthelp.com
MyAssignmenthelp.com boasts a team of assignment experts who assist students to gain a better understanding of subjects with their assignment writing tips. Our assignment writing tips are offered to ensure content without grammatical errors, factual goof-ups or plagiarism. Our assignment experts maintain a high standard of academic language. Our assignment experts offer virtuous assignment writing tips besides online homework help, essay writing, online assignment help etc. Our assignment writers are trained to deliver the work within given time limit. Get assignment writing tips through our 24x7 customer support system via phone, e-mail or chat.
Most Popular FAQs Searched By Students
Q.1. Do you need the best assignment writing tips from an expert?
Ans. Knowing how to write impeccable assignments is one of the core skills you would require in your academic career. If you are in search of the best assignment writing tips, consult with MyAssignmenthelp.com. We boast of a team of eminent experts who assist students with foolproof tips in ensuring unique content without grammatical errors, factual goof-ups, or plagiarism.

Q.2. What are some useful tips for writing my assignments?
Ans. Writing an incredible assignment is certainly no child's play. If you are struggling to draft an assignment that would help you stand out in the class, here are some beneficial tips you should follow-
• Pay attention to the assignment writing structure
• Analyse the question
• Conduct diligent research
• Collect credible resources
• Plan before you write
• Take your citations seriously
• Add finishing touches

Q.3. Explain top assignment writing tips?
Ans. There could be ample causes as to why assignments are so challenging to write. But, with these below- mentioned golden tips up your sleeves, delivering an outstanding assignment would cease to be a tough nut to crack -
• Do your reading
• Keep track of the deadline
• Plan your time
• Research the topic thoroughly
• Do not repeat the same words
• Use a grammar and spell checker
• Proofread your assignments

Q.4. What are some best assignment writing tips?
Ans. Writing remarkable assignments is no fun, especially if you have a challenging topic and a full schedule on hand. Follow these top-notch tips if you aim to deliver a stellar assignment that leaves your professors in awe even when pushed for time-
• Clarify the task
• Conduct the research process early
• Leave a strong paper trail
• Brainstorm and jot down ideas as they occur
• Allow time for revisiting and editing
• Write the introduction last

Q.5. How can online assignment writing tips help?
Ans. If you are searching for certain eminent websites that can provide you with top-notch tips, then MyAssignmenthelp.com is the place for you to be. Our experts can provide you with remarkable tips that can help you out in the following ways-
→ Assists you in putting forward a line well-thought argument and line of reasoning
→ Determine how many sources should be incorporated
→ Formulate a strong thesis statement
→ Draft an intriguing introduction
→ Manage the citations as per different formatting style

Q.6. Who can provide the best assignment writing tips?
Ans. Highly experienced and well-qualified academic professionals can only provide the best assignment writing tips. If you have been long on the lookout for top-notch writing tips online, then consult the prolific experts of MyAssignmenthelp.com. They provide outstanding assignment writing tips that would not only help you draft an exemplary paper but also secure your dream grades with ease.

Q.7. Where can I find top assignment writing tips?
Ans. If you are wondering 'where to get the best assignment writing tips online' then it is time you consult with some of the eminent services available online like MyAssignmenthelp.com. The brand has a team of 5000+ prolific stalwarts who resolve all your queries with ease. Whether you are striving to draft an impeccable introduction, a strong thesis statement, or an effective conclusion, our stalwarts leave no stone unturned to provide you with the best guidance possible.
Testimonials
"Best service provided. On time, ill use...

"Best service provided. On time, ill use their service again, much appreciated, before deadline they finished my assignment."

Hussein Ali USA
"Excellent writing, no negatives to comm...

"Excellent writing, no negatives to comment. Completely satisfied by the end product. Such a wonderful and useful website"

Jack Hughes Australia
"Overall the final report is good, But m...

"Overall the final report is good, But my course teacher was quiet unhappy that there was no case studies explained in the final report. So, could you please add and explain one or two case studies into the final report related to the topic which you have done and after adding the case study into the final report. Please can you send it as a whole of final report as early as possible.thank you"

Tom Katt USA
"Your service is good i like ur assignme...

"Your service is good i like ur assignment assistance ,,,,, you are doing great job you help specially students, but your charges is very high,, please give better offers for students."

Melisha Australia
"The solution of my assignment is too go...

"The solution of my assignment is too good and thanks for the team of Myassignmenthelp. i am really thanks for help me and gave me a assignment assistance within good quality. i would be contact again if i face any problem in future. thanx for the help"

Oliver UK