Category:
Case Study
Mark
15 October,2020
A case study tells a story about something special, interesting or unique. It can be about an individual, an organisation or an event. You can also use it to highlight a project's success or to bring...
Mark
12 March,2020
Let us begin with a question; what is common between the students pursuing law, nursing and management? Well, the students from all these disciplines are required to present accurate case study ...
Mark
08 March,2017
As students of geology, one of the commonest forms of assignments you'll come across throughout your course is a case study. Case studies are not what you can call an easy type of assignment, espec...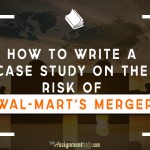 Mark
28 November,2016
Let's suppose you're the owner of a big multinational company, and after careful consideration, you've come to the conclusion that you want to merge your company with another. You've discussed this d...
Mark
14 November,2016
"10% of conflict is due to difference in opinion and 90% is due to wrong tone of voice." &n...