Save Time & improve Grade
Just share requirement and get customized Solution.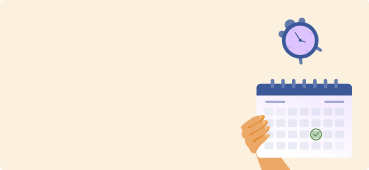 How to Do Porter's Five Forces Analysis – The Experts Way
Zara Williams
20 April,2019
What our tutors say?
How to do an assignment, The A-Grade way……?
Focus on the topic.
Our tutors while working on student's assignments have most of the times been unhappy over the way students treat the topic.
The major problems that students face while handling topic is
Not understanding the topic
Working on a different topic than the one provided.
Working on a part of the topic rather than the whole topic.
Providing assignment solutions which are different from the topic.
Dealing with those portions of the topic which have not been asked in the question.
Even when uploading files for assignments, our tutors have found that students have been uploading unnecessary files, or too many files not connected to the topic. It gives us a clear idea that the student has not read the assignment topic or have not read in details the entire questions and guidelines.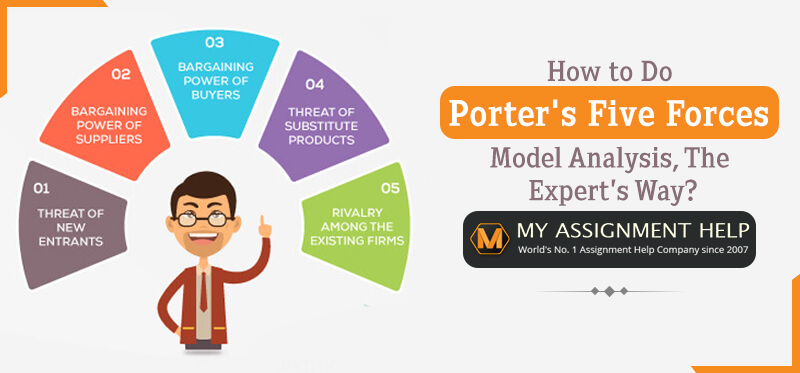 How to approach any topic?
Go through the topic presented to you atleast 2-3 times.
If you are unable to understand the topic , you can just get our tutor help or ask your teacher for the same.
Google out about the topic. The more you know about the periphery of the topic, the more you are able to understand the question or the topic clearly.
Understand the keywords of questions….
90% of MAH tutors have once and again reminded us that students do not take into account the keywords of the questions before drafting their case.
Lets understand with a common assignment topic that our tutors are asked to provide solutions to.
'Porter's Five Force Model.'
Now there can be various variants of question on Porter's Five Force Model.
For example:
Explain Porter's Five Force Model.
Apply Porter's Five Force Model.
Analysis of Porter's Five Force Model.
Here the three questions are completely different.
So try to understand the key words that are used to represent the topic.
- Explain, Apply, Analysis
These words are completely different. In one , the question demands explanation of the model.
Threat of entry
Bargaining power of suppliers and buyers
Threat of Substitutes
How these components are affecting the company business?
In other, you have to apply Porter's five force model in certain company situations. In the third, you are analysing each and every component of Porter's Five Force Model and how the different parts of the model interact .
Threat of entry
Bargaining power of suppliers and buyers
Threat of Substitutes
Below is a sample question on which our tutors have worked before.
-Question
Prepare a 2,500 word report on Porter's Five Forces Framework. With the aid of clearly drawn diagram explain the key elements of Porter's Five Forces Framework. What are the principal benefits and challenges in using this framework to inform strategy?(MGT4009)
Certain basic rules for doing such assignments having multiple points to consider, have been given by our tutors-
Whenever you recieve a questions that has many sub questions to answer, highlight the key points like
2500 word report
Aid of clearly drawn diagram explain key elements
Principal benefits and challenges to inform strategy
For 80% of our tutors , creating a successful layout is the most important area that a student must cater to…
Once you have highlighted these points , you get a clear idea as to what you need to do.
Here you need to write a 2500 word report.
Introduce the Porter's Five forces Model
You need to provide the diagram of the Porter's Five forces Model
You need to use the diagram to explain the key elements.
You need to mention the principal benefits in using this framework
You need to mention the challeneges in using this framework.
Finally, you need to mention how to use 5 and 6 to inform strategy.
Drawing conclusion
You need to keep introduction and drawing conclusion as mandatory in each outline.
Out of the 2500 words, you need to think how much word weightage would you give on each of these points and draw and outline.
Consider 2500 as 100% and draw a word count format.
For example
Point 1 - 3% - Introduction
Point 2- 20% of words
Point 3- 20% of words
Point 4- 15% of words
Point 5- 15% of words
Point 6- 22% of words
Point 7- 5% of words.
Draw the word count logically keeping minimum to introduce and conclude.
The above weightage can vary as per student's requirements.
Resourcing information and Facts online and offline
There are various resources from which you can resource the information required for your answer.
How to research out the best resources is an important question?
Our tutors suggest.
Google out using the points as search queries.
Like the one below……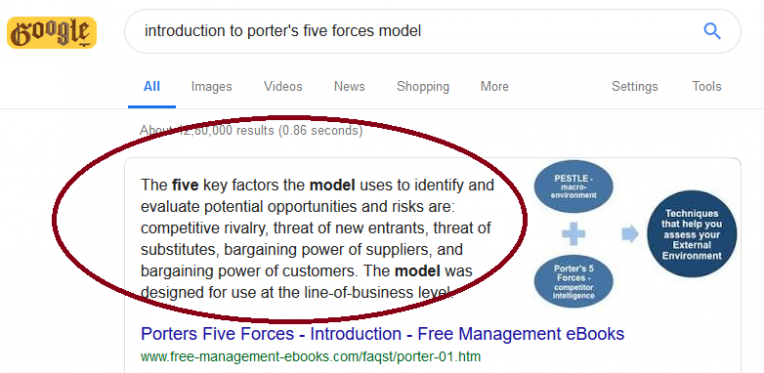 The first few lines marked in red generally present at the top will help you draw an overview of the topic. For anr search query , try to go through these few lines present at the top of the search. Besides Wikipedia, try to go through the content of atleast three-four top searches.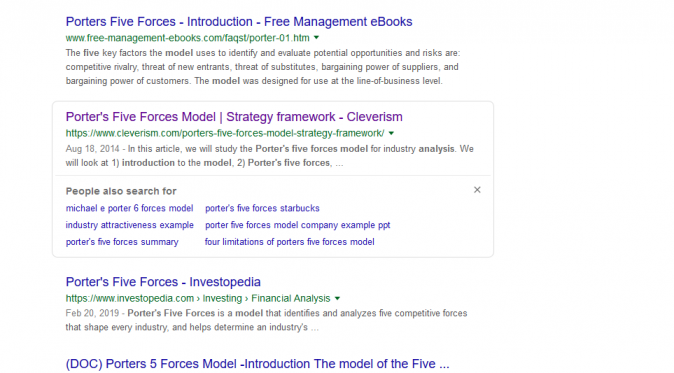 Similarly , for all other points , you can Google out search queries like…
Principal benefits of Porter's five forces model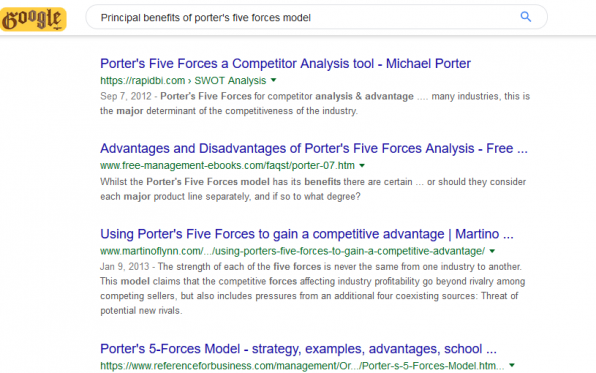 Try to find out from the headings of the searches, which are most relevant to answer your question. In the above screen shot, all are relevant.
Similarly, conduct a search for all the terms and create a repository of information. Copy chunks of information relevant to the points and paste it in a word pad or notebook in the manner shown below.
For example for the first point Introduction to Porter;s Five forces Model you can select chunks of information mentioning their URLs…..
Highlight the case studies, examples or inforgraphics in the content.
https://www.cleverism.com/porters-five-forces-model-strategy-framework/
"The five forces model was developed by Michael E. Porter to help companies assess the nature of an industry's competitiveness and develop corporate strategies accordingly. The framework allows a business to identify and analyze the important forces that determine the profitability of an industry.
In this article, we will study the Porter's five forces model for industry analysis. We will look at 1) introduction to the model, 2) Porter's five forces, 3) how to use the model, 4) model do's and dont's, 5) criticisms of the model, and 6) example – IKEA.
INTRODUCTION
Through his model, Porter classifies five main competitive forces that affect any market and all industries. It is these forces that determine how much competition will exist in a market and consequently the profitability and attractiveness of this market for a company. Through sound corporate strategies, a company will aim to shape these forces to its advantage to strengthen the organizations position in the industry.
For the purpose of this model, industry attractiveness is the overall profitability potential of the industry. An attractive industry will be one where the combined power of the competitive forces will increase profitability potential. While an unattractive industry will be one where the collective impact of the forces will drive down profitability potential.
These forces, termed as the micro environment by Porter, influence how a company serves its target market and whether it is able to turn a profit. Any change in one of the forces might mean that a company has to re-evaluate its environment and realign its business practices and strategies.
An attractive market place does not mean that all companies will enjoy similar success levels. Rather, the unique selling propositions, strategies and processes will put one company over the other
Such chunks of information from multiple resources regarding one point should be accumulated at one place
For the query a diagram of Porter's Five Forces Model,
You may get various diagrams.
Make a repository of such diagrams. Some are well explained, some may be lacking in some aspects. So you can find the best diagrams and the points to include…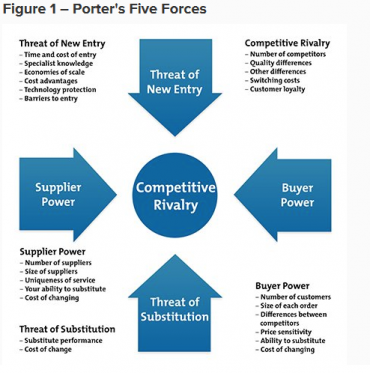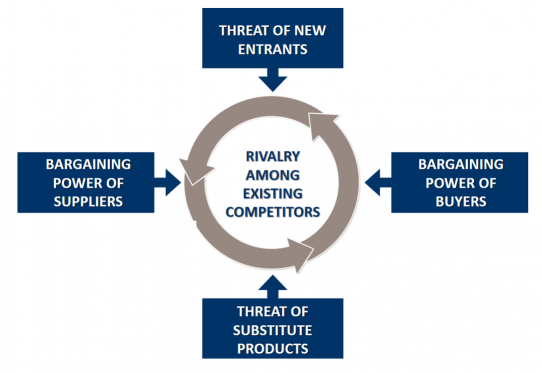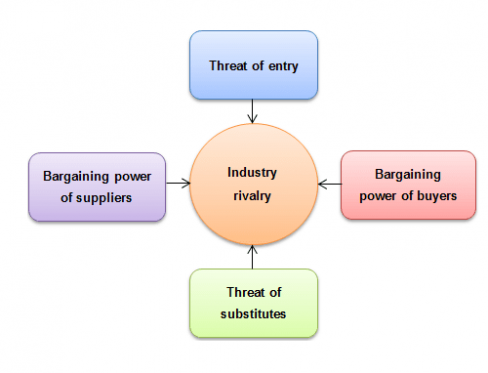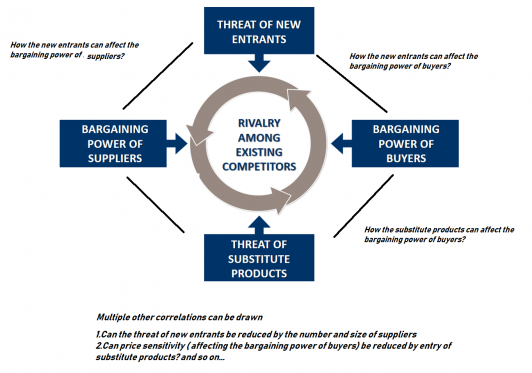 In-depth reading of the repository content….
After creating a repository, one needs to afford a good amount of time to go through the content from various online resources and books.
Here the help of the tutor can be taken to understand the points….
Refer you tube videos and online library videos on the same topic
50% of our tutors have repeatedly suggested students to refer to video classes or online video sources to enrich their assignments and get 360 degree perimeter knowledge of the topic.
Drawing the second outline……
After going through the resource material, one would be better able to outline all the points. So a second outline should be drafted at this stage….. This outline would be more detailed . For example , the first outline would evolve to..
1.Introduction the Porter's Five forces Model
Need for the model
History
Developed by
How it helps shape company strategy etc.
The diagram of the Porter's Five forces Model
Diagram with key elements
Sub points to the key forces or elements
Diagram to explain the key elements.
Explanation of key elements
Points contained within the key elements
Correlation between different forces.
The principal benefits in using this framework
Assesing the state of competition in the industry
Strength of forces to undermine profitability
Scope of gaining new customers for business
The right time to enter or make a mark in the industry…. and so on
The challenges in using this framework.
Static model in a dynamically changing business scenario
Too many forces involved in the model to yield an accurate result
Using benefits and challenges to inform strategy.
Case studies
Application examples
Drawing conclusion
Porter model acting as a framework for further business models
Relevance of Porter;s model in situation analysis in various industries
Creating the first draft…
While creating the first draft, make the draft detailed and informative mentioning all the essentials point by point.
Creating the second draft…
Ensure that the draft is reduced to 2500 words without leaving the essentials. Ensure that the most relevant points are included on a PRIORITY BASIS. One needs to take into account the word weightage created at this stage.
Proofreading, Editing and Plagiarism Check.
One needs to proofread and edit the draft multiple times and check for plagiarism, when submitting assignments.
As our tutors have found out ,the following kinds of plagiarisms are generally penalised by Universities…
Using quotes, sayings, interview excerpts, excerpts from books, manuals etc., from other person's without footnoting or acknowledging.
Cutting and pasting from internet, from other bibliographical sources or term paper mill
Paraphrasing the work of others by changing order of words and providing the same argument for an open question etc.
So, att no stage, should you copy the material from net. You can use it as a reference to get insights and knowledge of the concept but draft it entirely in your own words. Once you get to know a concept in details, you can also provide your own arguments.Such personal arguments carry higher weightage in terms of class appreciation and grades. Off course! You need to ratify that the argument is valid.
Use various tools like
Grammarly
Ginger Software
Turinting plagiarism check
Myassignmenthelp plagiarism check
To edit and proofread your content.
Every University has its own guidelines for formatting.
The most important aspects that a student needs to check are the margins, indentations, spacing between lines and paragraphs, ways to start new paragraph, using quotes etc.
Referencing and Citation.
Referencing your sources in exactly the format
APA,MLA,Harvard, Chicagostyles prescribed by your University.
To create citations or references in proper format , you can use our referencing tools.
Go to the service section of myassignmenthelp. Scroll down to the Referencing and select the type of referencing you need for your assignments.
Submitting the assignment.
Try to keep a good amount of contigency time to revise and put new inputs in your content. So the entire assignment solution should be drafted much ahead of deadline. Ask your friends, tutors to go through the content and find out the loopholes. Often three or four more people assessing the content bring out the fault areas, that may have missed the writer's eyes.
Was this article helpful?