Building and Construction Law Assignment Help is now provided by world's premier assignment help website, MyAssignmenthelp.com. We offer quality help to students facing problems in their construction law assignments. Students often encounter problems in law schools due to the sheer vastness of the subject and the number of sub-disciplinary areas which are included in law. There are criminal laws, civil laws, corporate laws, environment laws and so on and so forth.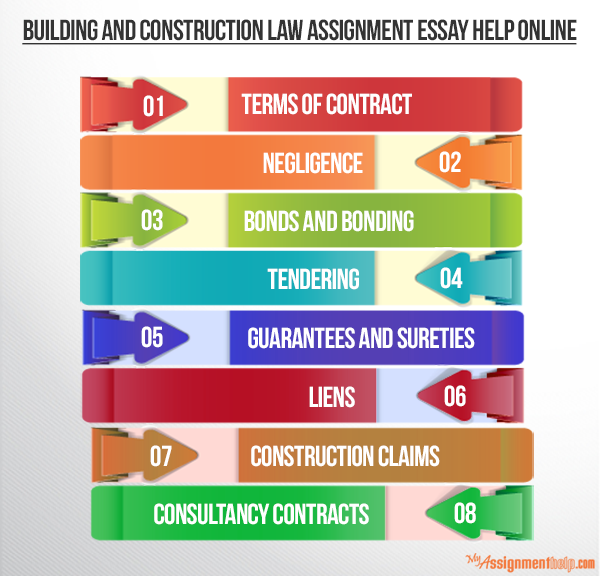 What is Building and Construction Law?
Building and construction law is specialized legal field that deals with engineering and building related issues. It draws perspectives from contract laws, commercial laws, planning laws, environmental laws etc. It covers a wide range of issues which can be summarized under the following heads:
Terms of contract
A contract is an agreement entered into voluntarily by two parties, each of whom intends to create one or more legal obligations between them. A contractual term is a part of a contract. Each term gives rise to an obligation which both the parties have to fulfill. Failing to observe the terms of a contract can give rise to litigations. A building contract consists of three legal documents:
The building contract itself
Specifications
Drawing and plans
Negligence
Negligence refers to any fault on the part of the builder, conce
ing the building materials or the building plan. Home owners can bring civil litigation against anyone involved in the construction of the building. Negligence can be of various types such as criminal negligence and gross negligence etc.
Bonds and bonding
Construction bonds refer to special kind of bonds utilized in construction projects. They are usually utilized by investors to protect their investments against any kind of disruption or failure to complete the project due to the insolvency of the builder. The parties involved in securing the construction bond:
The party involved in the building process are
The investors
And the security company that backs the bond.
Tendering
Tendering refers to the procurement of goods and services from exte
al sources. A request for a tender is a structured invitation to vendors to supply products and services. For instance, a gove
ment may put out a tender for building construction. A builder or a contractor who quotes the highest bid gets the tender.
Guarantees and sureties
Guarantees and sureties are financial terms. They refer to a type of financial promise made by a party to assume debt obligation of a borrower if he defaults. Guarantees and sureties are common in building construction projects where banks often ask for a guarantor before releasing necessary finances for a particular building project.
Liens
A lien is a form of security interest granted over a property in order to get the payment of a debt or performance of some other obligation. A security interest is the property which is mortgaged. There are two types of property: real property and personal property. Real property is the land and the buildings attached to it, while personal property includes anything other than land.
Construction claims
A construction claim is the entitlement that is received by a party when certain damage has taken place. For a recovery under a construction claim, a person must have both legal entitlements and damages.
Consultancy contracts
A consulting contract is a legal term often used to describe a contract between a client and a consultant who is hired to provide professional consultation services on the construction of a building.
These were some of the major issues dealt by building and construction law. Everyone who is involved in engineering and construction businesses such as engineers, contractors, laborers etc. and all the different types of dispute related to constructions, leases of land, ownership conflicts and accidents due to faulty materials are also dealt by construction and engineering laws.
Building and Construction Laws in Europe and the US
Countries like, UK, US, Canada and South Africa have their own set of building and construction laws. A brief description is given below:
In United Kingdom and in Europe, there are societies of construction laws which deal with construction related disputes.
In US and in many other countries, a standard form contract approach is followed when it comes to buildings and constructions. A standard form contract is a bipolar agreement whereby the terms of the contract are set by one of the two involved parties. The other party is simply supposed to take it or leave it.
In America, such forms are produced by the American Institute of Architects. It has been producing such contracts from 1888. However, they are revised every 10 years. Recently, such contracts have come under scanner for being unfavorable to contractors. As such they now follow the Consensus Docs Coalition which publishes 100 contract documents taking the interests of the contractors in account.
How MyAssignmenthelp.com Can Help Students in Building and Construction Law Assignment?
MyAssignmenthelp.com has developed a law expert team which is available 24x7 to give you online assignment help, thesis help and essay writing help on any law subject you can conceive. The team is capable of providing high quality assignment help on building and construction law assignments along with legal case studies, course work, homework and online examination.
Building and construction law assignment help is an important part of our services. You can browse through the assignment samples which have been uploaded on our website to have an idea of the kind of assignments we do in the legal field. Apart from law, we also provide services in management, engineering, nursing etc. Within the management domain, our expertise lies in finance, accounting, marketing, human resources etc.
In order to get our assignment services help, you will have to follow the three simple steps:
You have to log on to our website and fill up a simple form. Alte
ately you can speak to our customer support team which is available 24x7. You will need to provide the assignment details, the number of pages and the desired word count.
After sometime, our customer support team will get back to you with a quote. If you find the quote reasonable, you can log on to our website and make your payment.
You will get your custom made assignment in your mailbox. So try out MyAssignmenthelp.com today in order to improve your grade.
We at Myassignmenthelp.com provide a number of special features which cannot be produced by any other online help service proper. They are:
100 percent plagiarism-free
Tu
itin report
High class assignment,
Proofread and copy-edit
Delivery way before your deadline.
Testimonials
"Overall the final report is good, But m...

"Overall the final report is good, But my course teacher was quiet unhappy that there was no case studies explained in the final report. So, could you please add and explain one or two case studies into the final report related to the topic which you have done and after adding the case study into the final report. Please can you send it as a whole of final report as early as possible.thank you"

Tom Katt USA
"Excellent writing, no negatives to comm...

"Excellent writing, no negatives to comment. Completely satisfied by the end product. Such a wonderful and useful website"

Jack Hughes Australia
"Best service provided. On time, ill use...

"Best service provided. On time, ill use their service again, much appreciated, before deadline they finished my assignment."

Hussein Ali USA
"Your service is good i like ur assignme...

"Your service is good i like ur assignment assistance ,,,,, you are doing great job you help specially students, but your charges is very high,, please give better offers for students."

Melisha Australia
"The solution of my assignment is too go...

"The solution of my assignment is too good and thanks for the team of Myassignmenthelp. i am really thanks for help me and gave me a assignment assistance within good quality. i would be contact again if i face any problem in future. thanx for the help"

Oliver UK