Citizenship and Immigration Law Assignment Essay Help Online
To start our discussion with a sense of irony, it may be noted that as the world is getting globalized, citizenship and immigration laws are getting increasingly stricter. Countries around the world pose a number of difficulties for foreigners to achieve citizenship status, while at the same time restricting the rights and privileges of the immigrants residing within their own geographical knowledge. Let us look at the two closely related concepts of citizenship and immigration before moving on to the various legal provisions surrounding them.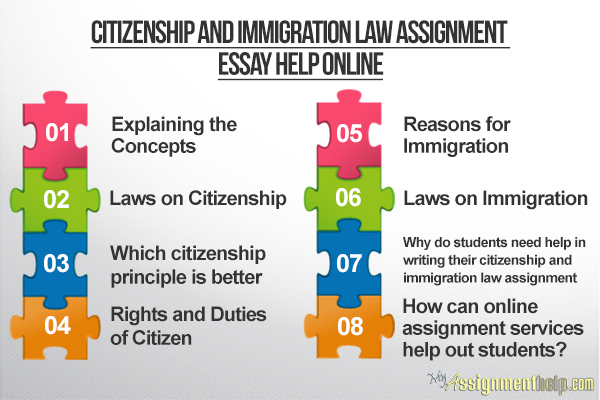 Citizenship and Immigration: Explaining the Concepts
Citizenship
Citizenship refers to a particular legal status of a person within a particular country which bestows that person of certain constitutionally validated rights and duties.
Immigration
Conceptually, it is just the antithesis of citizenship. Immigration is the movement of a person from the country of his citizenship to an alien country, either legally or illegally with the motive to settle, work or marry. Citizenship and immigration laws differ from one country to another. Generally speaking, laws on citizenship and immigration qualifications are tougher in developed countries like USA and UK and lenient in under developed countries.
Laws on Citizenship
Citizenship laws are dependent on the following considerations:
1. Jus Sanguinis
Jus Sanguinis is a legal concept which means 'citizenship by blood'. If any one of the two parents is a citizen of a country then the person automatically gets the right to become the citizen of that country. This is contrasted with the concept of Jus Soli or citizenship by blood. Today, only France narrowly applies Jus Sanguinis. Most of the nations have a combination of Jus Soli and Jus Sanguinis. US applies Jus Sanguinis only with certain riders.
A child is granted citizenship only if the three conditions are met:
both parents were US citizens at the time of the child's birth
the parents are married
at least one parent lived in United States prior to the child's birth.
2. Jus Soli
Jus Soli refers to citizenship by birth. A person bo
in a particular country automatically gains the citizenship of a particular country. This concept originated in common law countries like England where persons bo
in that country were called subjects of the monarch, a concept which predated citizenship.
3. Naturalization
Apart from these two principles, many countries grant citizenship through a process of naturalization. A person can become a citizen of a country if
he has lived in that country for a certain period of time

has legal employment in that country or

has married a citizen of that country.
This process of acquiring citizenship is called citizenship by the process of naturalization.
4. Jus matrimoni
The process of naturalization may be fast tracked if a person marries the citizen of a country. This is called the principle of jus matrimoni.
Which citizenship principle is better?
Of all the principles described above, a combination of all of them seems to be the best. In fact except for some countries, most of the other countries follow the best of all the principles. The principle of Jus Soli for example, is peculiar since a child bo
of a woman who is staying in a particular country for a temporary period of time gains the citizenship automatically. On the other hand in Jus Sanguinis too, a child who has no link with a particular country is automatically entitled, just because of the parentage. Finally in Jus matrimoni principle too, people may conduct fake marriages in order to gain citizenship rights.
Rights and Duties of Citizen
If a person is a citizen of a country, he or she is naturally entitled to certain rights. A portion of these rights are guaranteed by the constitution of that country itself. As such they are called fundamental rights. In exchange for the enjoyment of fundamental rights, a person has to follow certain duties. These duties are also legally enforceable apart from being ethically obligatory. They are called fundamental duties.
A point of exception may be noted in the case of citizenship behavior by naturalization. US for instance, denies certain rights to a naturalized citizen. A person who is not a natural US citizen may not become the president of that country. The chief fundamental rights for an individual are the following:
The chief fundamental rights for an individual are the following:
Right to liberty
The right of a person to enjoy all sorts of political and social freedom. This is also a basic human rights recognized by international
organizations like the UN.
1.Right to due process of law
The right that requires the state to follow all legal principles when it deals with the citizens. This also entails equality before law.
2.Right to freedom of movement
Right of an individual to move freely anywhere within the territorial limits of the state.
3.Right of freedom of religion
Right to practice any religion one wishes to.
4.Right to freedom of expression
The political right to express oneself freely.
5.Right to peaceful assembly
The right to gather together in a group with intentions of disrupting peace.
6.Right to freedom of association
The right to join or leave any organization or an association is called right of freedom of association.
Some important fundamental duties are:
To abide by the constitution
To show respect to the national flag
To render country military service when called upon to do so
To safeguard public property
To protect natural resources
To pay taxes
The abiding of the fundamental duties by citizens distinguishes a good citizen from a bad citizen. There are, however, some grave offences which may lead to the loss of citizenship. They are:
Desertion from the army
Taking up employment in the gove
ment services of an enemy country
Taking up honorary titles given by foreign gove
ments.
Willingly giving up citizenship
Applying for a new citizenship
Dual Citizenship: The concept of dual citizenship is closely related to the last point. While granting of citizenship by a foreign country automatically means the loss of citizenship development of the country of origin, some countries do allow their citizens to hold dual citizenship. Countries like USA, Australia etc have the concept of dual citizenship. However, countries like India, for instance, are strictly against dual citizenship.
Reasons for Immigration
As we noted before, immigration as a concept refers to the movement of people from the country of origin to an alien country for a variety of reasons including but not limited to the following points. They are often called pull and push factors i.e. to say a particular determinant might work as a pull force from the country of migration while acting as a push factor from the country of origin.
1. Economic prosperity
Many people choose to migrate because of economic reasons. As such, many countries like US for instance forbid people to enter its territory without work permit. In fact a major part of economy for developing countries does depend on remittances from developed countries. The World Bank estimated that the total amount of remittances to developing economies was almost 317 billion dollars in 2012.
2. Marriage
Marriage as a push factor work in those countries which have gender imbalances.
3. Education
America and European countries have better opportunities for higher research in arts and sciences. As such many researchers from the Third World move to these nations.
4. Employment
Another important pull factor for migration. However, in some regions like in Weste
Europe for instance, migration is facilitated by the fact that European Union (EU) citizens can move freely and work without hindrance in any country falling within the EU economic zone.
5. Political issues
like military coups and fall of democratic gove
ments can force immigration as it had happened in Latin American countries.
6. Emergency situations
like war, ethnic conflicts and natural calamities etc work as non-economic push factors from countries of Africa, central Asia and South and Southeast Asia.
Let us have a look at the current immigration scenario across the world before moving on to the legal concepts associated with immigration.
In 2013, the United Nations estimated that 231,522,215 people in the world were immigrants. However, a few interesting riders were also noted:
The immigration map of the world clearly shows the migration from less developed to developed nations of the world.
United States, parts of Weste
Europe, parts of South East Asia and East indies showed the highest percentage of migrants.

A survey in 2012, showed that given a chance, people would chose United States as their top migration destination followed by Canada, Australia, France, Germany, Saudi Arabia and Spain.
Laws on Immigration
Immigration laws around the world grapple with the following issues:
1. Illegal immigration
Illegal immigration refers to the migration of people from poor to richer countries, in a way that violates the immigration laws of that country. The term has come under scanner from human rights activists who have noted that while the migration of these people may be illegal, the people themselves are not. As such they are entitled to the basic human rights which the citizens enjoy. Illegal migration to developed countries like USA is propelled by a number of factors like, poverty, overpopulation, war, political turmoil etc. Not all illegal immigration cases are voluntary. Some result in prostitution and slavery.
2. Statelessness
A legal concept closely related to migration. It refers to a peculiar situation where there is no link between an individual and the state. A de facto stateless person is someone who is living outside the geographical boundary of the country of origin while a de jure person is someone who has been forsaken by his country of origin and is without the protection of any state.
3. Refugee
A de jure stateless person is also known as refugee. Unlike, economic migration, political factors constitute the major cause for the refugee problem. In the last century, the following political reasons have been responsible for the largest number of mass migrations:
World War II and the Jewish holocaust
Israel-Arab Conflict
The partition of India and the Kashmir problem
The Taliban menace
The Syrian crisis
Afghanistan has recorded the highest number of migrations in the world followed by Syria.
4. Prisoner of War
A Prisoner of War (POW) is someone who is either in a combatant or a non-combatant mode and is captured by the enemy power in the end of an armed conflict. Here is the list of warring countries which have produced the highest number of POWs.
Soviet Union-Nazi Germany in World War II
Allied powers (France, UK and USA) - Nazi Germany in World War II
India-Pakistan during the Bangladesh Liberation War
Iraq-Coalition of Gulf War during the Gulf war.
Why do students need help in writing their citizenship and immigration law assignment?
Students of law often face a number of challenges while preparing their citizenship and immigration law assignments. Here is a list of issues:
Citizenship and immigration laws constitute a complex domain of legal studies that combines perspectives from history, law, political science, sociology and economics. Knowledge of so many specialized areas is difficult to attain.
Legal referencing is difficult if not absolutely impossible.
Linking citizenship and immigration laws to inte
ational political events requires a good command on inte
ational events and political situations.
Finally, language remains a perennial problem especially for students who come from non-English speaking countries.
How can online assignment services help out students?
Assignment help refers to the help received by online assignment help provider. Since students think that it is unethical to ask for professional help, it is important to clarify some of the misconceptions people have about online assignment services:
Assignment help is not cheating since many students take help from private tutors, seniors, parents, friends etc.
Assignment help is not unethical since other students can adopt far more devious means to get good marks.
Finally online help is better than plagiarism since online assignment help services assure 100 percent plagiarism-free essays.
Of the many benefits of online assignment help, one can mention the following:
They can help students to do well in weak areas
Expert assignment help can be a nice supplement to college or university teaching.
You need not worry about putting your thoughts in English since the assignment help comes with editing and proofreading.
Assignment help comes with referencing and bibliography so that the students do not have to worry about technical details.
How can MyAssignmenthelp.com assist students in their law assignments?
MyAssignmenthelp.com is one such online assignment help services which have been providing assignment help to students in Australia, UK and USA. Our special features consist of the following qualities:
100 percent plagiarism-free articles
Assignments, dissertations and essays written by experts who have a wide ranging knowledge in their own respective fields.
We rarely have a case of late delivery. Our assignments are always on time
Free plagiarism report
24x7 customer service
Plenty of discount offers. For more information, consult our web page.
Affordable rates.
If you are impressed with this sample article, you would be equally amazed at our assignment help services. That is a promise.
Testimonials
"Excellent writing, no negatives to comm...

"Excellent writing, no negatives to comment. Completely satisfied by the end product. Such a wonderful and useful website"

Jack Hughes Australia
"Overall the final report is good, But m...

"Overall the final report is good, But my course teacher was quiet unhappy that there was no case studies explained in the final report. So, could you please add and explain one or two case studies into the final report related to the topic which you have done and after adding the case study into the final report. Please can you send it as a whole of final report as early as possible.thank you"

Tom Katt USA
"Best service provided. On time, ill use...

"Best service provided. On time, ill use their service again, much appreciated, before deadline they finished my assignment."

Hussein Ali USA
"Your service is good i like ur assignme...

"Your service is good i like ur assignment assistance ,,,,, you are doing great job you help specially students, but your charges is very high,, please give better offers for students."

Melisha Australia
"The solution of my assignment is too go...

"The solution of my assignment is too good and thanks for the team of Myassignmenthelp. i am really thanks for help me and gave me a assignment assistance within good quality. i would be contact again if i face any problem in future. thanx for the help"

Oliver UK