Human Resource Assignment Help
Human Resource — popularly known by its abbreviated form (HR) — is defined as an expression of an organizational belief in the employee element of that organization's success. The expression is purely used to put into place a strategy to drive innovation, productivity and share price by encouraging the workforce toward excellence. Human resource is also at times referred to as human resource management (HRM). It is basically the process of employee management with emphasis on the employees as assets of the business. The process includes recruitment/hiring/talent acquisition, providing proper induction and orientation, offering training and development skills, performance appraisal of the employees, making the employees aware of the compensation and benefits, motivating and maintaining public relations and also maintaining the employees' safety. In technical terms, HRM is referred to as strategic approach that manages the relationships among employees while putting an emphasize on leveraging people's abilities and potentials to achieving competitive advantage which can be attained through a distinctive set of employment programs, policies and practices (Bratton & Gold, 2012).
In human resource management assignment writing, composing HR essays is the most common task that students are entrusted with. But human resource module is not all about writing HRM essays, it involves many types of assignment like human resource management case study, research paper assignment on human resource management, term paper assignment on human resource management etc. So the students need to take human resource management assignment help and human resource essay help from experts to accomplish these tasks within the given time limit.
What are the Primary Responsibilities under Human Resource Management?
The ability to meet business needs by managing valuable resources is one of the chief responsibilities of the human resource or HR department. There are several HR areas or disciplines where the department has to perform a number of essential functions. Here is the list of roles carried out by the HR department:
Recruitment and Selection
The HR team delivers value to the organization through the process of recruitment and selection. The organization gets the opportunity to identify strong and weak performers and engage suitable applicants in employment conversation.
Workforce Planning
The HR department's job responsibilities start with workforce planning. Under this process, discussions on the kind of workforce and skills required take place.
Remuneration
It is all about how much to pay the employees under the heads of salary, incentives, wages, etc. But it is more than just a paycheck. Paying too high or too little can hurt the organization's position in the industry or job market.
HRM Help Sample - AAA theory organizational applications
The two industries selected for discussing the idea of research outcomes of adaptation, aggregation and arbitrage are Food/ Beverage Industry and Retail Industry. The two companies selected for Food/ beverage industry are Coca-Cola and McDonald's; Retail Industry are Tesco and....

Paul Nave

Master of International Business (MIB) University of Wollongong, Australia
Customer Feedback 5/5
The assignment made is good and very good in some part and very good in making diagrams.
Job Analysis
It is one of the core activities that the HR department performs. Job analysis requires writing the job description, choosing the right applicant and do career planning as well. These are considered as critical amongst all activities.
Training and Development
Through training and development, the HR team transforms employees from 'B grade players' to 'A grade players'. This kind of training can turn weak employees into competent employees and the existing competent employees to indispensable ones.
Industrial Relations/Employee Relations
This is a new addition to HR functions. Under this, the HR has to provide advice on employee legislation, draft, consult on policies and manage risk.
Organizational Development/Change Management
The HR department has to figure out the progress plan. It is all about rough challenges and bringing about strategic changes to overcome the challenges and adapt to new opportunities.
Orientation
Orientation is the significant step of any HRM department to help new employees to adapt to the new workplace environment. It is mainly a method to make your employees get acquainted with the certain aspects of the new jobs, such as pay, benefit programs, the company regulations that have to be maintained, working hours, etc.
Performance Appraisal
It is a method to monitor employee performance. The employees at the HRM department are responsible for administering the performance appraisal process, although the actual employee performance is assessed by the supervisors or managers. Apart from promotion or higher pay, feedback and comments from the employees are received through the performance appraisal process.
Keeping Records
This is the oldest function of any HRM department in an organization. Record-keeping involves documentation, maintaining files, retrieving information related to the employees for various purposes, archiving the employee's applications, health and medical records, employment history, pay-scale, hours of working, absenteeism, seniority list and other employee information. All this needs to be maintained by the HRM department. The records that the HRM professionals have to maintain or provide are the following:
An updated list of accurate information about the existing employees in the organization
A set of actions that have to be taken if any employee breaches the rules and regulations of the organization
A guide to hiring new staff like making them aware of the pay and the work culture
A record of actions that had been taken against any employee in the past
Files and documents related to the organization under certain statutory requirements.
The responsibilities of HRM department are changing with each passing day. The areas of HRM functions are broadening, keeping in pace with the changing world economy and altering structure of the business. Students, pursuing HRM module, need to remain updated with the recent development in this area for managing human resource assignment effectively.
Is there any Difference between Human Resource Management and Personal Management?
Many students who have little knowledge about human resource management use these two as synonyms. But the fact is human resource management is an extension of personal management and has replaced traditional personal management completely in modern times. In earlier centuries, when human resource management was not widespread, recruitment and payments of the employees were accomplished by personal management team in the company. With the growing need of employee management, human resource management emerged as an alternative over the traditional personal management.
Some experts claim there is no significant difference between these two concepts. They can be used interchangeably. On the other hand, a group of experts pointed few differences between them.
Comparison Chart
| | | |
| --- | --- | --- |
| | Human Resource Management | Personal Management |
| Explanation of the term | It is regarded as the branch of management that puts emphasis on the most effective utilization of work force as an entity in order to attain organizational goals | It is regarded as the aspect of management; this is related to the manpower and its relations with the organization |
| Approach | Modern | Traditional |
| Type of role | Routine Management | Strategic Management |
| Treatment of Manpower | Asset | Machines and tools |
| Pay Basis | Performance Evaluation  | Job Evaluation |
| Managerial Function | Transformational | Transactional |
| Managing Labor | Keeping contracts between employer and one or more unions | Keeping individual contract signed between employees and employer |
| Mode of Communication | Direct | Indirect |
| Initiative | Integrated | Piecemeal |
| Management actions | Business needs | Procedure |
| Work Design | Groups/Teams | Division of Labor |
| Decision Making Procedure | Fast | Slow |
Key Differences between Personal Management and Human Resource Management
The main differences of these two management concepts are as follows:
Personal management is more concerned about administrative work such as dealing with employees, payrolls and maintaining employee laws. On the contrary, human resource management regulates work force to contribute to organizational success.
Personal management is more reactive in nature. It only attends to concerns and fulfills the demands of the employees. But human resource management works as a proactive element in an organization because it contributes to continuous development of functions and policies to strengthen the workforce of the organization.
Personal management team can be considered as an autonomous entity, but human resource management is an inseparable part of the organization.
Personal management stimulates the workforce to better with bonus, compensation and rewards. But human resource management strategy to motivate the workforce of the company is distinctive. This department tends to provide motivation through effective use of human resources, strategies to deal with workplace challenges, creating jobs for groups and job creativity.
The primitive function of personal management is considered as satisfying the employees of the organization. On the other hand, human resource management concentrates on achieving organizational goals and objectives by extending the abilities of the workforce.
HRM Help Sample - Woolworths limited management
Woolworths Supermarkets or Woolies is owned by Woolworths Limited that is a supermarket chain in Australia. There are over 872 stores across Australia. The company was originally founded in September 1924. The company continuously grew and became a chain in the year 1927 (Woolworthslimited.com.au, 2016). There are four primary markets of the company namely...

Joe Allen

Done Masters of Business Administration in Marketing from Australian Graduate School of Management
Customer Feedback 5/5
Thanks for your understanding and very active in listening to follow very closed to my request of assignment!
Human Resource Management Vs Human Capital Management
There are noticeable dissimilarities between human resource management (HRM) and human capital management (HCM) recorded by experts, but at the same time, they cannot deny how indifferent these two management concepts are. The most important is they both deal with human resources (manpower) of the organization.
Is Human Capital Management the new name of Human Resource Management?
In earlier days, there was not much competition or workload. Employers need not focus their attention on the employees' well-being, safety and development. In the later centuries, many Statutes and Acts came into action to protect the employees' values and rights. Therefore, the need of human resource became undeniable. Consequently, employers turned their focus on building skilled manpower and fulfilling their professional need in an organization. Employers gathered personnel who would be responsible for treating the workforce as capital or asset of the organization. The function of human resource department became more sensitive with days. Hence, it is now more popularly known as human capital management.
In general, human resource management and human capital management possess many similarities. But it also has some basic differences which are described below:
  Similarities
  Dissimilarities
Both the terms are responsible for accomplishing various functions related to individual employee working in a group
Basic Difference:
HRM
  HCM
These both components are essential to a growing organization and have a reciprocal relationship between two individual entities. To implement human capital strategies, an organization needs to have strong human resource management infrastructure
Definition:
HRM refers to the process of maximizing the utilization of available human resource in the organization.
HCM is regarded as an approach that considers employees as assets (human capital) whose current value can be measured and whose future value can be improved through proper investment
HCM takes the idea of strategic HRM one step further to integrate workforce strategy with the over organizational strategy in terms of making strategies more focused on the human side compared to traditional HRM
Approach:
As it is clear from its definition HRM treats workforce as costs
As mentioned earlier in the definition, HCM treats manpower as assets
HCM does not really replace the concept of the HRM, but complements it in many ways. Each of these focuses on the adopting integrated and strategic approach on handling employees, which is the concern of all stakeholders
Functions:
The role and responsibility of HRM is bounded by the law and company directives
HCM performs work related to all employee issues and other elements such as employment, utilization, development and compensation

Techniques in Use:
Employs simple benchmarking techniques

Employs complicated evaluation techniques

Authority:
Regulated only by HR team
Can only be driven under some special case of organization performance.
Although there are few similarities and dissimilarities between HRM and HCM, from the above stated points it can be concluded that both concepts hold their significance in the organization.
An Ideal Model of Human Resource Management
The human resource management model involves all the responsibilities the HRM department has to fulfill. If the responsibilities are fulfilled effectively, it enables the organization to create a willing workforce that works towards achieving organizational goals and objectives. Many forces like technology, economy, politics, law, organizational conditions influence the environment. Here is a graphical representation of the human resource management model developed by the Harvard School: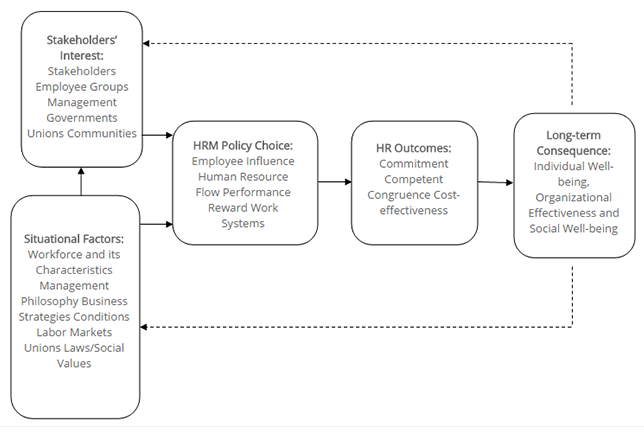 If you are asked to develop an ideal HRM model for certain company, you can use the above reference and create an HRM model on your own. Our human resource management service is at your disposal to assist you with the coursework needs. Any problem arising with HRM assignment writing or in understanding the fundamental of HRM or even gathering research material from the sources, our HRM assignment experts will be glad to help you out.
The Changing Focus of Human Resource Management
HRM is an organizational practice that every corporation engages to make sure its people have proper tools to deal with all issues in an organization. The areas HRM deals with are recruitment, affairs related to compensation, talent acquisition, managing performance of the existing employees, development of organization, wellness and safety of the employees, motivating employees to achieve organizational goals, administration and conducting training session to elevate the efficiency of employees.
In other words, HRM is a strategic approach that organization takes up to manage its people, environment and culture. An organizational with effective HRM enables its people to contribute towards the growth of the organization and achieve organizational goals and objectives. This is the traditional description of responsibilities that any HRM in an organization has to fulfill.
But HRM has taken a major turn from the traditional path during the last few decades; the responsibilities of HR manager being upgraded. Instead of administering or handling transactional roles, the HR personnel are now expected to add value to the strategic utilization of employees' potentials, propose employee recommendation program to ensure employees' performance growth and implement them in operation with measurable ways.
With the increased market competition, employees are considered as the most valued source in many industries. Employers register the fact that skilled and nurtured workforce is the only way to keep an organization running in the competition.
Revised Roles of Human Resource (HR) Manager
The HR managers no more take directions from the executive team; instead of taking directions, they are now authorized to sit in the executive table and recommend approaches, business solutions and processes that work to enhance the workability of the employees. The revised roles that employees in HRM department are accountable to are discussed below:
MBA Help Sample - Develop a sustainability indicators monitoring system for Starbucks
Topic Students will be required to choose a specific enterprise (it should ideally be one with which they are somewhat personally familiar) and develop a sustainability indicators monitoring system for that enterprise. Examples of the enterprises you might consider include a plant nursery, a pet shop, a day care centre, a primary school, a carpet manufacturing...

Ema Hughes

Done Ph.D. in Economics from Australian National University.
Customer Feedback 5/5
good work really happy the marks that i got. thank u very much will be taking help from this site again in future.
Strategically lead the company in the direction of the growth and suggests HRM metrics and measurements to demonstrate their value. For that, it requires to keep their employers and organization safe from any lawsuit which may result in workplace chaos.
The Human Resources department has two clients to serve – employees and managers. Today, modern HR departments have many people to take care of. The department must treat all the organization's shareholders – customers, managers, executives, owners, stockholders and employees equally.
In the modern era, the HR department has to identity the opportunities in relation with organizational growth and development. On other hand, the HR manager still has to act as an employees' advocate to ensure that they are motivated to take challenges in the workplace.
The purpose of modern HR manager is to ensure the organization sustain the competition. Moreover, the employees working in HRM department work towards connecting the employees with the business priorities.
The most significant change that HRM department has experienced is the shift of focus from fulfilling expectation of employees and manager to creating compelling HR agendas that would benefit the organization.
With the changing focus of HRM, the role of HR manager has gone through some amendments as well. While putting primary focus on delivering the best solution to the business issues, the HR manager is also liable to be a strong consultant to business leaders. Moreover, the person needs to give attention to the productivity and performance and workplace issues.
Today, HR managers share objectives and goals with business leaders. They are both accountable for deciding targets and agreed upon it. The HR manager acts as a leader as well as manager in the strategic projects which concentrates on the change management agenda in the function.
The shifting focus of HRM can be a productive topic for you to write upon; you as a researcher can raise different aspects that HRM department is experiencing in the modern day context. In case you need a hand with your research and writing the paper, remember that HRM assignment help and human resource essay help is available 24x7. In case, you need to refer to human resources management examples, you can visit our 'sample' section where you can find numerous human resource management samples in PDF format.
Human Resource (HR) Policy
Explanation
By definition, it is a fundamental statement that directs how employees should be managed under the roof of an organization. In other words, the human resource policy refers to the codified, systematic and disseminated set of rules that decides and regulates how HRM department should work in an organization and how human resources will be treated in order to fulfill the organizational objectives, along with the rights and responsibilities the department and management will be bestowed upon.
In past, organizations have experienced disputes, divisiveness and dissatisfaction among the employees because of the absence of human resource policy. Some organizations do not have a policy at all. In some cases, human resource policy refers to some vague guidelines that are dependent on the mood, attitude and discretion of the supervisor. The only remedy that modern organizations can come up with is assembling a set of rules that cover all sorts of issues likely to be concerned with the workplace.
Characteristics
A human resource policy should work to fulfill several functions in an organization. Firstly, the organization should have the rules and regulations in a written format; it should be penned down in a format that guides the supervisors and manager to follow the specific rules and regulations. There are several characteristics that ensure that a human resource policy is usable and will benefit the employees as well as the employer of the organization. The characteristics are described below:
First and foremost, the language of the policy should be lucid to understand. Bureaucrats tend to phrase things to suit their intellect, but this does not work in this case. If any HRM department wants the policy to be implemented, it has to be written in such manner that anyone can readily understand the content.
There should be enough copies of the policy so that every manager and supervisor has a copy with them. It is also necessary that the publication does not cost the company much and can be upgraded and modified easily. If there are certain changes, they need to be included. Some organizations have loose leaf binder with specific page number on them. Whenever the policy needs some alteration, they just add another page/revised page and exclude the previous page.
The policy pages should attach if there is any disclaimers to announce. If HRM department wants to ensure the content is not used inappropriately or for purposes that are not intended to, the HRM department should involve a disclaimer under it.
Students are often asked to put up an academic paper that explains human resource policies. Sometimes, due to lack of knowledge or time crunch, students fail to produce the quality that is expected of them. This is why they prefer taking human resource management assignment help from reliable assignment service providers like MyAssignmenthelp.com.
10 Best HR Practices of High Impact Value
There are numerous best practices that organizations adopt to provide better services. Some of these depend on the size of the organization, history, culture and even the leadership style they adopt. But there are few that provide highest impact of all. We here describe 10 best HR practices; you will get to know the summary of those practices and how impactful they have been on the organizational behavior.
Overall Impact of HR Best Practices
Practices
Impact Opportunity (%)
Well-structured Administration and Business Case Development
40
Enforce Advance Level Workforce Planning Capabilities
29
Enforce the 'Right' HR Philosophers
28
Decrease Administration Task  for HR Partners
26
Enforce a Flexible Design for HR Organization
21
Enhance Direct Employee-related HR System
20
Assess the HR Business Metrics and Operations
20
Enhance Internal HR Skills
14
Develop Line Manager's Capabilities
11
Outsource HR Services with Proven Strategies
10
Well-structured Administration and Business Case Development
The HRM department has to have a clear understanding of businesses and working relations among the business leaders. These tasks can be achieved by engaging business partners in the governance and planning processes. This engagement will help the organization to ensure business alignment.
Enforce Advance Level Workforce Planning Capabilities
Organizations, advocating high-impact HR policies, implement the advanced workforce analytics into their operations. This action allows the HRM department to translate information related to business and the external workforce-segment information into usable condition that the organization can make use of it or distribute to business leaders.
Enforce the 'Right' HR Philosophers
High-impact HR organizations attempt to ensure that the employee get a suitable environment that helps them achieve as individuals and team member towards the organizational success. The most effective HR policies concentrates on fostering innovation and collaboration or constructing a positive employee environment, whereas, the least effective philosophies concentrate on cost-cutting efforts and efficiency.
4Decrease Administration Task for HR Partners
This function varies widely from one company to another. The high impact-making HR organizations use this function to advice the business leaders, doing workforce planning, developing leadership skills, focusing on decision-making process and executive coaching. On the other hand, when this function is not properly and the focus is more on the administrative duties and receiving orders, the HRM department fails to work efficiently.
Enforce a Flexible Design for HR Organization
No HR structural model has proved to be the final formula of success. A few structural features, however, play a crucial role in HR success: one of the significant is flexibility. When business needs structural changes, the HRM department is capable of making those changes.
Enhance Direct Employee-related HR System
The driving factors to overall effectiveness of the organizations of HR functions are community building and self-service elements. The HRM department uses knowledge-sharing portals, management dashboards and web-based recruitment tools to provide efficient services to all HR stakeholders and various clients. The HR functions with user-friendly systems are considered as twice as effective.
Assess the HR Business Metrics and Operations
With days the measurements strategies in various organizations have matured to ensure effectiveness and efficiency of the business. Measurement strategies involve both operational measures that are dedicated to administer the HR functions and strategic business measures that support the business decisions.
Enhance Internal HR Skills
While focusing on the employee development company-wide, the HRM department ignores to assess the development of its own employees. The world of HR is constantly changing; therefore the need of skilled professionals is also increasing. So the high impact-making HR organizations should invest good amount of time and resources to ensure the team members' competence growth in areas of change management and relationship management. Organizational resources should be invested to develop the business and industry knowledge of the team members, command over best practices as well as the usage of social media tools and other modern technology.
Develop Line Manager's Capabilities
A common mistake that many HR departments commit is distributing limited HR resources in an attempt to satisfy every stakeholder directly. High-impact HR organizations always prioritize their focus on HR resources on enhancing the capabilities of the line managers. This action helps the HRM department to work with line managers in partnership rather than work around those who might be ill-prepared and incompetent.
Outsource HR Services with Proven Strategies
High-impact organizations outsource HR services so that its HRM team can focus on those roles that they cannot outsource like developing customized solution for business leaders and building relationship with business leaders. The areas that an organization outsources depend on the maturity level of the company.
Knowledge of HRM practices is significant for a HRM professional or to write projects in your module. In case, you need assistance to learn the concepts in a detailed manner or implementing the learned knowledge into your projects, you can take assistance from the HRM assignment experts.
Challenges Faced by Human Resource Department
Every human resource department, whether it is small or big organization, faces some crucial challenges in human resources management as it develops strategy and action to make the organization's work culture popular. Here are some significant challenges the HR department counter while performing its duties. Below given are the brief descriptions of the challenges that the HRM department commonly counters
Employee Management
Retaining the good employees is the main source of trouble that all the HR departments face. It is the sole responsibility of the HR department to create a strategic plan that ensures the employee's satisfaction, adequate compensation and benefits. The HR also has to prepare assignments that continually challenge employee's skills and aptitude.
Compensations and Benefits
The HR department and finance heads of an organization draft the budget plans for the employees' compensation and benefits. The HR team determines where an organization stands in term of applicants and also the employees' perspective. There are employers who pay competitive wages and standard benefits, while some others offer high wages and outstanding benefits.
Diversity Management
Workplace diversity is far beyond the simplest definition of sex, race, color, national origin and regional base. Now the diversity also includes attributes related to work style, generation, language and communication. The HR department has to understand the motives of individual employees in a diverse workplace in a bid to make them more efficient.
Talent Management
Talent management refers to selection and recruitment, performance management, and developing and sustaining a workforce to maintain the position in the industry. Under talent management, the HR department faces labor shortage such as situations when the employees do not meet the organizational expectations.
HR Outsourcing
The HR people have to determine whether to outsource HR functions or develop in-house expertise. This is one of the biggest challenges that the HR heads constantly encounter. They have to decide between the two options – to go for a firm that offers HR services at lower costs or pay salaries to the in-house HR specialists. This decision does make an impact on the workforce and quality of services.
If you aspire to be a HR professional, you need to be well-acquainted with hurdles that you might face in the future. To understand the challenges and their effective solutions, you may need help from an expert who possesses industry experience. MyAssignmenthelp.com has a team of management experts who not only have highest academic knowledge, but also industry experience. They can easily help you in understanding the concepts and ideas and writing human resource management assignments.
Human Resource Management Environment in Australia
Although the HR practices are mostly uniform with common characteristics throughout the world, there might be certain deviations in the human resources management environment on nation-to-nation basis. Here are few major practices that influence the human resource management environment widely in Australia:
From 1 July, 2015, the National Minimum Wage rose to $17.29 an hour, which was $16 an hour, or $656.90 for a full-time working week. If the trend of increasing minimum wage continues like this, Australia will be on par with USA in 2037.
In 2009, the Fair Work Act proposed a National Employment Standard. This is the first time that legal legislation allows parents and caregivers to ask for change in working environment so that they can take care of children under school age or children under 18 with disability. The right to ask for family-friendly arrangements is an integral part of Australian workforce.
From January 1st 2012, the new OHS legislation came into effect in standardized form. OHS regulations, which control codes and conduct of health and safety of employees, are controlled by different state and territorial jurisdiction. To avoid the confusion and make the law more consistent through the Australia, OHS regulations were standardized.
From 1st July, 2014, the Superannuation Guarantee increased by 9.5%, which was 9.25% previously.
When it comes to temporary overseas employees, people prefer 457 Visa. Unfortunately, 457 visa holders are mostly underpaid, abused and subjected to sub-standard working conditions. Therefore, Australian Labor Government proposed a review (the Deegan Review) and revised the 457 visa program, which came into effect from September 2009.
Human Resource Management Environment in UK
Here are few influential factors that every human resource management department in UK acknowledges:
From April 1st of 2016, the National Living Wage and National Minimum Wage rates are as follows: £7.20 (for 25 and above), £6.70 (21 to 24), £5.30 (18 to 20), £3.87 (under 18) and £3.30 (for apprentice).
Employers and employees need to agree on the changes in agreement. But an employee in UK can insists on a change if he or she has legal right to. If any dispute arises, the employer can consult with the employee informally as well as through mediation. Employees can consult with their trade union representative, Citizen Advice and Acas (Advisory, Conciliation and Arbitration Service).
All employees working in UK possess the legal right to ask for flexible working hours – it is applicable not just for parents and caregivers, but all. This act is known as making a statutory application. Under this, employees have to make a request to the employer.
Federal Government of UK proffers three types of breaks to all employees over 18 years. The three types of break includes rest breaks at work (mandatory 20 minutes break during their working hours), daily rest (11 hours rest between their working days) and weekly rest (an uninterrupted 24 hours/48 hours without any work each week/fortnight).
An employee cannot be forced to work on Sundays if the employer and employee jointly have agreed to it. The employers have to pay higher than the usual rate on Sundays, only if it is mentioned in the contract or any written terms of condition.
HRM Help Sample - Strategic human resources management for Job Training and Employee Development at radio station
The aim of this report is to frame a set of recommendations for DK Radio. DK Radio is an owner driven radio station targeted at urban and suburban listeners. The radio station plays the best music and programs based on latest listeners' survey. The organization comprises of about 20 people that include both part-time and full-time employees. The punch line for...

Ellie Rogers

Master's degree in Sociology from Macquarie University
Customer Feedback 5/5
It was very nice excellent source of students my assignment was very help full solution to the students.
Human Resource Management Environment in USA
Here are few legislations and code and conducts that influence the human resource management environment in USA — a brief overview of those factors that every HR professional needs to acknowledge:
The minimum wage in USA is $7.25 an hour. But US workers are going rogue about raising the minimum wage in United States. The fight for minimum wage to $15 an hour is gaining momentum with days. As a result, California and New York have agreed to provide minimum wage of $15 an hour by 2022.
In USA, employees going through a life-changing event like divorce can seek help from the HR professionals. The HR team helps the person cope up with some issues like updating personal details, changing medical insurance coverage, changing life insurance beneficiaries, changing retirement accounts, etc.
Family and Medical Leave Act (FMLA) allows an employee to take unpaid, job protected leave for family and medical purposes with continuation and of group of health insurance coverage with the exact terms and conditions as if the employee has not taken leave. A survey found the request for FMLA has increased in five years. Therefore the HR professional counter difficulties implementing regulations related to it.
The Occupational Safety and Health Act ensures occupational health and safety of employee in private sector and federal government agencies of USA. In order to keep the standards in workplace, the act has created an autonomous research institute named as National Institution for Occupational Safety and Health (NIOSH) for the Occupational Safety and Health Administration (OSHA). OSHA is the regulated occupational health and safety body on behalf of US federal government in all 50 states.
Diversity in the workplace can create challenges for HR professionals. Working with the diversity issue need a firm understanding of the federal laws that cover the issues of discrimination in workplace. The most significant federal laws related to diversity in workplace are Title VII of the Civil Rights Act of 1964 (VII), the Equal Pay Act (EPA), Pregnancy Discrimination Act (PDA), Uniformed Service Employment and Reemployment Rights Act (USERRA), The Americans with Disability Act (ADA).
Human Resource Management Environment in Canada
The following are the most influencing factors that affect human resource environment in Canada. Five vital points are described in brief here:
Canada's current and forthcoming minimum hourly wage rate is $10.45 for experienced adult workers. The rates increase on the basis of the average percentage change in Consumer Price Index and also depend on change of percentage in average hourly wage in the individual provinces during previous years.
While establishing a job evaluation policy, the HR professional need to concentrate on meeting the pay equity legislation requirements. Besides, provincial human rights codes need the employers to treat the employees fairly and equally without discrimination. The job evaluation policy should include the rules and regulation on deciding compensation structure, staffing and promotion.
If the contract worker is an employee of the organization, the organization is entitled to pay the employee premiums and provide every facility that it offers to its employees like Canada Pension Plan, Employment Insurance, Worker Compensation etc and also provide benefits mandated by the provincial Employment Standards.
When it comes to hiring and recruitment, it is necessary for the HRM department to be objective and focused on the requirements of the job in order to avoid any type of discrimination. The HR professionals should consult with the human rights legislation to make sure the recruitment process complies with it.
When compensating the employees, the HR policies of an organization should consider labor standards, human rights, employment insurance, pay equity, occupational health and safety, pension or retirement benefits and labor relations. The HRM department has to be fully aware of updated HR Toolkit, keep track of key government websites to ensure that the organization's compensation complies with current legislation.
Human Resource Career Path
Even the smallest of organizations require HR personnel to place their organization in a more manageable position. With a drastic change in HR manager's role, there is high demand for skilled and experienced personnel, although, the HR team's functioning and job roles vary from one organization to another. In the mid-size corporations, the HR managers have to manage only the sales team, but in big organizations, the complexity of the duties extends to other departments as well. On the bright side, a HRM job pays highly competitive compensation compared to other departments of an organization.
Keeping the modern HRM policies in mind, a HR manager has to be smart, well-educated, one who is able to fulfill organizational expectations and deal with employees in stressful circumstances. The HRM departments offer well-defined career opportunities. The HRM career path can be a viable solution to any graduate students, but specialization in the same is preferred by most organizations. If you choose to pursue your career in HRM, you need to undergo a constant learning process and advancing statistical and financial skills.
If you have chosen human resources management as a career option then you should be aware of the qualities of a HR manager. Here are the essential requirements that employers seek in HR managers:
Excellent communications skills, high motivation levels and ethics
Organized, meticulous and compassionate
Complete knowledge of labor laws, motivational psychology, compensation structure and effective recruiting strategies
Strong ability to provide right directions to the complex employees
Possess knowledge of how to take disciplinary actions as and when required.
Career Paths under Human Resource Management
Here are the typical career paths that students would like to pursue: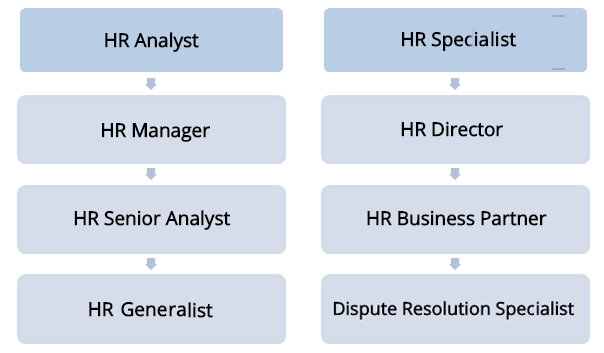 Experienced business professionals take interest in HRM too
Most business leaders still complain that HR managers lack the business sense they are supposed to have. Business leaders are more interested in talking about numbers, whereas HR managers still hang on emotions and they have no control over the senior managers. This is one significant reason that is encouraging more experienced business professionals to take up the HRM career path. They are capable of turning the emotional department into a one that connects with the finance department. Therefore, the need of high business acumen is the newest addition to the HRM's needed skills. Having business acumen enables a HR manager to explore more choices in an organization like financial management, operational management, etc. This is why this career path is fast turning challenging as well as promising.
Reference:
Bratton, J., & Gold, J. (2012). Human resource management: theory and practice. Palgrave Macmillan.
What are the common issues that students face in HR assignment writing?
Both graduate and diploma students of human resource management are asked to write human resource management assignments. The students need to remember that professors and tutors never appreciate mediocre level human resource assignment. They have to deliver impressive quality work in order to match the professor's expectations. Here are the major problems that students counter during the course of human resource management assignment writing and HR essay writing:
The students need to strictly abide by the given regulations and guidelines
The assignment should not reflect any inaccurate information. The students always need to cross-check the facts before using it
Selection of topics often brings tension and depression to students. Majority of the times, they feel confused among the choices
Compiling the assignment in one place can be pretty difficult. The students need to review their references and notes in a manner that they do not miss anything.
Time crunch. Deadlines are most feared by the students. Owing to limitation of time, the students rush through the task and end up with poor quality work.
These above complications can be avoided through human resource management service help assignment from subject experts. These experts are available 24x7 for managing human resource assignment help services. They understand the issues well because they also have suffered the same during their academic years.
How MyAssignmenthelp.com can resolve the HRM students assignment problems?
Human resource management assignment help is the premier assignment help provided by world's No. 1 assignment service provider, MyAssignmenthelp.com. We offer human resource management assignment sample solution on topics where the students struggle to make any progress. Over the time, we have assembled our expert team with intense care. Our experts, belonging to diverse backgrounds can help you to write assignments on any given topic. Not only they help you to finish the assignment, but also help you in creating good quality content regardless of its level and complexity. Moreover, they also have extensive knowledge in formatting and referencing assignments to make the content authentic. We also have unlimited revision policy, if you find anything missing in the solution or have not matched your requirements properly, all you have to do is send back your assignment for revision and our experts will do the correction within 24 hours.
Students can refer to our human resource management assignment samples, which are available free on our website. These human resource management assignment samples can give you a basic idea of the requirements of human resource assignment writing. These samples include human resource essays, online HRM assignments and human resource management case study assignments.
Our Writers' Strengths:
Plagiarism-free content
On-time delivery
24x7 availability of customer services
Professional writers, expert tutors and proficient editors and proofreaders
100% authentic content
3000+ qualified and experienced experts in more than 100 disciplines
Maintaining confidentiality with each order
100% satisfaction with each order.
You can avail our assignment help service in three simple steps. Contact our customer support executives to place your order and get a free quote. Make the payment. At the end, receive the complete solution in your account.
Testimonials
Thank you for...

Thank you for your kind assistance on this matter. The assignment was self explanatory and written professionally.

Tom Katt USA
I didnt expected...

I didnt expected this much well organised completion of my assignment ..Really very very much thank you and looking forward your help in coming days.

Melisha Australia
I am satisfied...

I am satisfied with this assignment and will recommend friends to your website. I thank you for your time regarding this matter.

Olivia UK
all the requirements...

all the requirements are meet.. and even before given time... words limit are good.. graphs and other data reference are great ......good work thanks

Hussein Ali USA
My assignment was...

My assignment was done with complete professionalism. It's was well written & formatted appropriately. Thank you for your help & servises

Jack Hughes Australia