All about WhatsApp and Messenger Based Business Marketing
What exactly pops up in your mind when you think of social media? The chances are that you would think of a few applications and platforms like WhatsApp, Facebook, Messenger, Twitter and the likes. No wonder we have already stepped into a new realm of social media advancement and smart corporate communication. And it goes without saying that the concepts of WhatsApp and Messenger based business marketing are selling like hotdogs. But the question is, are you aware of the different technicalities and fundamental aspects associated with the practice of using WhatsApp for business marketing? Now that you are eager to explore and know about the same, take some time out to read this informative blog.
What is WhatsApp business marketing and messenger business marketing?
As part of the latest advancements brought forth in the domain of business and communication, instant messaging applications like WhatsApp and Messenger have come up with business APIs. Facebook CEO Mark Zuckerberg announced that at least 2.5 million people use either of his platform applications, namely WhatsApp, Messenger and Instagram each month.
It has been a while Facebook had announced the WhatsApp business API in order to help businesses manage communications in a better and smarter way. Entrepreneurs and digital marketers can send promotional contents, business one-liners and latest notifications summing up all updates from the company. Moreover, chatting with users helps in creating a brand persona, contributing to the coveted market buzz.
WhatsApp and Messenger business marketing refers to one smart initiative to bridge the gap of corporate communication in today's fast-paced world. All it would take is a single tap on the "send" button, and you can have your business noticed by thousands of potential users around the world.
Best Practices for Using WhatsApp for Business Marketing
Do you know that Instagram and WhatsApp are the two most popular story-sharing platforms? More interestingly, WhatsApp now has 1.5 billion users and sees 60 million messages sent per day. This is certainly an indication that the impact and reach of WhatsApp as a successful social media application has hit a new high.
No wonder the progressive entrepreneurs these days are counting on the potential of this application. Now, in case you are trying to gain further insights to know about the best practices that can be adopted for WhatsApp based business marketing, here are 7 helpful pointers for you to take note of.
Refrain from spamming
You should consider sending messages judiciously. There's no point spamming. Moreover, WhatsApp doesn't allow its users to spam with random messages. The idea is to use this application in order to communicate with your loyal customers at regular intervals.
Tell them about the latest offers, new products and services. One can even opt for one-to-one conversation in case the customer addresses an issue. Dedicated customer relationship managers may use such platforms to resolve customer queries and help them with instant solutions on the go.
Keep your responses short and helpful
Get to the point straightaway. The idea is to keep your responses short, simple and consumer-centric. Coming up with anything drab and overly explanative might not turn out to be a satisfactory response for your users.
People use instant messaging apps like WhatsApp and Messengers to send across quick messages, and talk about topics that are in sync with their business queries. Make sure the responses you would send across are fit-to-size and easy to read.
Include creativity in the messages
With WhatsApp, you can always stand a chance to unleash your creative side. The application supports multimedia communications including slide shares, videos, documents and photos. Thus, instead of communicating with your target audience via regular messages in formal languages, you may choose to think outside the box at times as well.
You can create short videos and include your brand persona and ethos in it in an absolutely creative way. This, as a result, will make the entire initiative more fruitful, as your customers are more likely to engage with the creative elements added in the content.
Connect with the right group of customers
You cannot expect to gain the coveted rate of conversions by sending across business notifications and promotional adverts to random groups of people. One must consider engaging with customers who want to connect with them. This calls for a thorough market research and analysis. Moreover, it is also important for the marketer to know the product well. This will help him/her gain insight into WhatsApp marketing, making it easier to track the right audience.
Prioritise consistency above anything else
It's certainly not a one-day affair! You have to continue with the practice consistently. Make it a point to send across messages, notifications, business alerts, product descriptions and the likes on regular intervals. Out of sight is equivalent to out of mind.
Refraining from maintaining consistency and failing to come up with new and creative messages from time to time can leave you with no significant ROI at the end of the day. Be consistent and create a recognisable profile in order to foster brand value.
Using WhatsApp for business marketing is undeniably one of the most effective strategies one can implement in order to remain at the forefront of corporate success. However, abiding by a few conventions and following each of the healthy practices mentioned above will always allow an individual to ensure maximum profit margin at minimum investment. Sounds good? I hope it does.
Reasons to use WhatsApp Business API
Now that you are aware of the different fundamental aspects associated with WhatsApp for business marketing, you may wonder why exactly you should use the Business API. While there are other options available for smart communications, the WhatsApp business API stands out for a lot of unique reasons. Take a look at the same and explore the different aspects of WhatsApp API, helping organisations across the globe with advanced marketing solutions.
Establishes great brand relationships
Every progressive market leader or ambitious entrepreneur aims at establishing a strong brand relationship with individual group of target audience. The WhatsApp business marketing API ensures the same. Companies use WhatsApp in order to create their individual business profiles, fostering fully-branded business identity.
This, as a result, will allow you to talk about every minute detail and business specifics like emails, attached URLs, website links and the latest offers in a constructive way. Moreover, the WhatsApp Business API verifies its users before allowing them to use the platform.
This is always an added advantage. Ask me why? That's because the target customers will be assured it's not a fake entity while they would choose to connect with you. The word "trust" is indeed an important term in business. When it comes to establishing brand identities and customer loyalty via WhatsApp business marketing, one cannot afford to overlook this aspect
Facilitates ideal and effective two-sided conversations
You must be bored of receiving those business texts that ask you to type "Y" for "Yes" and "N" for "No," "1" for subscriptions and "2" to unsubscribe. This is what happens when companies do not promote two-sided conversations with their target audience. This is exactly where WhatsApp business marketing makes a huge difference.
The application allows real-time messaging and promotes two-sided conversations. Thus, the entire process of business communication becomes more interactive for target customers to participate. From forwarding online invoices, to sending across feedback and addressing particular issues, WhatsApp based business marketing offers a plethora of opportunities to communicate.
Ensures security and fosters virtual privacy
The end-to-end encryption feature in WhatsApp is undeniably one of the most useful things so far. In a world where security measures and privacy threats are gradually becoming the most talked about concerns for most of the nations, a digitally secured platform for communication is apparently the much-needed remedy.
Every customer looks for a secure way to connect with a particular service or product. And the security features included in WhatsApp allows the users to keep their identities and every other crucial detail under the wrap. Thus, for a company that uses WhatsApp for marketing and communication, the rate of conversion is apparently higher in comparison to the ones that refrain from embracing such platforms.
While these are only three of the most notable reasons behind roping in the WhatsApp API for business, using the application in real life will gradually give you other compelling reasons to sleep on.
Why WhatsApp is important for business marketers?
Start-up owners and traditional businessmen might be sceptical of using WhatsApp for business marketing. But once they get the hang of it, the chances are that this particular application will turn out to be one of the most used platforms for business communication. In case you are wondering why, here is everything you must know.
Using WhatsApp for business marketing is cost-effective. It helps companies to reduce telephone bills by allowing them to communicate with the customers virtually.
Being the fastest growing social messaging application in the world, WhatsApp facilitates maximum business exposure.
WhatsApp allows companies to broadcast messages to a large base of customers at the convenience of a single click.
In today's world of fast progress and advancements introduced in the domain of corporate communication, WhatsApp brings in a wave of change for progressive business houses willing to make their presence felt.
Ways to get started with messenger marketing
Now that you know about the different fundamental aspects and significance of WhatsApp based marketing, it's time to talk about the role of Messenger business marketing. For a beginner, the idea might turn out to be vague or somewhat risky. But there are right ways to get started with Messenger business marketing. In case you are eager to know about them, here is something for you to know.
Focus on creating interactive, short, sweet and simple content for the target audience.
Send across all event notifications and the latest offers to your group of customers via messenger.
Take initiatives to involve and engage participants during events by sending across reminders with direct links for faster participation.
Consider enhancing market knowledge so that you can generate high-quality sales lead.
Simply try and follow these steps as mentioned above, and ensuring the maximum ROI for your business via messenger business marketing will no longer be a far-fetched dream.
The Future of Messenger Marketing for Business
Now that you are already aware of the helpful ways that can be implemented in order to get started with messenger business marketing, let's take a look at what the future holds for us. Apparently, messenger business marketing has a great future, if we are to consider the number of social media messaging apps.
Reportedly, Facebook Messenger and WhatsApp have 1.5 billion users across the globe. With anticipations indicating a growth in the number of users in the near future, it is somewhat safe to determine a promising tomorrow.
To talk about it further, it is to be mentioned that Messenger business marketing has expanded its base, generating 80%-100% average open rates, and 50%-100% average click rates. Moreover, consumers are said to engage more with chatbots than emails. This clearly suggests us the fact that the future is already here, and messenger based business will only reach new heights of smart corporate communication.
How To Boost a Business with Messenger based Marketing?
In case you are completely blown away by the statistics disclosed and information shared regarding the fundamentals of messenger based marketing, here's more to it. Now that you are eager to discover the ways to boost your trade with this particular business strategy, take a look at the points listed below.
Allow your clients to share feedbacks and address issues directly in Messenger.
Create interactive business campaigns and talk about the same to your customers via Messenger notifications on the go.
Refrain from going offline during business hours. This might bring negative impacts on your trade.
Use messenger in order to deliver personalised content to users.
The idea is to leverage the potential of this particular application and utilise its features in order to ensure maximum revenue generation for your business house.
Examples of WhatsApp business marketing and messenger business marketing
Here are a couple of helpful examples with screenshots that talk about the different functionalities of WhatsApp business marketing and Messenger Business marketing. Take a look.
Examples of WhatsApp Business Marketing
Move on to the WhatsApp Business settings and upload your business message. Broadcast the same by utilising the storytelling feature.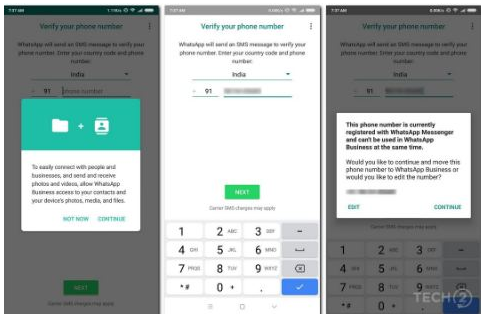 Image 1: Account Creation
Source: firstpost.com
Image 2: Broadcasting Business Message
Source: firstpost.com
Image 3: Being Responsive
Source: firstpost.com
Examples of Messenger Business Marketing
Now, here's a quick look at the functionality of Messenger in business marketing and communication.
Image 4: Facebook Messenger Bot Promoting Services and Products
Difference between WhatsApp business marketing & messenger based business marketing
Now that you are aware of the entire scenario and developed thorough knowledge of the different functionalities of each of the mentioned business marketing strategies, take a look at the table below. There are a few differences between the fundamentals of WhatsApp and Messenger based business marketing. Here's a glimpse of the same for your knowledge.
| | |
| --- | --- |
| WhatsApp Business Marketing | Messenger Business Marketing |
| Allows users to manage their messaging statistics. | Allows users to enjoy direct and immediate access to a wide range of customer support, directly from their mobile devices. |
| Helpful in sending across speedy responses, as and when needed. | Allows businesses to accept payments directly from the app. |
| One can add labels to their individual business conversations. | AI Personal Assistant M reminds the users about important events, birthdays and more. |
| The application lets users set business timings in accordance with their availability. | The application fosters effective business communication by allowing the users to send across coupons, banner ads and more. |
Table 1: Difference between WhatsApp business marketing & messenger based business marketing
With each passing day, progressive business houses and aspiring entrepreneurs will dream of making it big by generating the coveted revenues. Business marketing and communication are undoubtedly the true pillars of success and revenue generation. Modern-age social networking platforms are undeniably doing a great job by making things simpler, smarter and more effective for the end users.
Constantly Grappling with the Complicacies of Marketing Assignments? Get Help from the Proficient Experts of MyAssignmenthelp.com
Are you stuck with an overly complex and tricky marketing assignment? Is there a pending set of assignments getting the better of you? End your worries because the experts of MyAssignmenthelp.com will deliver the best marketing assignment help online. The pool of 5,000+ in-house writers is dedicated to composing the finest marketing assignments on a plethora of subject matter. Here's a glimpse of the same. Take a look before you place an order with us.
The impact of recession advertising.
The role of customer delight in banking.
The significance of recession in promotional activities.
The relationship between brand image and consumer taste preference.
The different aspects of direct and indirect marketing.
These are only some of the most sought after marketing assignment topics we excel in. Consider getting in touch with us for comprehensive solutions. We are actively available to provide you with well-knit and fully-referenced papers.