To make a remarkable difference in your job prospect and professional life, one of the most vital elements, which you would require is a well-built resume. In today's world, with digital advancements and various other technical developments occurring across the globe, LinkedIn is a site that has gained importance over the past few years. Since this online platform gives you a wide opportunity to have your professional skills and profile noticed by recruiters, it is absolutely vital to keep profiles updated, and filled with attractively written professional skills and every other declaration. If you are looking for online resume experts to get this task done on your behalf, simply place an order with our executives during any time of the day.
Our resume writers are available at work, 24/7. If you are looking for online resume writers to help you update LinkedIn profile or in order to create resume freshly, then contact our in-house experts and provide them with the required specifications to watch your LinkedIn profile views increased, with ten times more visibility and interview calls than ever before.
Place Your Order Now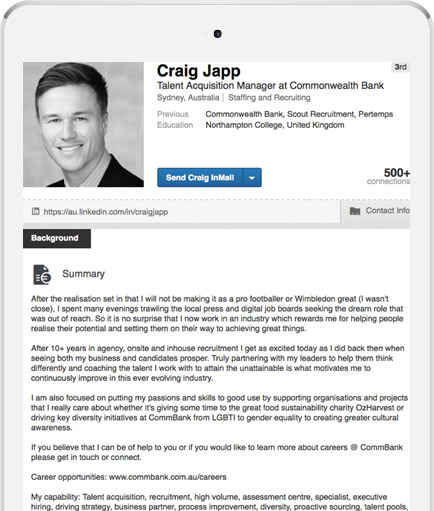 Why it's worth to choose Us?
Confidentiality Assured
Our commitment to customer privacy has always been our policy
Excellent Quality
Quality is our corporate philosophy which delivers 100% satisfaction for our services
24X7 Global Support
24 Hours Per Day, Every Day of the Week Support when you need the most
Career Solutions
Your one stop solution to Career needs and surpass your expectations
Comprehensive LinkedIn Profile Creation Complying With All Needs
Our professional resume writing experts are here to offer you one-stop LinkedIn profile solution, covering every requirement and specific guidelines with perfection. The writers, associated with our firm, offer great versatility and are quite flexible in working on any prospective resume category with diligence. Get connected to the team today, and have your profile updated with absolute technical accuracy.
Other resume service
HERE'S WHAT CLIENTS SAY
"It's definitely a great feeling to watch myself progressing in a professional career. And I would like to thank MyAssignmnethelp.com for the brilliant effort they have put. My LinkedIn profile was just another bio-data until the day came in my life when I contacted the writers here to help me present something more impressive. They have done the job excellently well."
Melvin, Sales Representative
"Thank you guys for being so cooperative. I am really happy to see my LinkedIn profile getting more views than ever. And guess what? I just got a call from an MNC last day. This has made me feel so happy. I hope everything goes well in the interview rounds as well."
Olivia, Junior Analyst
"I was looking for a professional to handle my LinkedIn profile for upgrades and addition of newly mastered skills in an impressive way. I guess placing an order with MyAssignmenthelp.com was indeed rewarding. The writers simply did a great job. Thanks a lot!"
Richard, Asst. Manager
"It was truly a great experience availing the services offered here at MyAssignmenthelp.com. I was trying to make my LinkedIn portfolio bit more interesting and appealing. The resume writers of this firm with their sincere effort solved my purpose with ease. Thank you so much!"
Shawn, Civil Engineer