100000+
Students can't be Wrong!

500000+
Orders

4.9/5
Ratings

3000+
PhD Experts
GET BEST GRADE, ORDER NOW

College Admission Essay Help Writing Service
A college admission essay is the single most item of the application package a student needs for preparing a college or a university application. US universities especially are known for setting extremely stringent standards for college admission essays. Even if someone has a high SAT score (say, 1800 and above) he or she would still need to nail the college admission essay in order to get a high percentile in the admission list. So do give this article on our admission essay writing service a thorough read before you start writing your college admission essay. On our website, you will find plenty of college application essay samples which will help you to write the best essay for college admission.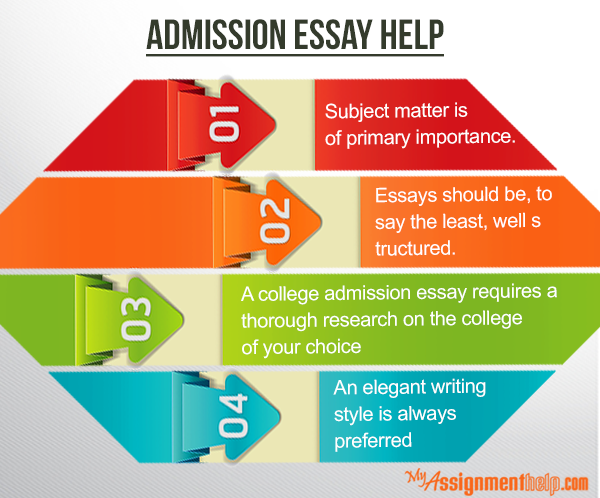 What is a college admission essay?
MyAssignmenthelp.com brings admission essay writing services for all students. To put it simply a college admission essay is one which is written by a college aspirant in order to secure a place in the college of his or her choice. It is also called Statement of Purpose (SOP) in the U.S. Universities that insist on a college admission essay along with SAT and TOEFL scores, recommendations and application fee. Other English language universities in UK, Canada and Australia also ask for college admission essays. The choice of subject is either pre-given or can be of student's own preference. The written essay is usually uploaded to the student's admission portal on the college website and is a pre-requisite for completing the admission process. Pre-given subjects can range from the mundane to the downright weird. Of course, our admission essay writing help service will help you with all that you need for your essay for college admission. Our website has many sample college essays written just for you which you can browse through. Some important tips to remember while writing the college admission essay are the following:
4 tips to write an admission essay
Subject matter is of primary importance. Students will have very little choice when a particular college sets a fixed college admission essay topic or a list of topics from which he or she has to choose. While generally colleges across North America prefer students to write on their personality, choice of major, achievements and failures, some prefer more unconventional subject matters. One of the most hilarious instances of unorthodox college admission essay topic comes from the University of Chicago. In the year 2009, the university sent out essay for college admission prompts on the college website: "Compare the university to an elusive lover". In the weeks that followed, the university's portal was with filled with 'love letters' of hopeful applicants pretending to be jealous lovers. One applicant wrote:
"Dear It fills me up with that gooey sap you feel late at night when I think about things that are really special to me about you… tell me, was I just one in a line of many? Was I just another supple 'applicant' to you, looking for a place to live, looking for someone to teach me the ways of the world?"
Realizing their mistake the university apologized and sent an email, assuring the students that they need not worry if their sample college essays seemed a bit frivolous.
However, while this is an exceptional admission case, pre-given college admission essay prompts can still be a bit tricky. Popular topics range from academic and non-academic achievements to a more general subject matter like "why the university seems to be a good choice for the student". More creative college admissions essay help prompts include, 'Describe a situation when you got caught' or 'what would you with a foot and a half jar of mustard?' Some colleges have even asked their students to write their college admission essay like poems or write a false letter to friends and family. Whatever your subject matter might be it is best to follow the prompt carefully and write what the college wants. MyAssignmenthelp.com, world's best essay writing service brings you fresh ideas on how to write a college application essay. We have plenty of college sample essay samples which you can use profitably.
Best college admission essays should be, to say the least, well structured. But it is important to structure your essay for college admission according to the subject matter at hand. If the topic is creative and uncommon, you can let your creative juices flow and write anything you want. On the other hand, if the essay for college admission requires stating additional information about yourself, it is best to follow a pre-determined structure. You can start with your personal details, followed by academic achievements and extra-curricular activities and round it up with the specific points which attracted you to the college. If the college admission essay help specifically asks you to write about the college, then concentrate on the college only. In such a case, you can start with a general introduction of college, its importance in academia and then come straight to the department or school in which you are seeking admission.
A college admission essay requires a thorough research on the college of your choice. It is imperative that you should have a good idea about why you want to study in a required college. So log on to the website and try to conjure up as much information you need on your college: its history, your faculty, their areas of specialty, recreational centre and even the canteen and the dorms. Showing that you know about your college, demonstrates your keenness. A thorough research can help you to argue your case better to the admissions committee.
An elegant writing style is always preferred. A clumsily written piece can create a negative impact on the admissions committee and affect your chances of securing a place. Choice of words, clever syntax and essays free from proofing errors are given more preference. Try to mix these up with humor and wit. There are however certain things that you should never do. Do not be casual or flippant about your subject. You want to come across as a warm and inviting candidate, not as a rude and offensive one. Social media English terms such as "whatz up", "lolz", "dude" are best left where it belongs: on the internet. And please do not start your essay with, "Dear College…" It's an application not a letter to a friend. For the best essay writing service, log on to our website where you get tips to write the best college sample essays.
Things to remember:
We have already looked at the main points to keep in mind while writing a college admission essay. For the sake of convenience, here is a quick recap for writing the best college admission essays:
Be creative when required but stick to the topic given.
Best college admission essays should cover all areas of your life while essays that ask you to state about the reason for application, should only contain information about the required college.
Maintain a coherent structure in your essay for college admission.
In the best college admission essays, an elegant rather than a casual style is preferred. But do perk it up with wit, humor and smartness when required.
Grammatical and spelling errors are cardinal sins. It's better to proofread and copy-edit your essay for college admission before submitting.
Do a thorough research on the school you are applying for. The little extra mile you take would always be appreciated.
Write a couple of sample college essays, just to be sure about what to include.
Finally stick to deadline for your college admission essay. Since applications have gone online now, the portal will automatically close down after the given deadline. Further, since most of the US colleges have a December-January deadline, chances are that the graduate office will close down for Christmas. So you would not be able to contact anyone via email or phone if you face a technical problem.
How MyAssignmenthelp.com can help students with the college admission essay?
MyAssignmenthelp.com now brings quality essay for college admission for students in US, UK and Australia. We not only have plenty of sample admission essays; our team of experts is ready to provide you with quality college application essay samples on a moment's notice. All you need to do is to log on to our website and fill in the details for the best college admission essays. We shall get back to you with free sample college essay quotes. Once the payment is done, you will receive your essay for college admission on the given date. For more information on essay for college admission, log on to our website. Apart from providing the best essay writing service, we also provide college homework help.