Whenever we talk about presentations, 'PowerPoint' is the first word that comes to mind. This is because most PCs and laptops come with pre-installed Windows Operating System that consists of PowerPoint (here is a sample on operating system). However, there are plenty of alternatives available on the Internet that may help you create better presentations than PowerPoint. In this article, the details of 16 of these alternatives are discussed.
1. SlideDog
You may have experienced switching between websites, PDF files, video players, music players and slide decks right in the middle of your presentation. It must have been embarrassing, isn't it? With SildeDog's interface, you can view all these on one screen and combine all these elements into a single playlist.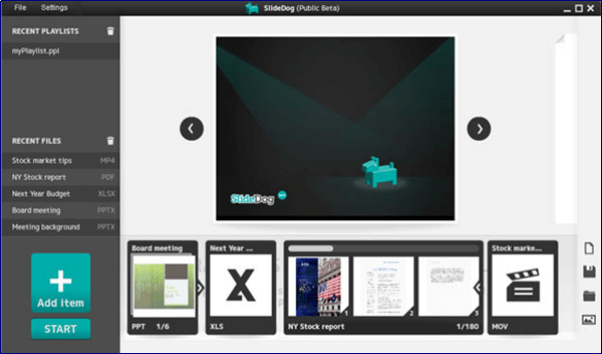 Features:
Creates custom playlists for presentation
Shares slides with your audience in real-time
Controls your slides remotely from a smartphone, tablet or a PC
Bring the participants into the discussion via a live chat
Add polls whenever you want during your presentation
A separate presenter screen can be viewed that has notes and slide thumbnails
Pros:
Seamless presentations consisting of multiple media formats can be created with SlideDog
Cons:
The major disadvantage of SlideDog is that you cannot design the slide content
Price:
The paid plans begin at $8.33 per month for a user
Best for:
Presenters who wish to utilize multiple formats of media.
2. Keynote
Keynote is a PowerPoint clone for Apple device users. It allows for functions that are similar to PowerPoint but it is undeniably much easier to use. The iCloud feature is the highlight of this application.
Features:
More than 30 cinematic effects are available for text and objects
Interactive and animated chart-making is possible
You can use your iPhone or iPad to view and edit your presentations
Slides and presentations can be easily shared and collaborated on
More than 30 polished designs and templates are accessible
Import and edit PowerPoint files on Keynote or save your Keynote presentations as PowerPoint files
'Magic Move' transition
Pros:
Compatible with PowerPoint
iCloud feature
Cons:
Does not support Visual Basic
May lose data when attempting to open files in other applications
Price:
Free with Apple computers, but $19.99 for other computer users
Best for:
Apple device users.
3. PowToon
This is one for the animators. PowToon is possibly one of the leaders in the 'Do-It-Yourself' animation presentation genre of applications. It allows users to create presentations using animations and videos to make these presentations more interesting, engaging and enjoyable.
Features:
Voice-over and music features
Compatible with any device
Web-based service
Create animated presentations with pre-created objects and customized templates
Pros:
Free web-based service
Easy to use
Great for story-telling
Cons:
Paid plans are expensive
Limited styles available in free mode
There will be a PowToon watermark on the created work in free mode
Price:
It is essentially a free web-based service. Its paid plans begin from $9 per month for a user
Best for:
Businesses that wish to create a small product or service video
Educators (they have a separate application for educators)
4. Slides
Slides.com is a web-service that is cloud-based. It is a presentation software that allows for ease in collaboration with other programs and devices.
Features:
Online cloud-based service that can be accessible from anywhere with an Internet connection
Can be viewed and edited in mobiles, tablets and laptops
Presentations are private. Only you can view them or choose to publish them online in the public domain
Offline accessibility available through easy export of presentations
Remote accessibility is available
Live broadcast of presentations to any audience
Custom CSS editor
History of revision is available to modify mistakes without making the presentations from scratch
Pros:
Remote accessibility
Revisions are possible
CSS editor
Cons:
Less functionality as compared to other applications
Price:
Essentially a free service; paid plans begin from $6 a month for a user
Best for:
Students, teachers and individuals in general.
5. Project
This application is for creative individuals who want to make a presentation in the genre of real-time story-telling. You can integrate videos, images, live tweets, RSS feeds, audio notes and interactive maps into your presentation to narrate your story in the most effective manner.
Features:
Non-linear presentations can be created. They include multiple layers and sub-presentations
Access, view and edit your created presentation from any device
Import PDF and PowerPoint files
Add live feeds to your presentations
Embed and share anywhere
Pros:
Insertion of live feeds and accessibility from any device
Cons:
Limited layout and design options
Price:
Free web-based service
Best for:
Reporters, educators, students and other creative-minded people.
6. Prezi
Prezi is a cloud-based software that is popular for allowing its users to create non-linear presentations. It also pans and zooms a slide to another page without making it seem like the slide has changed.
Features:
Access, view and edit presentations from any device
Store your presentations in cloud
Share your presentations and collaborate with others
Download your presentations for offline use
Use advanced tools for image editing
Flexibly manage your privacy settings
Pros:
Creation of non-linear presentations is easier
Cons:
It is not completely customizable
Can only be used to create non-linear presentations
Is proven to cause motion sickness in some people
Price:
Its paid plans begin at $4.92 per month for a user
Best for:
Speakers, companies, students and teachers.
7. Prezentit
Prezentit is yet another web-based application that lets users take control of their presentation's memory usage and accessibility. It was originally created for computer users in Peru to help them evolve from users of the PC for entertainment to users of the PC for work purposes.
Features:
Web-based application
The User Interface is one of the best
Transitions are smooth
A gallery of background art is available
Pros:
Smooth transitions and a brilliant User Interface. Shows a lot of potential
Cons:
Is not compatible with PowerPoint files and lacks most PowerPoint features
Still in testing stage.
Price:
Free
Best for:
Everyone.
8. SlideRocket
SlideRocket was purchased by ClearSlide a few years ago. It is a great presentation software that can be used for better sales promotion. They have also heavily invested in their User Interface.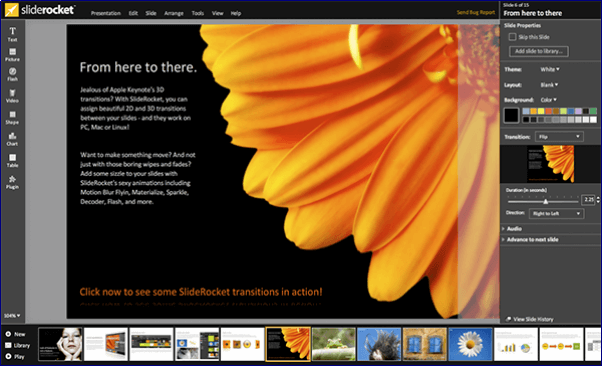 Features:
Import of presentations from anywhere
Remote accessibility
Create presentations online
Easy sharing and collaboration options
Dynamic presentation with the easy embed feature
Privacy is protected
Analysis of presentation effectiveness
Pros:
Upload files from any software and file format
Lively User Interface
Good for videos and online sharin
Cons:
A bit expensive and falls short of creative options
Price:
Paid plans begin from $12 per month for an individual user
Best for:
Organizations that have marketing and sales as their objective.
9. Slidebean
This is a relatively new application that designs your slides for you. The website itself promises its users that they only have to input their content and the website will create and design the slides for them.
Features:
Different content templates for their respective purposes (business, marketing, startups)
Use CSV data to create charts
Search and add created images from the gallery within the software
Access the viewers' actions for every presentation
Share and collaborate with other users
Live chat feature is available to communicate with other users
Access to numerous icons
Browse created color palettes
Pros:
Allows you to focus on your slide's content and not its design
Cons:
No animation options
Price:
Paid plans begin at $10 per month for a user
Best for:
People who want to make presentations in a short span.
10. CustomShow
This software allows businesses and organizations to create custom-branded presentations. It can be classified as a sales enablement tool because sales professionals get flexibility and a host of options when using this software.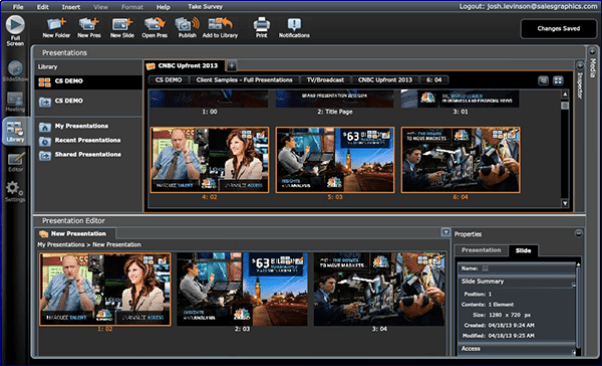 Features:
A slide library is present
Available offline as well
Is compatible with all devices including PCs and iPads
Separate applications for every platform (iPad App, Desktop App, Web Viewer)
URLs can be pasted in tweets, LinkedIn posts, and emails
Presentation metrics
Web Meetings feature – Stream full-screen video
Pros:
Customized branded presentations
Web Meeting feature
Presentation metrics
Cons:
Analytic platform is not well-established
Price:
Contact the site for pricing. Free trial is available without the use of your credit card.
Best for:
Marketing and sales professionals; Design agencies.
11. SlideShark
It is an application that is mostly used by sales and marketing representatives to present via any device that they choose. It is a web-based service that is one of the best in broadcasting presentations to a wide audience.
Features:
Cloud storage integration
Presenting and broadcasting over the Internet
Sharing and tracking views
Making annotations on the slides
Presenter mode
Pros:
You can access and view your presentations from anywhere
Cons:
Customization of presentations is not possible.
Price:
100MB storage is free. 600MB and 1.1GB is available for $49 and $98 per year respectively.
Best for:
Individual business owners; Sales and marketing professionals.
12. Haiku Deck
This is a cloud-based presentation software that is considered as the mobile and portable alternative to Powerpoint and Prezi. It offers 35 million stock photos and 27 distinct templates.
Features:
View and edit your slide decks from any mobile device or an iPad
Availability of templates with strong visuals and big bold text
Export presentations to PowerPoint, PDF, or Keynote
Access photos from professional sources like Getty Images and graph creator
Add full transcript or private talking points slides that have been published
View slide galleries
Week's best slide galleries also available
Pros:
Visuals and graphics are very strong
Cons:
Lack of customization options
Price:
Paid plans begin from $5 per month for a user.
Best for:
Salespersons who travel a lot.
13. Emaze
Emaze is an easy-to-use presentation software that operates on HTML5. This feature means that it can run on any browser and device, including tablets and Chromebooks.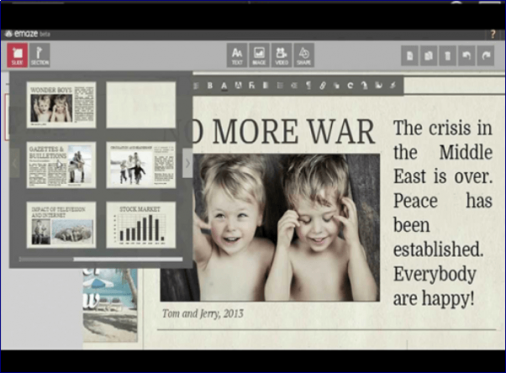 Features:
The ready-to-use templates enable you to create presentations within minutes
The automated translation tool lets you share your presentations with anyone in the world
It is a cloud-based software that enables you to access your presentations from anywhere with an Internet connection
View and modify your presentations from any device
Pros:
The creation of sophisticated visualizations with minimal effort is its biggest advantage
Cons:
Takes up a lot of storage space and is not compatible with older devices
Price:
Paid plans begin from $9 per month for a user
Best for:
People who want to make presentations with easy-to-use 3D templates.
14. Preseria
It is a presenter's tool that allows you to manage many presenters in a large conference. It is most useful in uploading your presentations and organizing conferences.
Features:
Conference planner, player and publisher
Instant conversion to PDFs
Supports most presentation formats
Support for latest VLC, Prezi, Chrome, Adobe Reader, and PowerPoint applications
Pros:
Great tool for sharing and organizing content seamlessly
Free download
Cons:
Cannot create customized presentations
Price:
Free download and updates
Best for:
Conference leaders and event coordinators.
15. Visme
It is drag-and-drop software that is cloud-based. You can create presentations, info graphics, reports, product demos, visualizations and even resumes. It allows users to create virtually any type of visual presentation.
Features:
Manage your privacy by controlling who can see your projects
Add interactivity and animation to any element by inserting videos, surveys, call-to-action buttons, quizzes, etc.
Download presentation as PDF, image or HTML5 to work offline
Publish and share your presentations anywhere. Just share the presentation URL or embed it into a site
Access content management and collaboration tools
Import PowerPoint presentations
Access the combined statistics of your project views in one place
Runs on any browser and device since it is HTML5-based
Generate leads with presentations
Pros:
Creation of virtually any visual content
Addition of audio, animation and full interactivity
Cons:
Lack of presentation templates
Price:
Paid plans begin from $7 per month for a user
Best for:
Educators, marketers, corporate teams and entrepreneurs.
16. Kineticast
Kineticast was created mainly for Business-to-Business (B2B) salespersons. It enables them to be more effective in their activities of marketing and sales. The objective of this software is to create personalized messages using slides that are meant for particular prospects.
Features:
Detailed analytics
Creation of customized messages using slides
Effective follow-ups
Great storage
Pros:
Enables the sales professionals to improve the effectiveness of their sales promotion activities
Cons:
Customized presentations are not possible
Extremely expensive
Price:
Paid plans begin from $24 per month for a user
Best for:
Marketers and Business-to-Business sales professionals
Al these 16 capable alternatives to the Powerpoint application can be used to make presentations livelier and more interactive.
Artificial Intelligence Powered Presentation Software
The Beautiful AI
Features:-
Slide Design adapts with changing content. Now the slide self designs.
While adding content , the fonts, lining up text boxes or animation features adapt involuntarily.
A wide library of pictures and images
The image library consists of millions of beautiful, free images and icons.
You can know well of beautiful AI from the testimonials of two experts.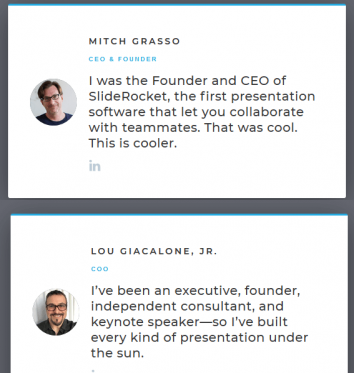 "Level of Difficulty:Low (with options for advanced presenters)
Elevator Pitch: Beautiful.ai is smart software that designs your presentations for you in real time.
PROS
• It's 100% free (with options to upgrade down the line)
• It's easy to learn (just remember to take the tour!) and simple to use
• The built-in "design-a.i." ensures the entire presentation has a continuous, cohesive design theme and color scheme throughout
• The "smart templates" adapt the layout of each page as you add content, to ensure it looks professional
• The desktop app download allows for offline playback
• There are eight customizable themes to choose from
CONS
• You can't control the exact position of every element in the slide layout
• There is no "blank slate" slide layout; just drag-and-drop smart templates
• You can't import your own custom templates
MyAssignmenthelp.com creates apt presentations
Using best software and tools
The creation of presentations requires a lot of effort in research, template designing, insertion of image, audio and video etc. Students are often caught up in daily tasks and some are even busy in part-time jobs. They do not get enough time to create the perfect presentation that can get them an 'A' grade.
MyAssignmenthelp.com is an online coursework assistance portal that helps such students to create a great presentation. The portal's experts have years of experience in using software like Powerpoint, Visme, Emaze, Keynote, PowToon, etc. Their methods of slide design, content, media and presentation technique are top-notch and according to the respective University's guidelines because these experts are affiliated to some of the top Universities in the world.
Students rate this portal's services highly because of –
Availability of affordable pricing scheme with discounts
Customized work delivered well within the set deadline
100 percent plagiarism-free content
Easy payment process through PayPal accounts.
Captivate your audience with the portal's custom-made presentations.