A persuasive essay is also known by the name of argument essay. It uses reason and logic to convey that one idea is much more legitimate than the other. The essay tries to persuade a reader for adopting a certain point of view or to take a particular action. The argument should always utilize solid evidence and sound reasoning by stating facts, providing logical reasons, quoting experts and utilizing examples.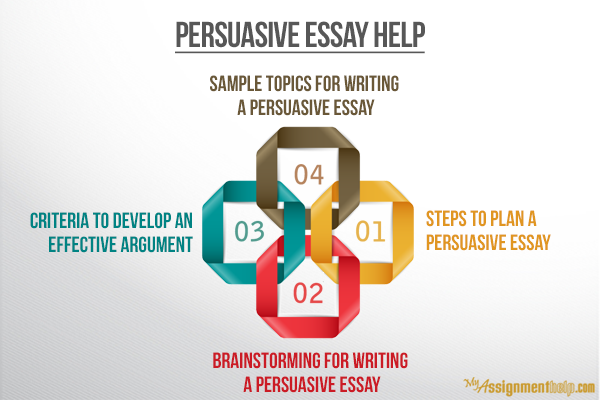 Steps to plan a persuasive essay
You can avail custom essay help or follow these steps while planning a persuasive essay:
Step 1 Opt for your position:
Which side of the problem are you going to write about and what solution can you offer? You should know the objective of your essay.
Step 2 Examine your audience:

Decide whether your audience is neutral, agrees with you or disagrees with your position.
Step 3 Research on your topic:
A persuasive essay should provide convincing and particular evidence. Usually, it is mandatory to go beyond your knowledge and experience. You may have to go to your college library or even interview people who are experts regarding your topic.
Step 4 Structure your essay:
Figure out the evidence that you will be including and in what order you will be presenting the evidence. Remember to consider your audience, your purpose and your topic.
Brainstorming for writing a persuasive essay
Once you get over with the brainstorming sessions, writing on a topic will not be a problem. Here are the vital points on which you have to brainstorming for writing a persuasive essay:
Write about a topic you strongly believe in:
It should be easy for you to persuade the reader on a topic that has persuaded yourself. If you need to write on a topic that you do not care about much then try imagining on which side of the argument you will stand. A topic of your liking will surely help you to recollect and think over numerous essay ideas in a faster and better manner.
Search for a topic that has depth:
You cannot persuade the reader through an essay that does not convey a deep discussion. A topic like an ink pen will not ga
er too much interest in the reader's mind. On the other side, if the essay topic is on a debatable issue like animal rights then it can generate interest. Generating interest is crucial for persuading the reader.
Consider counter arguments:
It is important for you to come up with possible viewpoints that can oppose your argument. This feature can make your opinion controversial for the reader and may ultimately lead to persuasion.
An expert can help you with the above points if you avail custom essay help or even dissertation writing help since proper brainstorming is important for all academic tasks.
Criteria to develop an effective argument
It is recommended to avail assignment help while working on a persuasive essay, especially on elements like the argument; otherwise you can even refer to the following criteria for developing an argument to persuade the reader:
Be well informed about your topic:
If you want to add something more to the knowledge of the topic then read thoroughly about it, using legitimate sources. Take notes.
Test your thesis:
Your argument should have two sides. It needs to be debatable. If you are able to write a thesis statement directly opposing your own, you can ensure that your argument is debatable.
Disprove the opposing argument:
Try to understand the opposite viewpoint of your position. Then counter it by providing contrasting evidence. You can even find inconsistencies and mistakes within the logic of the opposing argument.
Support your position with evidence:
Remember that your evidence must be appealing enough to present a reason.
Sample topics for writing a persuasive essay
If your professor tells you to write a persuasive essay on a topic of your choice, always go for a topic that can help you in building a strong argument to 'persuade' the reader. Always remember that the prime objective of this essay is persuasion of the reader. Here are a few topics on which you can write a persuasive essay:
Should students be permitted to use cell phones in schools and colleges?
i. Should the college athletes be paid for playing?
ii. Should senior citizens be entitled to free bus rides?
iii. Should marijuana be legalized for medicinal purposes?
iv. Should the age of driving be raised to 21 years of age?
v. Should students' textbooks be replaced by electronic notebooks?
Remember that you should not choose a topic over which you are unable to build a strong argument. The only way out to construct a strong argument is by backing it with concrete evidence. In this way, the process of persuasion becomes smoother, and the essay can achieve its goal.
Sample persuasive essay
Essay 1: Censorship and the First Amendment: The American Citizen's Right to Free Speech
"If liberty means anything at all, it means the right to tell people what they do not want to hear."
George Orwell
Adopted in 1791, the First Amendment, states that "Congress shall make no law abridging the freedom of speech, or of the press or the right of the people peaceably to assemble, and to petition the Gove
ment for a redress of grievances." (Pilon, p. 13) The freedom of speech documented in the First Amendment is not only a constitutional protection, but also an inevitable part of democratic gove
ment and independence, which are essential values in our society. "Censorship," according to Justice Oliver Wendell Holmes, "is an almost irresistible impulse when you know you are right" (Sunstein, p. 25). That is why the American citizen's right to free speech is should be held as the highest virtue and any censorship of freedom of speech should not be allowed, but only respected.
Essay 2: Evaluation – Music Exploration
The origins of music like of anything ete
al and saint are not exactly defined as it spreads all around the lands of the world. Like religion it searches the areas of every tiny co
er of our planet touching the hearts, strengthening the feelings, bursting emotions. It is easily spread by the people travelling around the countries who bring their music to a new undiscovered areas, just as they bring with them their own faith or rituals.
How MyAssignmenthelp.com can help students to write essays?
MyAssignmenthelp.com consists of a talented team of writers who can help students to write persuasive essays. The writers provide services like essay writing, editing and proofreading. Students can get in touch with the writers any time of the day with their queries as they are available 24X7 through live chat. Students can get full assistance on impressive argument writing and thesis testing.
Apart from essay writing assistance, our writers provide various other services too. One of them is assignment help. Nowadays, university students are lured by various websites that claim to provide the best assignment help at affordable prices. The reality is that such websites do not have qualified tutors or even proper platform to support the curious questions posed by the global student community. In contrast, MyAssignmenthelp.com has emerged as the industry leader by giving assignment help, particularly marketing assignment help, to students from Australia, US and UK. Due to constant requests made by our clients, we have introduced dissertation writing help and custom essay help to fill the enormous gap. Expert help is offered in subjects like HR, finance, accounting, statistics, economics and many others like law and nursing.
We even offer programming assignment help to students who face problems in coding, Java Language etc.