Save Time & improve Grade
Just share requirement and get customized Solution.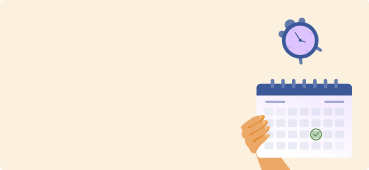 7 Brilliant Strategies To Narrow Down Your Topic And Write A To-The-Point Paper
Mark
13 February,2017
So you thought the evolution of music is a good topic, eh? You thought you nailed it. Until you sat down to write it. Then this pretty picture you had of you succeeding in writing the marvelous essay your teacher has ever seen suddenly burst into flames. And all you were left with were the ashes of your failed topic, with that gloomy back-to-square-one feeling that you know you can't shirk off.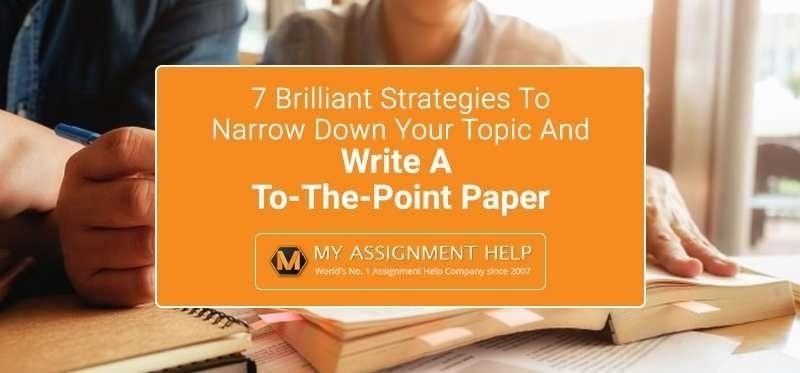 So What went Wrong?
Think about it first. We want you to think about it. Just take a guess. It's okay if you don't get it right. It's worth the shot.
Still don't get It?
Well, when you actually start writing on the 'evolution of music,' you'll realize the topic is way too broad, way too vast to be crammed into the couple of hundred or thousand words that you have to write for your paper. It's impossible to fit the entire history of music, right from the very start of humanity up till the present moment, into a small paper. Plus, you wouldn't know which genre to talk about, neither which country to focus on. Now, that's a fire-starter right there.
So How do you Douse this Fire?
By choosing a narrowed topic. No, that doesn't mean you have to chuck the 'evolution of music' altogether and start your research all over again to find a new topic. You just need to 'go deep' into the 'evolution of music' and extract a topic from one of its multiple aspects. This narrowing is vital as it'll help you write a to-the-point paper. The next logical question in this series of questions would be-
How do you Narrow a Topic?
Lo, behold the various ways you can employ to diminish the broad scope of a topic and bring it down to the grass root level.
1. Analyze the Different Components of the Topic and pick one of Them
Let's just say your music teacher wants you to write an essay. Now you already have the broad topic, and you do know that you can interpret it in various ways. How about you pick up a component of it and write on just that? This means you'll have to break down your topic into smaller variables. So instead of writing about the evolution of music in general, you can focus your paper on how the religious music scene has changed over the years.
2. Make use of the S.O.C.R.A.P.R. Model
By making use of the S.O.C.R.A.P.R. model, you can further narrow down your topic to something you can easily write on. The S.O.C.R.A.P.R. model is an acronym that stands for the following-
• S – Similarities
• O – Opposites
• C – Contrasts
• R – Relationships
• A – Anthropomorphisms
• P – Personifications
• R – Repetition
By using this approach, you can base your essay on any one of the above aspects. For example, instead of writing on 'evolution of music,' you can instead compose an essay worth reading on the similarities between Jazz in the 1920s and as it is in the 2000s. Or you can write about how opposite, how different they are from each other. This is a no-fail option, and when nothing comes to your mind at all, you can rely on the S.O.C.R.A.P.R. model to come up with a paper that will prove to be an interesting read.
3. Subject the Broad Topic to several Smaller Questions
Well, this is just a microscopic way of looking at a broad topic so you can find the bits and pieces it is made up of and then pick a topic from any one of those bits and pieces. What we mean by subjecting the broad topic to several questions is that you have to analyze the topic in terms of certain simple, straightforward questions. These are - Who? When? What? Where? Why? And How?
For instance, if we continue with our 'evolution of music' example and subject it to these questions, we can come up with the possible topic- 'How has rapper, Eminem's music evolved from the early 1990s to the late 2000s?' Here you have almost all of the above questions answered, and the new topic that has emerged is a lot easier to write on.
4. Throw in some Specific Words to instantly Reduce the Scope of the Topic
There's no doubt that if you go into the whys, and hows, and whats and whens of a topic, you will end up taking a lot of time to fixate on a specific one. This is because this process is very time-consuming, and you may not always have this much time to spare on every assignment you get. You need a quicker method than that to figure out what you truly want to write about. Now while going by the topic that comes to your heart might sound like an appealing idea, it's not going to be the most practical one. The easiest way would be to just add some basic, more specific words to your broad topic. For example, continuing with the same 'evolution of music,' if we add some specific words to it such as 'British pop' and '1970 onwards,' we'll have to ourselves a wonderfully interesting topic to work on, which would look something like this-
"The evolution of British Pop music from 1970 onwards to the present times."
5. Research Extensively on the Broad Topic
Ideas do not always strike that easy. And sometimes you need to drown yourself neck deep in research so that you can find that one idea that can inspire you to spew out a thousand words on it. In that case, the internet can be your best friend. You'll be amazed by the various kinds of results you get when you type in your keywords (the broad topic). When we Googled 'evolution of music,' we found quite a few interesting results. Sample the few given below-
• The evolution of music: How genres rise and fall over time (Source: The LA Times website)
• The evolution of music and human social capability (Source: Frontiers in Neuroscience website)
• The Evolution of the Music Industry- Where We Go From Here (Source: The Huffington Post)
As you can see, the above topics are all really interesting, and these can be fun to write as well as enjoyable to read. And these were just some of the topics we found on the first page of Google research results! If you browse a few more pages, you are bound to find something or the other that catches your fancy.
6. Consider your Word Limit to Narrow your Topic
This can be one of the best narrowers (if we can take the liberty to come up with a term like that; we're just inspired by 'leveler'). It can help you in chopping off several unnecessary aspects of a topic until what you're left with is one very explicit topic that will easily fit into the constraints of the word limit set by your teacher. For example, 'evolution of music' in itself is very broad as you know for a thousand word paper. Again, one of the topics we found on the internet, 'The evolution of music: How genres rise and fall over time' is a very lengthy topic that'll require more than a thousand words if you wish to do justification to it. But if you just take this aspect – 'evolution of music: how the white man became a rapper' – you can narrow it down to a considerable extent so that you can fit the essence within a thousand words without facing any difficulties.
7. Use a Combination of Any one of the Above
Finally, it is quite possible that none of the strategies mentioned above may work out for you on their own, independent of each other. In that case, why not combine two or more of them to come up with that narrow topic you're wishing for? Try combining the methods of extensive research and the S.O.C.R.A.P.R. model to come up with a topic that'll be truly unique, the kind that no one else in your class will be writing on. Who knows, you may just get extra marks on your paper for being so original. The combination of different strategies is a sure-shot way of coming up with a very narrow, niche topic.
So, you've got one major hurdle out of the way and have an oven-fresh topic ready for your paper. But that's not the end of the hurdles on your essay writing journey. The big question of how you can write a focused paper is still left to be answered. And yes, having a narrowed topic is the first step to that but there are more things you need to do. Consider these-
• Avoid over-exaggerating
It is easy to get carried away when you finally find that one topic that you want to write on and that also has enough information available on it (talk about cherry on top of the cake). In a bid to cram in all that research, you may end up over-exaggerating on one point. Take the topic of 'how the white man started rapping' for instance. Yes, Eminem will be a big part of it, but Eminem will not the only part of it.
• Segregate all of your ideas and put them in different paragraphs
This way you'd already know what you're writing in each paragraph and whether the concepts string along like perfect pearls or have a knot in the middle that just doesn't fit. If there's a knot, that means you're drifting off topic and are disrupting the flow of the essay. Remove that point immediately and add a new one in its stead.
• Underline each topic statement
A topic statement is something you write at the beginning of each paragraph to denote what that paragraph is going to be all about. By underlining this statement, you'll never lose sight of what you're supposed to write as highlighting it will serve as a constant reminder to stay focused.
• Back up your matter with data
You'll have to do a little bit of extra research, but we promise you, this hard work will be worth it. It'll definitely result in better grades. But that's not all. When you have some solid evidence to back up your thesis/topic statement, there'll be minimum chances of you straying off topic.
• Adhere to the essay prompt
Sometimes your teachers will give you a specific question that you have to touch upon in detail in your essay. If you want to write a focused paper, it'll be wise for you to direct your research to answering that question only, even if you're tempted to the go the extra mile just to appear smart.
Final Words
While most things academic may appear to be extremely difficult as if they are mountains you just cannot climb, in the end, they are fairly simple if you just know the right tricks. Once you employ these hacks when writing, you wouldn't feel that under-confident or stressed out anymore, and will actually be able to produce a best quality assignment paper. So don't delay, and just get on with it.
Struggling to write a logical and well-organized paper? Visit MyAssignmenthelp.com
When you have so many assignments to do, you may get too exhausted to be able to produce another essay in a logical manner. There's a simple solution to this problem – visiting MyAssignmenthelp.com. The 3000 PhD experts we have are known to tirelessly produce one quality essay after another that is completely devoid of plagiarism. Plus, with us, you don't have to worry whether we cover the essays for your subject. This is because we provide services for over a 100 subjects that include all the major ones taught in schools and universities. Our rates are not exorbitantly high, and you can easily afford our services. Moreover, you only have to make a one-time payment, and we won't charge you extra for any revisions you may require. To know more about the services we offer, give us a call on +66261003843 right away.
Was this article helpful?