Growing up, we all read detective stories. Our favourite detectives have their own methods of deduction. Sherlock shuts himself off in his "mind palace." Hercule Poirot gives his moustaches a twirl, and puts his "little grey cells" to work. Cormoran Strike takes a long-winded yet precise approach at piecing together a crime scene in his mind. Arriving at a conclusion can thus have a multi-faceted approach. And as our favourite detectives show us, you have got to choose your own style if you want to be successful in life.
The same goes for taking notes. Some may prefer to take notes online, while some carry a journal around for the purpose. Some may be comfortable with doodling and shorthand. Some may stick to a basic outline-like structure. Some fancy spider-web methods or mind mapping, while some follow no structure at all. No matter the process you are following currently, there's one that can put an end to all your note-taking woes at once. One look at Cornell notes templates online, and you will know what we are talking about.
Developed by professor Walter Pauk of Cornell University in the 1940s, Cornell note-taking method took academia by storm. Thousands of students have since benefited from the simple-yet-ingenious way of taking offline or online notes. Read this post to find out how you can prepare for that difficult quiz like a pro using Cornell notes templates.
Cornell Notes Templates: easing into the method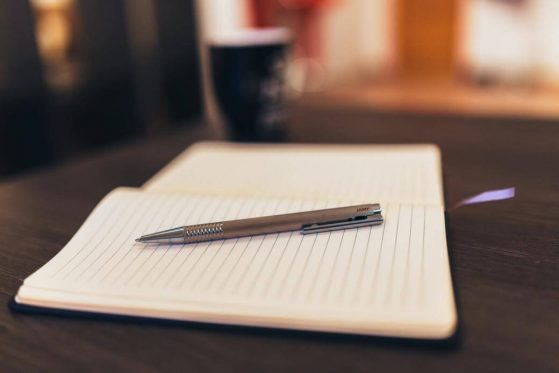 Image Source: https://www.pexels.com/photo/coffee-notebook-pen-writing-34587
The Cornell note-taking method stands out from the rest when you look up online notes and templates. With easy MS Word templates, Cornell notes take on a whole new dimension when you learn how to use them well. Subjects and the most difficult of topics become simple with a Cornell notes template.
But before you start scouring the Internet looking for Cornell notes templates, here are a few things you need to know.
You must approach studying and retaining topics in the specific method detailed in the Cornell note-taking process
You should have a basic understanding of how MS Word works (like how to make two columns in Word) to customise Cornell notes templates any way you want
You must follow a systematic note-taking schedule for all subjects to align this method with your study goals
Divide your thoughts, ideas, and concepts between the three sections in Cornell notes. That way, you can keep all the essential information in one place for all subjects.
Cornell Note-Taking Method: the whats and the hows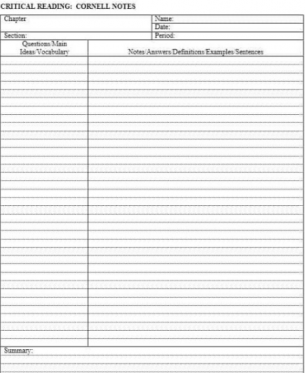 Image Source: http://templatelab.com/cornell-notes
Let's take a look at the main elements of Cornell notes. You need to divide the blank sheet of paper into three distinct sections. Each of them contains an essential component of the topic in question. No matter whether you are taking offline or online notes, here are the three sections that your Cornell notes template must contain. You can use these as a reference the next time you wonder "how to take Cornell notes?"
Keywords/ questions/ main ideas: You need to identify the critical elements for each topic that is taught in class. Go over the notes you jotted down in class, and identify the main keyword for each topic. You can also use keywords in question formats. The notes in the template can form effective answers to the questions you put down in this column.
For example, write "igneous rocks: features" as a keyword or question when taking down notes on the traits of igneous rocks.

Notes: The main part of your notes will go in this section. Use shorthand or abbreviated forms for taking down important points. This portion contains the main chunk of your notes. You should jot down this part at the lectures itself.
For example, jot down the main properties of igneous rocks for this section. No need to compose whole sentences or be too elaborate; jotting down the most important parts would do just fine
Summary/ takeaways: This section contains the primary takeaways from the notes. Summarise the entire topic using keywords, questions and their answers for future reference. You can summarise your notes on a weekly or daily basis, as per your study schedule.
For example, you can summarise the features, and write "granite, pegmatite and gabbros" as instances of igneous rocks found in nature.
This way, your Cornell notes will provide you with a solid overview of the topic you are currently studying. Fancy journaling for all subjects so you prepare better for the quizzes this term? Pick a Cornell notes template on Word (or create your own). Simplify your subjects like never before using the template to break down tricky topics. MS Word templates and online Cornell notes templates that you can download can be your go-to study hack this term.
Check out this blog to brush up on basic MS Word skills like how to add lines in Word, how to make columns in Word or how to change margins in Word. Once you master using MS Word to the best of your interests, you will be able to create and maintain a systematic process of studying. Retaining difficult concepts and comprehending crucial points in a topic will become a lot easier when you go by a Cornell notes template for your studies.
Summing it up
Cornell notes help you sort out every subject in style. With distinctive portions that streamline your study style, the Cornell note-taking method is pretty helpful. Use this method to crack any tricky topic. Apart from traditional lecture settings, you can also use this to sort your notes for personal study time as well. If you are feeling tad adventurous, you can also check out Cornell notes examples online. Conquer the challenges that an elaborate topic poses. Simplify it using the Cornell notes approach. From packed lectures at your B-school to business meetings, mastering Cornell note-taking methods will reap you lifelong benefits. Good luck with sorting out that huge pile of notes.
Cannot understand hurriedly scribbled notes in class?
Get help with Cornell Note taking at MyAssignmenthelp.com
Sail through college and university without a care in the world. Get the grades you always dreamed of, all thanks to the finest assignment assistance in town. Insightful info, accurate references, and precise structuring make our completed assignment solutions shine bright. With a team of the brightest minds Down Under, we are your go-to destination for all kinds of assignments.
From aiding you with proper note-taking methods to composing essays on critical topics, we rock at providing assignment help. Not only essays, but you will also find tailor-made solutions for dissertations, case studies, coursework, presentations, term papers, homework, lab reports and many more. What's more, availing assignment help from the finest experts in town does not cost a bomb at MyAssignmenthelp. We offer top-notch assignment help at rates that you can afford topped with discounts to help you save big. Here are a few amazing perks that you can get as add-ons to our awesome assignment writing services.
5000+ eminent experts at your service
Insights from experienced industry leaders
Deliveries at the blink of an eye
State-of-the-art plagiarism scans and reports
Citations and referencing done to the T
Free rework and revisions
Unbelievable prices and coolest discounts
Customer support that stays online 24*7
Be it rain or snow, we will rush to your aid with customised assignment help. Get in touch with our customer support team to grab the best deals right now!