Save Time & improve Grade
Just share requirement and get customized Solution.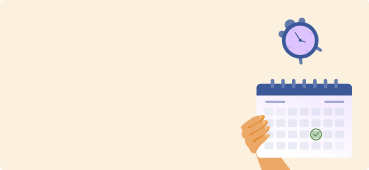 How to write a memorandum?
Jack Williams
03 July,2019
As a student, if you harbour the big 9-to-5 dream, then there is one skill that you absolutely have to master, and that is communication. In this case, a huge part of professional communication happens to be writing and sending out memorandum.
So, what is a memorandum?
A memorandum (also called, memo or reminder) is sent out for internal communications on the procedures or official business within a company.
As opposed to emails, a memo is sent to a large group of employees, like your entire department or everyone in the company. A memo is written to inform staff about some internal changes, or any upcoming events.
To help you gain further insights on memorandum format, we have curated a comprehensive guide.
How to format a memo?
The steps mentioned below provide an in-depth understanding of how to format a memo or how to end a memo.
1. Write the memorandum title
You need to mention that this document is a memorandum at the outset. Keep the word in bold on the first line. You can either choose the centre alignment or align it to the left. You might make the font larger in order to highlight the word. Add a double space between this line and the next line of the heading.
When presenting the memorandum title, make sure to use a double space between sections and align the text.
2. Address the recipient appropriately
A memo is a common type of formal business communication, and it requires that you address the readers formally as well. If you're sending the memo to an individual, then you need to include the full name and title of the person. If you are sending a memo to a group of people, then you might write: "TO: the team."
3. Add additional recipients in the CC line
The "CC" line highlights who will receive a "Courtesy Copy" of the memorandum. The memo may not be directed to this person or group of people. Instead, you should just include them because they must stay informed about the policies or issues that you are elaborating in the memo.
4. Think about the readers before writing the body of the memo
In order to get people's attention and get them to revert to the memo, it's important to consider, length, and level of formality of the write-up. Doing this perfectly requires that you have a clear idea of whom the memo is directed at.
The following are some considerations to ponder over while writing the body of the memorandum.
Think about the concerns of the audience.
Try to assume any questions your readers might have. You need to plan the content for the memo, like the examples, evidence, or other vital details that will persuade them.
Considering the audience also helps you to be sensitive about including any detail or sentiments that are inappropriate for your readers.
5. Support your course of action in the description
Provide a brief summary of the actions that will be adopted. Present solid evidence and logical reasons for the solutions you propose. Start with the most significant detail, then focus on the supporting facts. Mention that the readers will benefit by following the action you have suggested in the memo.
You can incorporate lists, or charts, particularly in longer memos. Just be sure they are truly persuasive and relevant.
For longer memos, you must use a shorter heading that clarifies the content of each category. For instance, instead of simply mentioning "policies", use "New policies regarding dress codes". Be specific while writing the heading so that the basic point of your memo is apparent to the audience right away.
6. How to end a memo
The final paragraph should reiterate the next steps to address the issue at hand. It should also emphasise on a warm tone in conclusion.
You may include, "I will be glad to discuss these suggestions with you later."
You might conclude the memo with something like, "We are excited about the implementation of this new policy. We're confident that this will develop our business and make this organisation more sustainable." You can wind this section in one to two sentences.
7. Proofread the memo thoroughly
Review and edit your memo precisely so that it is concise, clear, persuasive, and devoid of errors. Ensure that you maintain consistency in the type of language that you use. Eliminate unnecessary eloquent words or technical jargon.
Make sure that it is not very long, and omit any extraneous material.
Review the memo for grammar, spelling, and content errors. Pay proper attention to dates, names, or numbers.
Here is an example of a professional memorandum.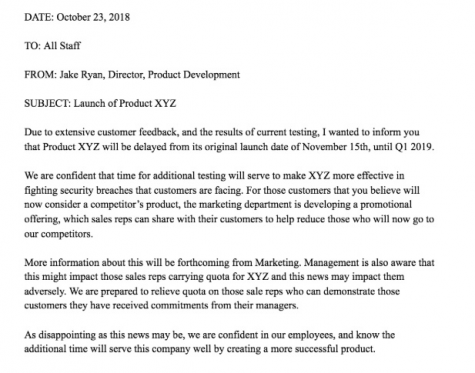 Useful tips on how to write a professional memo
The following are some of the effective tips to present a great memorandum.
Focus on the essential information within a limited space
Sometimes, the memo heading will get exceptionally lengthy, which makes it very complicated to read. Since the description part of the memo takes up most of the space, so you'll want to minimise the amount of space the header takes up.
You need to remember that a lot of people open their messages and emails on different devices like phones and tablets. And if your header is too lengthy, they have to scroll a lot to see the real contents of the memo.
Don't emphasise on too many 'whys'
It's mandatory to elaborate on why you want to implement something, but don't overdo it. If you must include multiple reasons, put them in a separate document. This way, the actual message of the memo doesn't get lost in a sea of details.
Keep the paragraphs short and limit each paragraph to five lines or less. Put each reason in a separate paragraph instead of clubbing them up altogether.
Winding it up,
This elaborate guide would ensure that you have no confusion regarding how to write a memorandum. This way, the next time you get down to memo writing, it would seem as easy as a breeze.
Learn to write a policy memo with MyAssignmenthelp.com
Have you been trying in vain to put together a brilliant memorandum? Well, that could be because you are not acquainted how to write a policy memo or you may be unfamiliar with the standard memo format. Whatever the reason is, MyAssignmenthelp.com can provide the perfect solution. You can put your faith in our services to present you with the best kind of solutions.
Our pricing policy is also quite reasonable. Since our emphasis has always been the convenience of the students, our services are presented at nominal rates. We also offer a 30% discount to students placing an order on our site for the first time. In fact, we also offer seasonal discounts.
Additionally, the following are some of the unique features we offer on our site.
Free SMS notifications on every order
Free rework facility
Secure transactions
Amazing referral policy
Now that you know about MyAssignmenthelp.com, you don't have to look elsewhere for academic assistance. Simply consult with us and receive your solution.
Was this article helpful?