Save Time & Improve Grades
Just share your requirements and get customized solutions on time.
7 Expert Tips To Ace The Discussion Essay
Ella Thompson
14 August,2017
Have you seen a coin? Of course, you have. You also know that the both the sides of a coin are quite different from each other yet they are a part of the one and the same whole. Well, discussion essays are just the same way. They talk about the good and the bad, the pure and the evil, the protagonist and the antagonist, the identical and it's opposite. Basically, a discussion essay is just that: a discussion of the one and the same topic from every angle.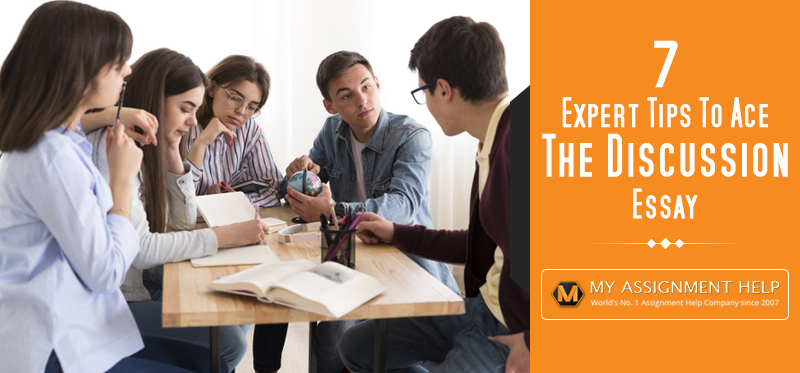 To write this kind of essay, you have to think critically, and you have to think deep, which of course can be quite a challenge. Besides, it's also quite possible that the entire concept of a discussion essay might be completely new to you and you may not even understand how to go about it. Don't worry, as we have got your back. This blog will reveal effective tips that can help you in composing a superb discussion essay.
Choose a topic you know well
This is the key phrase here that you need to focus on is 'a topic you know well.' If you have no idea what you are writing about, your discussion essay will be lackluster and unconvincing. Also, make sure that you are personally interested in this topic as then you will be curious to know more of it. In that case, also make sure that your topic has plenty of research material available on it. However, don't let your interest cloud your judgment as in a discussion essay you have to present a balanced opinion.
Decide which side of the fence you lean on
The next step, according to our essay help services experts, is to decide whether you are in favor of the topic you chose or against it. For example, if your topic is this-
'Do aliens exist?'
You have to take a stand, one that can be either for (yes, they exist) or against it (no, they don't). While it's true that you have to be objective while writing a discussion essay, you still have to be decisive as your viewpoint counts (more on that later). As of now, just know your stance and keep your mind open to new possibilities.
Give an outline to the arguments in your head
Now our best essay writing services experts suggest that you do this with the help of a pen and paper rather than on your laptop or tablet. This is because a lot of ideas may course through your head and it will be quite tedious to remove or add them to a word document. So when you sit down to brainstorm ideas, make two columns on the paper right in front of you – one titled 'for' and the other titled 'against.' Now write down all the points that come to your mind in the relevant sections. At this point, do not strike out any of the ideas you have listed down even if they feel stupid as you never know if you will need them.
Do lots of research
Now it's well and good that you have your arguments sorted, but honestly, they will be pointless if you cannot back them up. And here's where the role of research holds sway. You will need to dig up a lot of dirt on your topic so that you can sound as convincing as possible when you analyze both sides of the coin. Continuing with the same thread of example of aliens existing, you will have to find enough matter to both argue that they exist as well as contest the fact that they do.
Create an outline to know what goes into which section
Okay, if you have already written an essay (which we are pretty sure you have), you know what the typical outline looks like. Nonetheless, it will look something like this:
Title page
Introduction
Main body
Conclusion
Now, the trick here is to grasp what to write in each section. Let us break this down for you:
Introduction: In the introduction, you are supposed to introduce the issues that plague your topic while setting the stage for the main body of your essay. It'll be a good idea to explain any complex that you will be using throughout right here.
Main body: Now this where the action begins. You can divide your main body into two solid paragraphs – one that goes in favor of your topic, and the other that goes against it, like for example, on aliens. The best policy is to begin with your weakest argument and then move on to your strongest one so that you can the reader can follow the pattern of your thoughts easily.
Conclusion: While it is a given that you will have to wrap up your arguments in the conclusion, that is not all you need to write in the conclusion of a discussion essay. This is where you will have to reveal your personal stance on the topic to your readers.
Pay heed to the language you have used
Now for most of you, figuring out the right words to use to link the different paragraphs in your discussion essay can seem like an insurmountable task, but it's actually not quite that difficult. Here's a list of connecting words and phrases that you can make use of while writing your essay:
For the introduction: If you are not using a quote, stat or an anecdote, you can make use of phrases like 'most people believe/think' or 'it is commonly known' etc.
For the question you are addressing: The transition from the introduction to the addressing the question can indeed be a difficult one, but it can be made easier with opening lines such as 'The question here is a difficult one' or 'this question can be answered in two ways.'
For presenting arguments in favor: To present arguments in favor, you can use simple terms such as 'firstly,' 'secondly,' and so on and so forth.
For presenting arguments against: Simply use phrases such as 'on the other side of the fence,' 'however,' 'but,' etc.
Also be careful that your language is formal and mature and does not in any way offend anyone.
Check your essay for errors
This simply means performing a proofreading and editorial check. However, do not do this on the same day as you have finished writing your essay as you will not be able to spot the mistakes with a tired mind. Editing your paper next day would be better. You should not only check your paper for spelling errors, but also see if you have fully analyzed both the sides of your topic, and that there's enough information in your essay.
These seven essay tips can make your discussion essay perfect and ensure that you get the best grade on your paper. If you still get confused, you can always consult the experts of our cheap and best essay writing services for more tips and tricks.
Is Your Discussion Essay Too Much To Handle For You? Myassignmenthelp.com Can Help!
Don't start panicking if you still can't do your discussion essay on your own. We are always here to help in every way possible. Our large pool of 4000+ PhD will be willing to do your essay for you. That's not all; they can also provide you plagiarism-free copies for all other types of essays and assignments at very reasonable rates. If you want to hire our essay writing services, then call us now on +61-3-4000-0033.