Save Time & Improve Grades
Just share your requirements and get customized solutions on time.
Fake University Degrees under UK Government Lens
Mark
13 April,2015
The UK government has recently started a probe into the sale of fake university degrees through a website in China.
The enquiry comes following an investigation by BBC Radio Kent which exposed that fake certificates were up for online sale at £500. According to the BBC Radio Kent authorities, their reporters posed as customers and discovered that the site that was offering certificates of numerous UK universities, including universities of Surrey and Kent.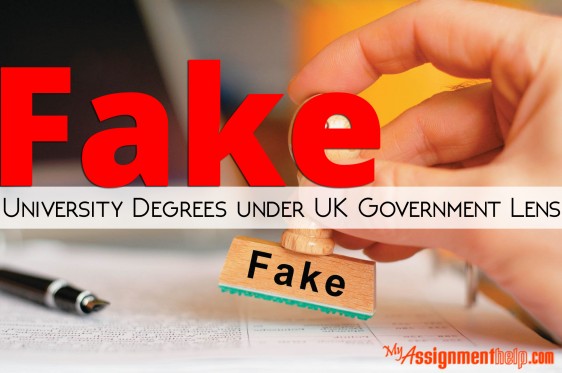 Following the bust, the Higher Education Degree Datacheck (HEDD) — the UK higher education's official service for candidate verification and university authentication — is hoping that the Chinese authorities would shut down this fraudulent site.
HEDD spokesperson Jane Rowley said that the HEDD had recently come to know that the Chinese site was offering fake certificates for UK, US and Chinese universities. She alleged that the site was breaking the law in numerous nations across the globe. Ms Rowley further said that the HEDD was in contact with Ministry of Education in China to know if they could act on this matter.
Ms Rowley also stated that their ministry had an agency that responded to such matters in China and that they would investigate further so that the fraudulent site could be shut down. She asserted that degree related fraud cases damaged the reputation of higher education institutes.
The website under scanner said in its defence that they issued the degree certificates as replacements for lost diplomas, and that they were meant for novelty purposes.
The University of Kent expressed reacted sharply to the statement. Our students work hard to obtain their degrees at various UK universities. Such frauds are extremely worrying, said an official.
Ms Rowley, meanwhile, stated that HEDD wanted to protect young graduates from UK at their workplaces so that they were not deprived of opportunities due to people who had not worked hard to reach such a high level.
MyAssignmenthelp.com can assist students to write authentic assignments
Contact the assignment writers at MyAssignmenthelp.com to avail authentic assignment help. Our brand consists of highly qualified assignment help writers from UK. They remain updated with the latest happenings in the international academic scenario. Our company assures you to provide qualitative assignment help material. Our write-ups are 100 percent original and plagiarism-free. So hurry and contact our 24*7 live customer care.