100000+ Students
can't be Wrong!
1113180
Orders
4.9/5
Ratings
5043
PhD Experts
Get best grade, order now!
What Next After Completing Graduation in US
Mark
24 December,2015
You have been studying hard to obtain your degree in US. Well, Congratulations! You have graduated. You have earned yourself many options and avenues with their merits and demerits. After achieving the milestone of obtaining a graduation degree in US, you now need to aim for better and bigger things.
But first you have to determine what you want to do next?
Stay back to apply for a graduate school or take up training or gain employment at an American organization
Return home and search for a job.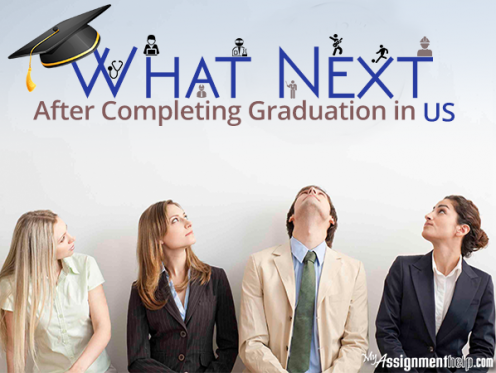 If you prefer to stay back in US to pursue educational or professional career, make sure you understand the restrictions on your visa. Start assessing the US immigration system because it's complex and changes constantly.
Visa options
What you actually need to do is study your own documents and understand what applies to you. Here are the common visas for graduate students along with their terms and conditions,
Practical Training on an F-1 Visa:
F-1 students can complete one-year practical training and start once they have graduated. You need to check with your university to collect the necessary forms.
Non-immigrant H-3 Visa (Trainee):
An H-3 Trainee Visa is applicable for those students who lack relevant education and experience in the particular world. This visa only covers 2-year training program with an American employer who boasts an established training program. After training, you need to return home.
Non-immigrant H-1B Visa (Specialty Occupation):
The minimum requirements for obtaining this type of visa are a U.S. employer must sponsor the applicant, a U.S. Bachelor degree or its equivalent and a correlation between job duties and the applicant's education and work experience. The visa is valid for three to six years, but need prior approval from Department of Labor.
Non-immigrant R-1 Visa (Religious Worker):
This type of visa is designed for ministers and persons working in religious occupation or religious organizations. The applicant must validate that he/she is part of religious group for at least two years preceding the application.
Non-immigrant obtaining Green Card:
An individual can apply for citizenship after 3-5 years of obtaining a green card. There are four categories of obtaining green cards, the most easiest and popular way of acquiring green card is through family members. You can apply for Green Card lottery as well.
Once you have sorted your visa options, you now need to determine in which direction you want to head. You have more or less two choices in your hands:
Attend graduate school
Hunt for suitable job profile.
Once you have completed your under-graduation program, attending graduate school can be a viable option for you. If you have decided to obtain higher educational degrees, then you can extend your student visa to earn another degree.
Attending graduate school
An Open Doors report published by Institution of International Education stated that the number of international students in America has increased by 3 percent between 2009 and 2010 among the 15.5 percent students in American Grad schools. Institutions in California, Texas, New York, Massachusetts and Florida are a haven for international grad students. So you must try your luck in these states.
Medicine, business and law are few of the options for pursuing higher studies in America. Some of the institutions in US are the most revered in the world. But the educational courses are too competitive and expensive. Very little financial help is provided from the school, so the decision of continuing higher studies should be taken considering your income, debts and what would be the starting salary once you graduate.
Ways to fund your graduate school
Assistantships and fellowships are a good way to accommodate your college fees. A fellowship will cover living expenses and tuition, but they tend to be rare, whereas assistantships require you to work for professors and are likely to be available.
Scholarships are other good sources for funding your college. But again, these are limited and hard to secure.
Loans are available to pay for your post graduation. But remember that as an international student you might require obtaining permanent residency before you apply for loans.
The best place to start applying for 'after-graduation' courses is with your current school's Office of International Student and Career Development Center. These are two sources that can give you genetic and needed information regarding pursuing higher educational courses.
What to do before applying to graduate schools?
Research on the schools that interest you
Look for information on courses, tutors and professors curriculum details and corporate affiliations
Prepare for an interview as it is part of the admission process
Think about the questions that your interviewer might ask you
When you actually start working on applications, make sure you are familiar with the deadlines
Set your own personal deadlines, so that you can finish application as soon as possible.
However, if you think under-graduation degree is good enough to give your career a kick-start, you should initiate job hunting rather than joining a graduate school. In that case you should follow the below mentioned steps to land on a suitable job profile.
Searching for jobs in US
Job hunting for international students can be exciting and difficult at the same time. The steps of job-hunting for an international student are:
Start early:
This is a good advice for international students. The reason is it is going to take long for you to find an employer who sponsors you for work visa. So the more early you start, the better.
Research:
Research your situations thoroughly like which visa you need including different possibilities, deadlines and potential costs.
Take the advantages of school's resources:
Most schools in America offer career services and likely to have god experience in placing international students in suitable job profiles. Take the advantage of that experience and set up a meeting with your career coach to discuss the opportunities and choices you have in your hands.
Network:
Around 70 percent of jobs are found through solid connections. Take the advantage of school community, discuss with alumni in your field. Build relationships with your professors and instructors, even parents of your American friends.
Stay positive and be persistent:
Sometimes, you work to the bone, but no visible results are captured. The most important thing is to not to give up.
Golden rules of job hunting
When you start job searching, here are few golden rules you should refer to:
Remember, job searching process is a marathon not sprint. So you have to be patient and take time to sort your priorities beforehand.
Research the employer thoroughly either via a website or by calling them at their offices to get more information sent to you. The more you research on the employer, the brighter your chances get.
Always follow up with companies when you mail your resume. After 3-4 days, call them to ensure they receive your resume.
Before you step into the interview room, take up mock interviews to practice as much as possible.
At interview, always wear professional attire, keep your general appearance neat and remain confident with constant eye contact and firm answers.
However, if you think, you have enjoyed your days studying in US and it is time to return to your homeland, then you have to give yourself some time to adjust. Read the section carefully.
Returning home
While arriving in US, many must have warned you about the effects of cultural shock that you must have experienced by now. But what they might have not warned about is that cultural shock can also be effective when international students return to their homeland. This is dubbed as 'reverse cultural shock'. To deal with 'reverse cultural shock', here are a few remedies prescribed for you.
Extreme Jet lag:
Moving back to your own time zone can be more disconcerting than moving out in the first place. You probably need a week or month to adjust to new surroundings. To deal with extreme jet lag, sleep when you need it. But try to keep yourself active when you are not sleeping.
Dealing with the change:
A lot has changed in your life during your stay in the foreign land. You expect things at home have changed as much as you feel you have. But you will notice that nothing has changed really. Everything is in the place where you left them. This can bring disconcerting feeling. It also can make returning home experience overwhelming for you. The best way to deal with this occurrence is to keep yourself busy as much as you can.
Feeling misunderstood:
You might find yourself annoyed by answering the same question, describing the same experience to different people. Your part is to play calm and patient in this situation because not everyone you meet has been to US; most of them will be interested to know your time away from home. You might feel misunderstood when they cannot understand your college stories. But the feeling will pass as long as you keep your clam. The best way to deal with this awful feeling is to keep in touch with fellow international students and other college friends.
Besides, the temporary short-comings, returning home is wonderful in many ways. You spend time with your family and friends, sleep in your own bed, eat at your favorite places and hang out with your old friends.
You have too many options to choose from. So choose wisely!
MyAssignmenthelp.com assists you to pursue your dreams in the foreign land
MyAssignmenthelp.com respects the facts that international students desperately need assistance with their curricular. We have appointed native English-speaking experts who are well aware of the regulations of attaining higher education in your field or the parameters of joining an American organization. Our experts can help you in most efficient manner if you are planning to pursue graduation degree or even higher degrees.
Our experts have gone through the same situation as you are and hence can advise you to take the step that is best for you. Moreover, they stay connected so that you can reach them whenever you need. On the entry level, MyAssignmenthelp.com assists you to work on wining admission essay that is expected by most higher educational institutions in US. After securing a seat in your 'dream' university, we make sure that you keep up with your curriculum as expected from you. To ease your academic burden, we provide you help with different types of assignments, those are
Essays
Dissertations
Term Papers
Case Studies
Theses
Research papers
Book Reviews.
What you get from our services?
We assure you that assignment solution you receive from us is top quality and 100 percent plagiarism-free. Here are few guarantees that MyAssignmenthelp.com alone offers positively to its customers.
You may have many writing service providers claiming to have round the clock customer support system, but fail to maintain it. MyAssignmenthelp.com's 24×7 helpline offer you instant answers to your queries.
Unlike other writing service, we maintain strict policies of delivering assignment solutions. We assure you that completed assignment will reach you within deadline.
Our confidentiality policy ensures that your identifiable information is not handled by any third party. It is secured with us.
So, hurry now to get your assignment written by experts!
Save