Save Time & improve Grade
Just share requirement and get customized Solution.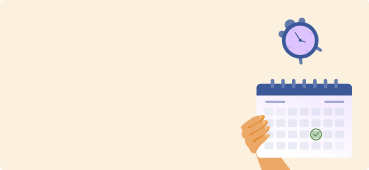 13 Ways That Can Result in PhD Thesis Failure
Mark
23 May,2016
A lot has been said and written on how to write a thesis. But are you aware that there are certain pitfalls of thesis writing too. As a PhD student, if you want your thesis to fetch you the desired results, then you must know what all to avoid while writing it. In case, you commit such mistakes, you will have to do the 'major corrections' that may take several months.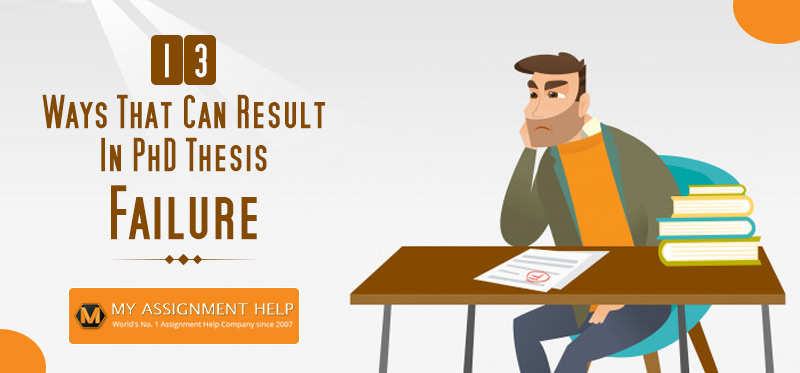 Don't take it personally. We don't mean to say that you are heading towards the wrong path. But knowing how to avoid the pitfalls of PhD thesis writing wouldn't hurt you, right? We know you just want to submit the thesis and move on with your life. But in between writing and submitting the thesis, certain actions can lead to blunders, resulting in disastrous consequences. This is why we offer an insight to the postgraduates on what actions from your side can lead to PhD thesis failure.
1. Starting to feel like a failure
You consider yourself smart because you got selected in grad school. But the problem is everyone in grad school is smart. You are no longer special. However, you are not alone too. Majority of the students in college feel like a failure. Some of them are able to shake off their inertia, but others develop mental illness. Students who do not reach out to other students or faculty for help suffer the most. They easily snap under pressure.
If you want to defeat this feeling, you should not be ashamed of saying 'I don't know' or 'I need help'. Going for perfection is never an ideal way to achieve success. And more importantly, do not isolate yourself. If you think the feeling of failure is overpowering you, immediately reach out for help.
2. Choose a wrong supervisor
Having a cool supervisor is the best thing that could happen to you. But wait! Did you check his or her background because many may seem dedicated and helpful at first, but would not respond to phone calls, emails or it may take them forever to comment on the draft! So you need to be assured that you are not counting on someone who would turn you down any moment. Roll the dice carefully!
The idea is to choose carefully. Don't go by the trait how cool he or she is. Keep your senses active. Inquire your seniors whether they were comfortable working with this particular supervisor. Read the work that was published under the supervisor, check whether he or she is reliable for such big commitment and attention that you require from them, and lastly of course, what kind of jobs his or her students have obtained. Also, consider the personal traits of the potential supervisor.
3. Expect everyone would care for your thesis
Thesis is an independent study and you need to take charge of your research. You will receive guidance from your supervisor and dissertation committee, but you should be the one who organizes the research ultimately, not your supervisor and or any member of the committee.
Needless to say, thesis writing is a daunting job to accomplish. But you cannot expect your supervisor to tell you what books, journals or research papers, you should read, what research collaboration you should explore, which conferences you must attend, for which grants you should apply. It is you who has to be in total control of everything. Seeking guidance is OK, but expecting others to care for your thesis as much as you do is simply not acceptable.
4. Only concentrate on your thesis
The immense pressure of completing thesis makes the students believe that nothing matters in graduation school rather than writing the thesis. But such an attitude always contributes to failure.
In reality, PhD module is designed to enhance scholars' research and academic skills which involve not only carrying out a large research project, but also attend workshops and conferences which ultimately strengthen your CV. Graduate schools provide exposure to you. When you override your priorities only to concentrate on the thesis, you miss out on the opportunities of being an all-rounder in academic. Moreover, different activities help you get a full exposure of the job market.
5. Hand over a poorly formatted bibliography
Does this really matter? Yes, it does in academics. If you don't know it, take it as an advice. Examiners assess doctoral students on their caliber to gather sources. The moment the examiner finds you have submitted an incomplete reference page or the key theorist of the topic is missing, they tend to send back the paper under minor or major corrections depending on the number of errors.
If you cannot match the basic academic protocol, the examiner will question your academic credibility and the work for corrections which will take another few months.
6. Using generalizing statements in the paper
Students often use statements like 'some academics stated' or 'all the literature I have assessed reflect….' without mitigating the relevant references. Generalizing topic does not reflect your research and academic skills that the examiner wants to see in you. Consequently, you end up giving a thin bibliography which too is not welcome in academic writing.
So, instead, you need to read vastly. By reading widely, you would have references for each statement you would make in the writing. In contrary, if your examiner asks for references for the generalizing statements, you would not find anything of that sort.
7. Aiming for publication only
Yes, published papers carry a lot of value in academia. And if your paper gets the green signal from publication, your hard work just pays off. It is definitely something to feel proud. But often students see publishing as the bird's eye. They hold it more important than the quality of the work.
On the contrary, the perspectives are slowly changing about publishing academic papers. Publishing high impact journal is definitely a crowning achievement, but students should keep some perspective. They should realize that publishing is second priority that comes after successful completion of the paper.
8. Confusing your audience
You are in the field of academics; you are expected to write like an academician. This means you need to create long, confusing and convoluted passive sentences that comprise riddles, complex words and jargons. You think, these sentences would reflect how accomplished you are in your field. NO, definitely no. Such sentences only confuse your audience, annoy your supervisor and nag your editors. Students often make the mistake to write convoluted prose when asked to write like an academician.
So what is the safest solution to this problem? Lose jargons, complex words and passive tone. Lose them, so that your audience can concentrate on the ideas you plan to convey to them. Use active voice, short sentences and simple words to deliver your point.
9. Writing an ineffective abstract
The abstract is the first chapter that your examiners lay their eyes on. And students should compress their research in two or three sentences in the abstract. Writing an abstract without starting a sentence as 'my original contribution to the field is……' makes the evaluator think the researcher is incapable of structuring his research in one or two sentences. Examiners desperately want to see the original contribution of the author. Shapeless methods; loose abstract and literature review do not reflect your original contribution to it.
To make sure you impress your examiner, you need to make it easier for them to understand. In the first two sentences of the abstract, state your original contribution which you think is valuable in your field. Then just relax, let the examiners look for the explanation and justification of your statement.
10. Assuming your work is innovative
Students often come across interesting facts while scouting through meticulous data. And they take the inspiration, thinking that the data has not been explored yet. In reality, the subject already has a 100-page book which was written 15 years ago. But you ignored to read that. After minimal research, the researcher thinks that he is ready to contribute something original to the field. Adversely, students, who read so much also counter the problem of controlling their knowledge while expressing each idea.
For under-readers who do not realize that their brilliant ideas have been tested, extended and applied already, the only solution to this problem is reading, reading and reading. For over-readers who want to absorb everything on the topic, they need to take assistance from their supervisor who would steer the students in the right direction.
11. Making an impressive long thesis title
It sounds cool when someone says, 'A comparative of artificial neural networks implementing reinforce learning and multidimensional Bayesian classification using Parzen density estimation for identifying GC-EIMS spectra of partially Methylated Alditol Acetates on the World Wide Web.' But it is not cool when your examiner fails to understand the core of your study.
The best way to do it is to trim your title if you have already made a long title. The examiner can have a vague idea about the topic from your title and they will understand the original contribution, limitations and strengths when reading the introduction.
12. Forget to run spell check
While writing the paper, students are least bothered about spelling and grammar mistakes in the content. They fully concentrate on interpreting their ideas in words and placing them skillfully. But forgetting to correct the spelling mistakes is not expected as well. Most examiners will accept a few typographical errors in the prose, but plenty of them will create doubt in the examiner's mind.
It is obvious that you need to run the content under spell check; you can use Microsoft Word spell check or any software for that purpose. But do not only rely on software because sometimes software fails to correct what human eyes see. So, you need to do it manually. We understand how strenuous it can be to go back to the 40-page paper which you have just completed. You can hire a professional editor to do the job.
13. Ignore to read the content after editing
You might have hired an editor or done the editing all by yourself; in either way you are responsible for reading the whole content after editing it. Because guys, you will not know how it sounds like after editing. The editors might have excluded the typo errors, syntactical errors, but he/she could have messed up the bibliography or footnote. If you rely on them too much, you would land in trouble.
It is better that you read the thesis chapter separately. You can take out two days to accomplish this job. You need to be relaxed and focused on your writing. It is expected that you would enjoy the ride through your thesis. But it will be worth your time.
Getting a PhD is a rewarding experience for any post-graduation student. It helps a student to start his/her career with confidence. But these above-mentioned 13 points can ruin your chances of getting PhD on time. So, we hope that the given advice will help you avoid any of the situations explained above.

How MyAssignmenthelp.com Assists You in PhD Thesis Writing?
MyAssignmenthelp.com is known for providing top quality dissertation and thesis help to students around the world. Keeping the possible pitfalls of writing a dissertation/thesis in mind, we have designed our services so that students can receive the needed assistance. Students, pursuing post-graduation, always fear that they would fail because there are so many things that decide the final grades for dissertation/thesis writing. But our 3000+ experts, who have gone through the same experience you are going now, are the ideal persons to consult with. These experts have acquired their PhD degrees from eminent colleges all over the world. Their expert knowledge and excellent writing skills help students to achieve their goals. Our experts help the students in
Coming up with relevant thesis topics
Gathering research data for the study
Outlining the ideas to present the flow of the ideas
Writing the paper
Formatting the paper
Editing and proofreading the content.
Our experts provide customized thesis help services so that students' need can be fulfilled in the best possible way. We customize each thesis according to the need of students. Moreover, you can take help for each chapter of thesis too. For instance, if you are struggling to write the literature review chapter or you struggling to understand what should go into the chapter, an expert who has done several thesis can guide you.
You can remain assured that the thesis quality you receive from us will be unmatched. The best part is we provide top quality services at affordable prices. We never charge more that its worth. We always provide offers and discounts to lower the final payable amount.
So, place your order with us and get unmatched benefits of our expert thesis writing services. Upload your requirements now!
Was this article helpful?