Save Time & Excel Academics
Share your requirements & connect with top tutor !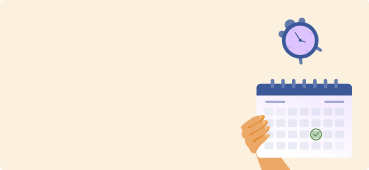 8 Easy Ways To Choose A Mind-Blowing Dissertation Topic
Mark
30 August,2017
The topic of your dissertation is the life and soul of it. Without it, your dissertation is like an aimless wanderer in the sea, lost and pointless. But that doesn't mean you choose just about any topic to do your dissertation on. There's a method to it. You need to be calculative. You need to be smart. You just can't wait for inspiration to strike you and bestow you with an amazing topic.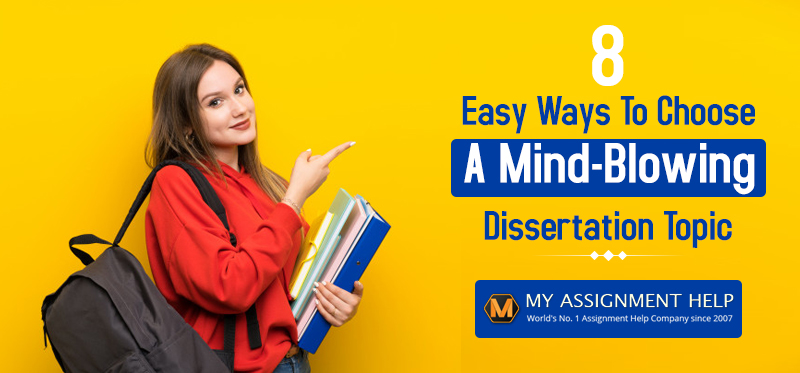 However, if you don't know where to begin or how to choose a dissertation topic that'll blow everyone away, you need to start reading this blog. Here we present to you eight of the easiest ways that can help you zero in on a marvelous topic. These ways are quite straightforward and are especially recommended by our experts, so there's no question of them being ineffective.
Find out about the Requirements
Are there any particular requirements for the topic you need to choose for your dissertation? You'll need to find that out before you can actually start hunting for potential topics. In case you are asked to choose from a list of dissertation topics prescribed by your professor, you should make it a point to ask him/her if you can take whatever slant you wish to of the broad topic you have been assigned. This will give you more flexibility and freedom.
Determine your Research Yype
Determining your research type will help you narrow down the scope of potential topics to a manageable lot, which you can then choose from. There are two types of research you can do – one is the comparison of existing literature, and the other is conducting an original research of you own in your field, so you contribute to it. You can even carry out experimental research if you wish. The question that you need to ask yourself here is: do you want to gather data and information for your dissertation yourself or make use of pre-existing?
Don't Venture into Unchartered Territory
While the prospect of a choosing a topic that catches your fancy precisely for the fact that it's unique and something you have never heard before might be a pleasing one, you should still try to steer clear of it. This is because if you feel brave enough and venture into the realm of the unknown, you find yourself overwhelmed and unable to fully grasp the essence of your topic. As a result, your dissertation might turn out half-baked, and both your grades as well as your academic reputation may suffer. So it's wiser that you be safe and pick a topic you have some knowledge of.
Search for a Topic Inside, not Outside
There's no doubt that you will have to research extensively in order to find that one topic that just fits. But instead of just looking for outside, you need to look inside as well. What we mean is that your topic should be one that manages to rouse your interest and possibly even turns out to be a by-product of your mind. So the moral of the story here is that rather than just finding a topic the old-fashioned way, how about you think of a topic that aligns perfectly with your research interests and gives you the scope to explore your mettle?
Scoop out a Niche
Nothing catches the interest of your supervisor more than a niche topic. And you can't tell them anything for that since they already have so many conventional topics to deal with that it gets very boring for them. However, if you choose a niche topic that can actually make a difference, you end up offering something new to your field as well as something unique for your professor to read. However, as we mentioned before, do not try to go too far down the road less traveled by as it can turn out to be a mess; and having some knowledge of what you are working on is still very important.
Make Sure you can manage What you Choose
In the attempt to wow your supervisors with your creativity and brilliance at choosing a stupendous topic, do not forget the fact that you are the only one who will be working on your dissertation. Hence, you need to choose a topic that you can manage without much trouble. Such a topic will make you feel confident as well as comfortable and will definitely save you from the nervous breakdown that most students go through when working on their dissertations. Now you can argue that choosing a difficult topic will get you more marks, but that is not true. The key to getting good marks is that you write a brilliant paper, not that you pick a particularly difficult topic, so keep this in mind.
Be Original and Current
Old, outdated, oft-used topics will just not do. You have to be original when picking out a topic for your dissertation using an old one will make your supervisor believe that you never put in much effort. However, you still do not have to wrack your brains for this. You can just improvise and make it easier for yourself. In fact, how about selling an old wine in a new bottle? By reusing an old topic and giving it a fresh spin, you can save yourself from a lot of trouble. That said, selecting a topic that is relevant in the present times is as important as making sure that it is original. And you're in luck that way as finding the latest topics will not be that difficult. As a master's or PhD student, you already know that the academic world is always bubbling with new studies and researches. So all you have to do is direct your vision towards them and pick a topic you think you can handle. You'll even find more research for a current topic than an outdated one.
Ensure Easy Research-Ability
Okay, we admit it. There's no word such as research-ability, but the juxtaposition of both of these words against each other pretty much manages to convey what we mean. Your topic should be one that is easy to research upon. However, it shouldn't be so easy to research upon either that you end up finding conclusive data on it and hence, don't get the chance to conduct research of your own and contribute to your field. It should just be a topic that can be backed up by reliable research so that your dissertation is not dissed as something frivolous and inaccurate.
Now that we have presented to you eight effective ways to choosing a dissertation topic, we would like to move on and show you the places where you can hunt for potential topics. All of these sources are well within your reach, so you have nothing to worry about. Here's a list of the possible sources that can act as great scouting grounds for dissertation topics:
Your own interests - Your interests and all things that excite (academically speaking) can be a great starting point to look for topics. You can also take your career goals into account as they may shed some light on what you would possibly love to write 10,000 words on.
Professional journals - Now these journals should be strictly restricted to your field only rather than narrowly related, or there's no point going through them. Professional journals can be a great source for hot topics as they will always contain all the latest news concerning your field.
The faculty members of your university - And not just the faculty members, mind you; fellow students and professional colleagues can help as much in giving you ideas for your topic as your supervisor can. So have a one-on-one talk with them, and who knows a brilliant topic may emerge from your conversation.
Librarians - Yes a library is a likelier source than a librarian, but trust us; even your librarian can help you. You can request them to run a search of their database so that they can find out the most suitable materials for a topic that has caught your determination. The information found, in turn, can help you figure out if the topic is worth it. To help your librarian run the search as smoothly as possible, make a list of specific target keywords and hand it over to him. The results that come up will be more accurate.
Previously submitted dissertations - Another great place to look for ideas is to review previously submitted dissertations by your seniors. Especially if you go through the section 'Recommendations for Future Research' of all these dissertations as that's a goldmine for fresh ideas.
Current theories - You will have to have a curious bent of mind for this as you will need to keep up with the latest news of your field. Simply analyzing if any new theories have come out in your field or if old ones have been questioned can point out to new topic ideas for your dissertation.
Oral defense - Oral defense is a discussion that takes place in defense of a dissertation. If you attend any one of these and pay close attention, you may be able to catch two or three interesting topics just by listening to people talk.
Seminars and conferences - Similar to oral defense sessions, conferences and seminars in your field are where the brightest minds gather together and buzz with ideas and topics. You will be able to come across the latest topics here.
The internet - Need we say more? If you use it the right, the internet is a never-ending storehouse of knowledge ideas and all things academically interesting.
Top scholars of your field - You can call them up and schedule a personal or a phone call interview with them. Generally, the leading scholars in any field are pretty enthusiastic to help students and talk about their latest research (which can serve as a topic by the way).
The bibliography section of existing academic write-ups - This is the most resourceful section of any academic assignment as it can off you a large repository of possible sources, which in turn, can help you discover a world of new and exciting ideas.
Your current setting - Finally, your own university/job setting can serve as a great source of inspiration for real-life and relevant dissertation topic ideas. You could address serious problems through your dissertation and even come up with possible solutions for them, thereby making a significant contribution to your field.
Okay so you made use of the above sources of information, and finally found a topic you think you can work on. But is it truly the right one? Ask yourself the following questions to know for sure if you have chosen well.
Do you feel passionate about the topic you have chosen?
Do you have enough knowledge of the topic?
Can you manage your topic easily? That is, is it doable within the specified time frame and has enough matter on it?
Does your topic hold any significance in the real world?
Is it original?
Is your topic panning out the way you want it to?
If your answers to the all the questions above are positive, you should congratulate yourself as you have hit bull's eye! Now all that is left for you is to start writing your dissertation. But even that shouldn't be a problem if you have chosen a topic that matches every ounce of the requirements you had in mind. After all, choosing the right topic is almost half the battle won. So go ahead and win the rest of it!
Banging Your Head In Frustration Over Your Dissertation? Let Experts Of MyAssigmenthelp.com Do It For You
If you couldn't proceed with your dissertation, beyond choosing a topic, you need to take help from MyAssignmenthelp.com. We understand that writing a dissertation is hard and definitely not everyone's cup of tea. This is why we offer our exclusive dissertation help services so you can make use of them and ask any of our 4000+ PhD experts to do your paper. Nothing short of the highest quality dissertation will be yours if you choose us as we submit plagiarism-free assignments only. Moreover, our prices are quite economical too, and we have a record of on-time submissions. So give us a call on +61-3-4000-0033 and order your dissertation from us today!