Save Time & improve Grade
Just share requirement and get customized Solution.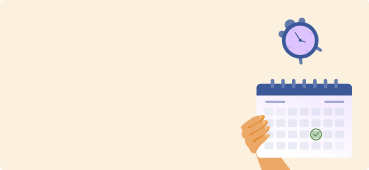 How to Write a Resignation Letter?
Jacob Thompson
11 July,2019
Quitting a job is easy, dropping a resignation letter is not. There are so many things to consider, aspects to meet and exit interviews to face. Unless the letter is compelling in tone, convincing by format and rationally put, you won't be able to deal with the counter arguments. As a result, it might just lead to disrupted communication between you and your employer, bad impression and discontentment. This is exactly why one should know how to write a resignation letter with grace and diligence.
Now that you are wondering how to draft the perfect resignation letter, take a look at these six crucial aspects for a broader overview.
Flawless Resignation Letter Examples for You
I am sharing two resignation letter examples, each of them taking a slightly unconventional but amicable tone.
Sample 1
Focal Points: New opportunity, Contact info and Gratitude
Dear Mr. /Ms. Last Name:
I would like to inform that I am resigning from the position as IT Analyst for Company Z, effective August 3.
I certainly appreciate the opportunities for professional development that the company has provided me over the past five years. I have enjoyed my tenure at Company Z, and feel happy and grateful to have started my career with such a professionally dedicated team.
I have recently accepted the position of Senior IT Analyst in Glasgow. While my experience at Company Z was rewarding from all aspects, I'm excited to explore new opportunities in my domain.
Do notify me if you need my help during the transition period. I am willing to cooperate with the management and help the organisation achieve all targets seamlessly.
I am grateful to the organisation for offering me the opportunity to work at Company Z. I wish you all the best for future endeavours.
Sincerely,
Jason
Sample 2
Focal Points: Gratitude and Transience
Dear Mr. /Ms. Last Name:
Please accept this resignation letter from my designation as IT Analyst at Company Z. My last day at work will be on August 3.
It was a pleasure working with the organisation and the dedicated team for the past five years. In particular, I've enjoyed tackling extensive projects by designing, analysing and implementing efficient IT systems. I am grateful to the company for the opportunities I have been provided with to develop my skills in this domain. I want to thank my team lead for all his guidance and insight. I wish your company much success in the days to come.
Please tell me if you need any assistance from my end during the transition period.
Sincerely,
Jason
Now that you know about the two crucial resignation letter examples, take a close look at the same and draft an ideal document that will highlight each of the mentioned focal points with precision.
How to Use a Resignation Letter Template?
Consider following these steps to write a resignation letter template.
Copy and paste the resignation letter template in MS Word, Email or Google Doc.
Add your contact information and other personal details.
Now rewrite the paragraphs in your own words by describing your point of view.
Proofread and edit the content.
Submit the resignation letter via email or in person.
Here's one resignation letter template for your reference.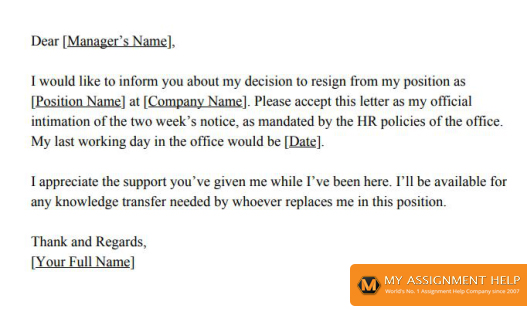 The Primary Components of Resignation Letter Format
Now that you are aware of how to write a resignation letter, invest some time to know about the resignation letter format. There are a few crucial components associated with the document.
Here are the key actionable points for you to consider.
Give appropriate notice.
Say "Thank You".
Offer to help.
Ask questions.
Do not complain.
Keep your letter short, simple and sweet.
Use the standard business letter format.
Revise and edit your resignation letter before sending it across.
Make sure to cover each of the aforementioned points in your resignation letter for contextual accuracy.
What is a Resignation Letter? Brief Overview
Resignation letter is a formal declaration that informs the employer of an employee leaving the job. It provides an official record of notice. A well-written resignation letter can help the employee maintain a cordial relationship with the old employer even after the person walks out of the organisation.
I hope the blog will help you to know how to start and end a resignation letter. So, before you start writing a resignation letter, sit back for a while and recapitulate the entire write-up for fairer insights.
Good luck.
MyAssignmenthelp.com Offers Tailor-made Resignation Letters
Are you grappling with the intricacies of perfecting a resignation letter? Are you looking for writing services to provide you with the required solution? Count on MyAssignmenthelp.com. Our in-house experts know how to compose flawless resignation letters according to the latest format.
Apart from that, the company focuses on providing clients with free resignation letter samples for the purpose of reference.
Writing a resignation letter is like a cakewalk for us though our hearts don't support leaving organisations. We have been doing this for years with sufficient knowledge about the nitty-gritty of its key components. From maintaining a formal and grateful tone throughout the letter to ending it with a short and sweet Thank You note, our writers know how to make your document perfect.
So, get in touch with us at the earliest, mention all specifications, upload your file and pay us via secured gateways like net banking, debit/credit cards and PayPal. We will send across the solution in as little as twenty-four hours.
Was this article helpful?