You must have heard the rather common adage; you shouldn't judge a book by its cover. However, presenting an excellent title is a necessity that students should never ignore. It can be one of the most grueling parts of preparing an academic paper. An attractive title can make your academic paper stand out from the pile of other assignments and give your reader a sense of perspective.
A title can be derived from the arguments developed in the rest of the academic papers. By recognising the topic, argument, and particular technique of the academic paper, a solid title begins the work of convincing / informing the readers.
A title can be derived from the arguments developed in the rest of the academic papers. By recognising the topic, argument, and particular technique of the academic paper, a solid title begins the work of convincing / informing the readers.
Most students tend to overlook the importance of a title, as they focus more on the rest of the paper. However, the title of an academic paper deserves equal attention. So, let's mull over how you can prepare an appealing title for your papers.
Pay attention to the structure of your paper
Typically, any complex academic assignment would be focused on arguments. So you can list out multiple arguments for a topic you're working on.
Check your thesis statement. This sentence carries the primary argument of your paper. So, it can be useful to create a great title.
The topic sentences are also helpful. Going through these sentences together will allow you to pick out symbols, motifs, or themes in your paper that can be integrated into the title.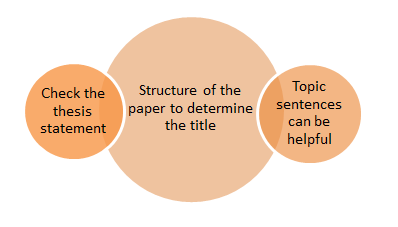 Figure 1: Structure of the paper to decide on a proper assignment title
Decide the kind of title you want for your academic paper
There are three types of titles that you can choose for your academic document. While selecting the kind of title, you need to think about the details you want to convey to your reader. The following are the different types that you may consider.
Descriptive titles elaborate on the subject of the article but don't highlight the main conclusions.
Declarative titles are focused on the main findings or conclusions.
Interrogative titles elucidate on the subject in the form of a question.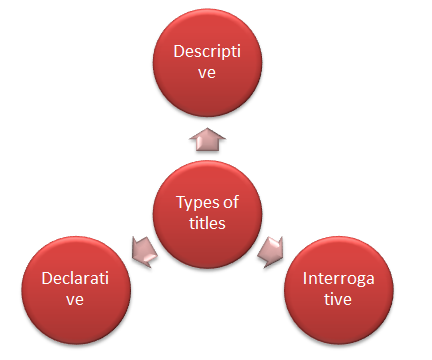 Figure 2: Types of title
Ask yourself a few vital questions about your paper
Focus on what your academic document aims to address and what it accomplishes. You can question yourself as briefly as possible, with one or two sentences each. You can develop these questions by reading through each section of the paper and finding the relevant information. The questions are as follows.
What is the academic paper about?
What techniques did you employ to perform your analysis?
What/who was the subject of your study?
What was the outcome?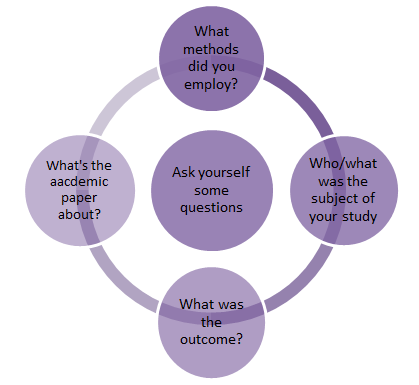 Figure 3: 4 questions to ask
Use of quotations and phrases
A strong academic document will use quotations from reliable sources throughout. So, while deciding on a suitable title, the quotes used within the paper can be immensely useful. Find the quotes or phrases that capture the essence of your topic as a whole or highlight a central idea or theme within your paper
Alternatively, you can find a relevant quote or phrase that is directly related to your paper but reiterates central ideas or themes in your academic assignments. Type keywords from your paper into a search engine, with the word "quote" and check what comes up. You can then use a fragment of the quote on your assignment title.
Generate ideas from your own writing
Often, the introductory or concluding sections of your academic document will have a phrase that would be apt as a title. So, you can highlight or take note of any words or phrases that explain your ideas.
Check out attention-grabbing descriptions or phrases you are proud of. For example, in a paper on censorship, you can include a phrase like "forbidden territory" which is descriptive and at the same time intriguing.
Be aware of the conventions
Different disciplines like the humanities, or the sciences, may have specific guidelines on what a title should come across. Now, depending on the discipline you belong to, you should conform to these guidelines. The following are a few of the general rules to remember:
Most words in your title should begin with a capital letter.
The first word after a colon should always be capitalised
You should not capitalise the following words: and, an, a, the, or short prepositions if they don't come first within the title.
If the title of a book is part of the title of your academic paper, it should be put in italics.
Keep it simple, brief and appealing
The primary objective of a title is to offer a proper summary of the paper's content. So keep the title concise. Use active verbs rather than complex noun-based phrases and avoid irrelevant details.
Moreover, an appropriate title for a paper is ideally around 10-12 words long. A long title may seem unfocused and take the readers' attention away from a significant point.
Rephrase a cliche
Look for a rather common phrase or sentence, also known as a cliché, and rephrase it, so it is specific to your academic paper. Use short clichés or usual phrases that are one to three words long.
A paper on Shakespearean comedy could use the cliché. A possible title involving a cliché could be: "Living in a fool's paradise: Comic relief in Shakespearean Tragedies."
The title must be simple to recall
Effective titles are not only supposed to hold the reader's attention but also spread the word about your academic paper. However, too complex titles are never likely to appeal to your examiners and professors. You can come up with an exciting, yet catchy and simple to decipher title.
Read your title out loud. Does it roll off the tongue easily? Is it intriguing enough? Does it sound dull? Would you be interested in looking at the title? The answers to these questions can support you to revise the title.
Endnote,
The title of your academic paper gives a sneak peek into the topic you are going to discuss in the main body. So, it's important that you choose one carefully so that it makes the reader curious about the topic.
Trying to come up with a great title for your academic paper? Approach the writers of MyAssignmenthelp.com
You must have prepared an impeccable academic paper. You may have everything in order, but unless you have an attractive title for your written piece, your efforts won't pay off. However, this will never be an issue when you opt for the assistance of MyAssignmenthelp.com.
Our services are designed to suit the needs of every student, irrespective of their academic discipline. You will find all kinds of assistance under the same roof. Our experts work tirelessly to produce the best quality of academic paper every single time.
Apart from our writers, we also have a fleet of talented proofreaders and editors. These professionals are extremely detail-oriented and help in producing flawless academic document. Hiring our services will ensure you receive brilliant grades.
Additionally, there are various remarkable features which make MyAssignmenthelp.com a pioneer in the domain of academic service providers. Those features include-
Brilliant referral program
100% guarantee of confidentiality
Simple navigation
Safe payment options
Make way for a flourishing academic career with guidance from MyAssignmenthelp.com.