100000+ Students
can't be Wrong!
1019779
Orders
4.9/5
Ratings
5028
PhD Experts
Get best grade, order now!
A Handbook On How To Write A Conclusion For An Essay
Alice Anderson
08 August,2018
'How to write a conclusion for an essay!' One of the most daunting states of mind it is! So much is at stake while drafting proper concluding paragraphs for your essays. Conclusion creates an impression with which the readers sign off. To shape a striking impression, you need a solid ending for your document.
This blog presents the specific pattern for creating an incredible concluding paragraph along with the purpose of keeping it relevant and precise. Through this document, you can identify how to retain the sense of completeness and closure in the concluding paragraphs.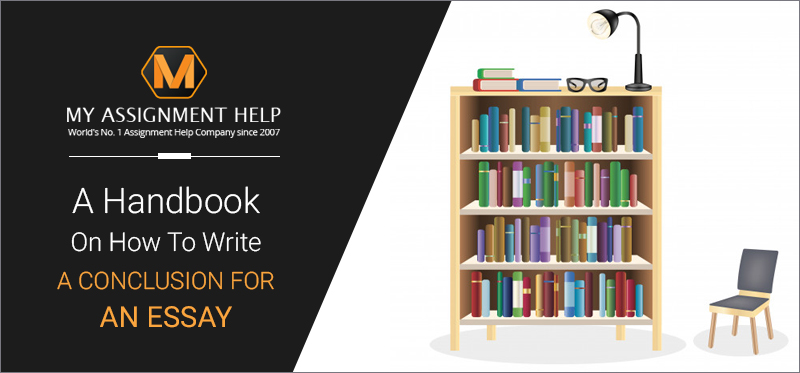 The final paragraph must close the discussion without completely closing it off
To apprehend how to write a conclusion for an essay, you need to identify the basic aspects and elements to be included in the ending paragraphs. The subsequent list is precisely what you need to compose a solid ending for your document.
The significant aspects of a conclusion
In the concluding section of your essay, you need to highlight certain points that are going to inscribe a deep though in the readers' mind. However, you must not confuse or overwhelm them with new ideas at the end of the document. Keep it simple and insert the following aspects in your essay.
Include a summary of the main points: Conclusion concerns with summarizing the key points of your essay and writing them in jest. You must try to take the first sentences of each body paragraph and rewrite them in a different style. This reinforces the essay's argument, recapitulating the readers about your point of view or arguments. 
Always avoid unnecessarily complicating the ideas rather amplify the signature points by putting in a different perspective. To enlighten the key points, you can also use quotations from the body part. However, use them with a more general and larger context. You must b cautious especially, while using the secondary material.
Drag the discussion related to thesis statement: You don't have to mention about the thesis statement in the ending paragraphs, but, you have to drag the context in a formal tone. Mention about it as a passing reference in one way or another. Once you grasp this idea, you have almost comprehended how to write a conclusion for an essay. 
You must remember that the thesis is the heart of your essay and its mention, in the ending part, is a great way to engrave a prominent impression in the reader's mind. Redefine the fundamental idea of your discussion without making it repetitive. If you fail to paraphrase the statement, it acts as a pitfall and degrades all the effort that you have put in to persuade your readers through your arguments.
Insert an explanation of your evaluation: At the ending section, it is better to re-explain on the evaluations that you have included throughout the essay. This allows the readers to interlink with the analysis they have read in the main body part. Here you can also put forth the larger implication of the conducted research.
Make sure, you do not include logical fallacies in the concluding paragraph. Writers often do not realize when they employ fallacies in their content, as there are plenty of sources for common fallacies. However, this very fact dissatisfies the reader and most of the times, they lose interest in reading the documents.
Put in your own perspectives: The final paragraph must close with your own perspectives and the lingering possibilities of the essay topic. Here you have to talk about the possible future developments that the students can opt for. You can also mention certain prominent aspects that you think are sure to grow in the near future. 
You must not introduce new characters in the last portion of your essay. Better to fulfill it with new ideas of solid progression in this field. If you feel, you can also insert certain dos and don'ts associated with further researching. Make this section interrogative and call to action, as readers tend to feel more connected through these endings.
Avoid redundancy in your paper: Redundancy is a common issue with every writer and that increases when approaching the concluding paragraphs. It is wise not use repetitive thoughts or arguments in your essay, as readers may feel bored. At the end of your paper, your presentation must be condensed that gnaws the readers as they read through the text. 
Though this is an effective form of writing, there are chances that the phrases may get misconstrued or interpreted too literally. It is true that academic essays and creative writings differ vastly but still, restating does not necessarily mean copying and pasting the same sentences in a different paragraph. Every time you want to repeat an idea, put it in a pristine way with a little touch of freshness.
Keep the tonality intact: In academic essays, changing tonality is highly discouraged. While inducing an appeal to the Pathos of a body paragraph, students often alter the tone of the essay in order to create a strong emotional response. Needless to say, such a discourse is not at all appreciated in academic institutions.
You must know, your professors and other academic paper readers like to feel the emotion through your treatment of rhetoric and diction. You must sign off in a strong way rather than recreating an unnecessary sentiment. Let the last paragraphs highlight a strong message or a full-proof research development for the future.
By the time, you must have understood the chief elements of an essay conclusion. Now, you must get acquainted with certain essay conclusion principles that may help you in the near future.
Essay Conclusion Principles
"How to write a conclusion for an essay!" – Well, the above outline must have helped you in getting over these worries. Here are some tips on the same context. You must apply the following principles in your essay while writing the conclusion section.
Do not simply summarize your essay, keep it brief and effective
Remember to clearly rephrase and restate your argument in the ending section
Draft the ending depending on your discipline
You should not quote filler texts rather choose to be relevant
Keep a formal tone as there is no need to be too emotional
These effective tips and clear outline must help you in writing further conclusions for your essay. If you still have some doubts, hire and expertise service!
MyAssignmenthelp.com offers the quality essays within the deadline
Are you stuck with how to write a conclusion for an essay? MyAssigmenthelp.com has the most alluring essay layouts. Our team of 4500+ erudite writers possesses in-depth knowledge in more than 100 disciplines and they create each essay with utmost proficiency.
Our experts are highly qualified and prepare 100% original contents with no chance of plagiarism. We compose every type of essays and use digital software to proofread those documents. Our essayists are extremely sincere and work hard with complete professionalism.
Here's what makes us unique!
All types of essay writing services
On-time delivery
High-quality editing and proofreading
Round the clock service
Allowance for customization
We offer exclusive services at affordable rates and that, what makes us a marquee, in the Essay Writing Service industry.
For a free quote, contact our customer help desk at (+61-3-4000-0033)